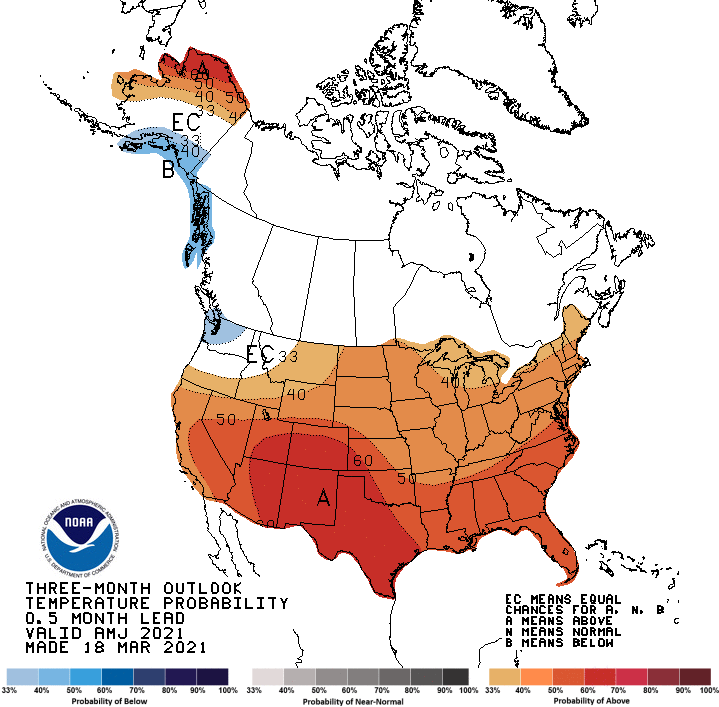 The NOAA just released their outlook for the next three months, April, May, and June (AMJ). Discussion below:
The AMJ 2021 temperature outlook favors above-normal seasonal mean temperatures for nearly all the contiguous U.S. and for portions of western and northern Alaska. The greatest odds for above-normal temperatures are located from the Four Corners region in the Southwest to southern Texas. Modestly elevated odds for above-normal temperatures extend eastward across the Southeast as well. More uncertainty and disagreement in forecast tools and lower historical forecast skill in forecast guidance decrease probabilities for above-normal temperatures in the north-central CONUS. Consistent with lingering La Niña influence there are elevated chances for below-normal temperatures from the extreme Pacific northwest to the south coast of Alaska.
The AMJ 2021 precipitation outlook favors above-normal seasonal total precipitation amounts for portions of the Great Lakes, Ohio Valley, mid-Atlantic, and Northeast primarily based on lingering La Niña influence, positive precipitation trends, other statistical forecast tools and to a lesser degree some model forecasts from the NMME and C3S ensemble systems. There is a considerably stronger agreement, however, for a region of favored below-normal precipitation from the central West coast across the Rockies to the southern Plains. La Niña considerations, dynamical model guidance and the CAS forecast tool support this forecast.
The highlighted area of below-normal precipitation is forecast to slowly shift north and east during the summer months – consistent with dynamical model guidance. Above-normal precipitation is favored to expand southward along the eastern seaboard through the summer months into the early autumn consistent with positive precipitation trends and a slight tilt favoring La Niña during the second half of the Atlantic hurricane season.