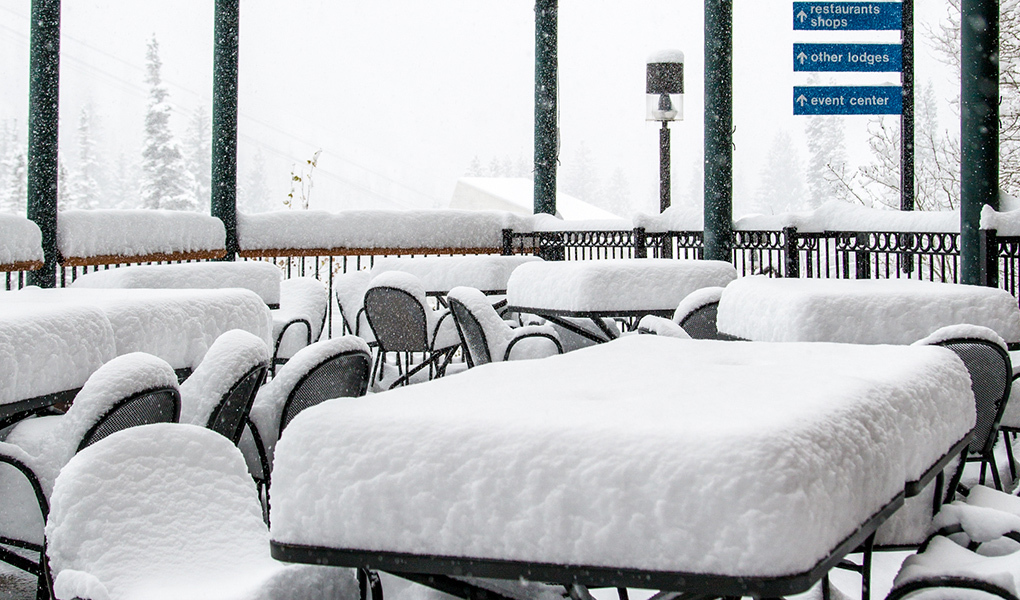 NOAA forecast 6-10″ of snow for the Wasatch mountains of Utah today (ie Alta, Snowbird, Solitude, and Brighton). 
Snowbird didn't care about that forecast and got 14″ of snow, or 40% over the forecast, anyway – and there's more snow on the way.  Boom.
NOAA currently has a Winter Weather Advisory issued for the Wasatch mountains that has another 5″ of snow forecast for Alta and Snowbird tonight.  We might see some big snow totals in Little Cottonwood Canyon tomorrow morning.
Hopefully this new snow will be enough to get Snowbird thinking about opening early.  Utah is getting spanked by California and Colorado who will have 7 and 5 ski resorts open this weekend, respectively.
Alta got 10″ of snow so far today and they're waiting for more.

WINTER WEATHER ADVISORY for UTAH TODAY:
URGENT - WINTER WEATHER MESSAGE
NATIONAL WEATHER SERVICE SALT LAKE CITY UT
404 PM MST MON NOV 9 2015

WASATCH MOUNTAIN VALLEYS-WASATCH MOUNTAINS I-80 NORTH-
WASATCH MOUNTAINS SOUTH OF I-80-WESTERN UINTA MOUNTAINS-
WASATCH PLATEAU/BOOK CLIFFS-
INCLUDING THE CITIES OF...HUNTSVILLE...PARK CITY...HEBER CITY...
WOODRUFF...RANDOLPH...ALTA...BRIGHTON...MIRROR LAKE HIGHWAY...
SCOFIELD

...WINTER WEATHER ADVISORY IN EFFECT FROM 8 PM THIS EVENING TO
1 PM MST WEDNESDAY...

THE NATIONAL WEATHER SERVICE IN SALT LAKE CITY HAS ISSUED A
WINTER WEATHER ADVISORY FOR SNOW...WHICH IS IN EFFECT FROM 8 PM
THIS EVENING TO 1 PM MST WEDNESDAY.

* AFFECTED AREA...THE WASATCH MOUNTAINS AND MOUNTAIN
  VALLEYS...WESTERN UINTA MOUNTAINS ALONG WITH THE WASATCH PLATEAU
  AND BOOK CLIFFS.

* SNOW ACCUMULATIONS...6 TO 10 INCHES FOR THE WASATCH
  MOUNTAINS...7 TO 14 INCHES FOR THE UINTA MOUNTAINS AND BOOK
  CLIFFS...AND 2 TO 5 INCHES IN THE WASATCH MOUNTAIN VALLEYS.

* TIMING...SNOW WILL DEVELOP NORTH OF INTERSTATE 80 THIS
  EVENING...BECOMING HEAVY AT TIMES OVERNIGHT...BEFORE BECOMING
  MORE SHOWERY IN NATURE TUESDAY INTO EARLY WEDNESDAY. SOUTH OF
  INTERSTATE 80...EXPECT SNOW TO DEVELOP LATE TONIGHT...BECOMING
  HEAVY AT TIMES THROUGH TUESDAY BEFORE TURNING SHOWERY TUESDAY
  NIGHT INTO EARLY WEDNESDAY. SNOW WILL TAPER OFF IN ALL AREAS BY
  MIDDAY WEDNESDAY.

* IMPACTS...WINTER DRIVING CONDITIONS MAY DEVELOP...ESPECIALLY
  HIGHER PASSES INCLUDING INTERSTATE 80 FROM PARLEYS SUMMIT EAST
  TO THE WYOMING BORDER...US-40 NEAR DANIELS SUMMIT AND
  STRAWBERRY RESERVOIR...AND US-6 NEAR SOLDIER SUMMIT.