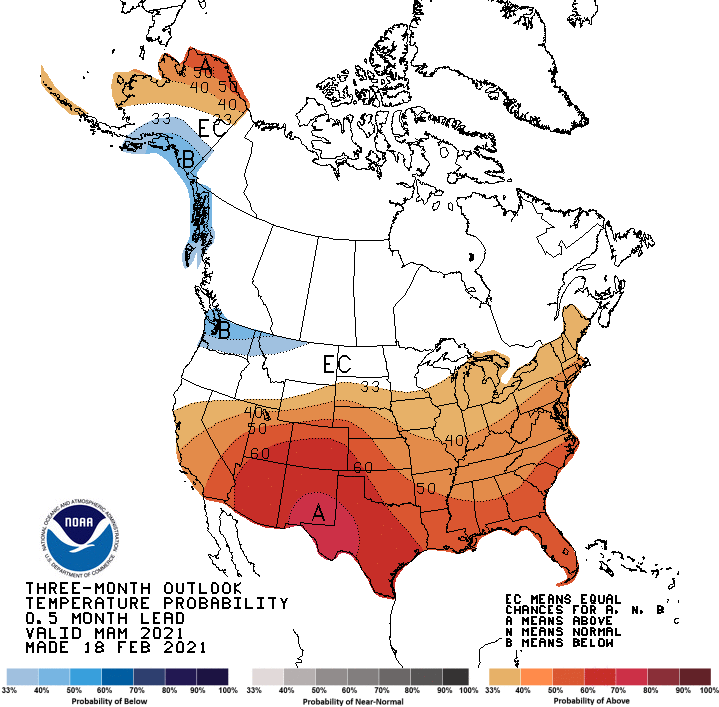 The NOAA just released their outlook for the next three months, let's take a look at how the ski season is going to end.
La Nina conditions are present across the equatorial Pacific Ocean, as represented in current oceanic and atmospheric observations. The official CPC ENSO forecast indicates that La Nina conditions are favored to persist through March-April-May, followed by a transition to ENSO-Neutral later in the spring and into the early summer.
The March-April-May (MAM) 2021 temperature outlook favors above normal temperatures for a majority of the CONUS, with the largest probabilities (greater than 70 percent) forecast across parts of the Southwest. Elevated probabilities of below normal temperatures are forecast from the Pacific Northwest and Northern Rockies northward to the Alaska Panhandle and southeastern Mainland Alaska. Above normal temperatures are more likely for western and northern Mainland Alaska. The MAM 2021 precipitation outlook features enhanced probabilities of below normal precipitation amounts for much of California and the Southwest eastward to the central and southern Great Plains, along the Gulf Coast, and southern portions of the East Coast. Above normal precipitation is slightly favored for parts of the Northeast, Midwest, Pacific Northwest, Northern Rockies, and western Mainland Alaska. Equal chances (EC) are indicated among areas where seasonal mean temperatures and seasonal accumulated precipitation amounts are expected to be similar to climatological probabilities.