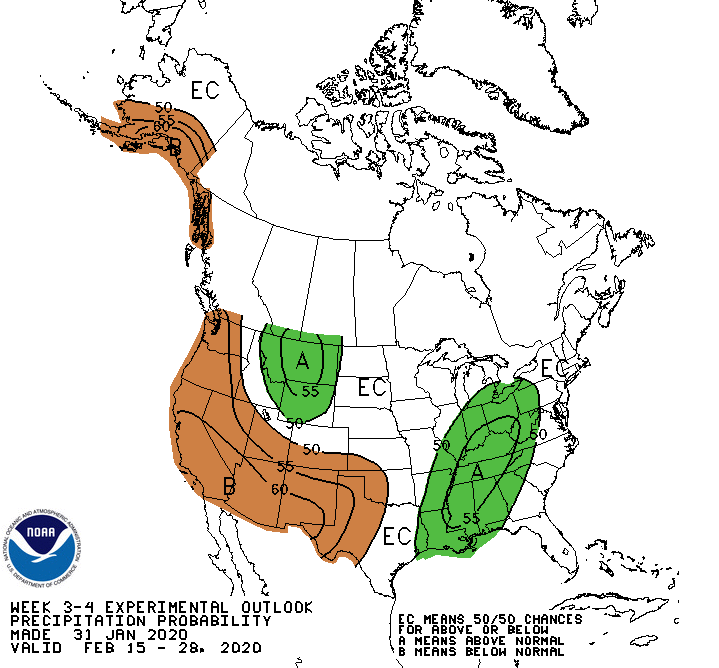 The second half of February looks likely to be bad news for snow-lovers across the country, with high confidence for a warm pattern emerging in the east, and in the west, the probability for precipitation looks 'below normal'.
Much to the chagrin of any snow lovers in the East, the continued NAO+ outlook and enhanced subtropical ridge over the Southeast favors a tilt toward above-normal temperatures, while the MJO re-emerging over the Maritime Continent would likely further lock-in east coast warmth. Troughing across the West results in below-normal temperatures being favored, although there is some uncertainty regarding how far south and east any cold air mass would extend. A west-east dipole favoring above- and below-normal temperatures respectively is forecast across Alaska tied to the forecast ridge-trough pattern across the Pacific and western North America. El Nino influence across the Northern Tier tends to wash out long-term trends which are slightly below-normal, while decadal trends further support the increased chances for above-normal temperatures in the east, resulting in these probabilities being enhanced relative to the dynamical model guidance.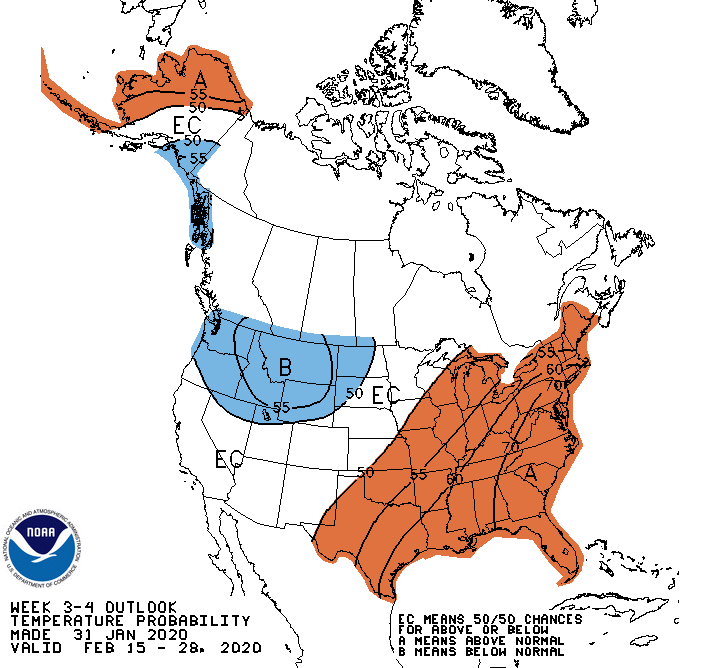 The PNA- pattern supports a suppressed Pacific jet resulting in below-normal precipitation chances for areas adjacent to the Gulf of Alaska and along the West Coast. Dynamical models extend below-normal precipitation chances across the Southwest, further supported by decadal precipitation trends being negative for the region. There is some uncertainty with how far north and east this dry pattern would extend, further confounded by upslope precipitation potential along the High Plains tied to below-normal temperatures behind the anomalous trough. A mean frontal zone can be inferred at the trough-ridge interface, resulting in above-normal precipitation chances being elevated from the Lower Mississippi Valley through Ohio Valley.