The NOAA released a La Niña watch on Thursday, July 9. The NOAA is currently giving a 50-55% chance of a La Niña pattern developing in the fall and lasting through winter, though those numbers are certainly subject to change.
La Niña systems generally indicate colder equatorial ocean temperatures, which forces the jet stream further north, delivering above-average precipitation to the Pacific Northwest. The higher latitude jet stream forces moisture away from the Intermountain West, meaning areas such as the Sierra Nevada and the Rocky Mountains often have drier winters with less snowfall. If the La Niña pattern materializes and follows general trends, resorts like Crystal Mountain, Mt. Hood, and Mt. Baker could see huge snowfall next season.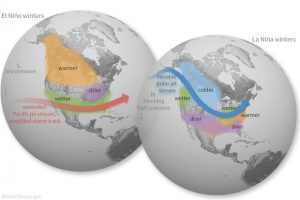 La Niña ENSO patterns do not always mean below-average snowfall, however, and they are very hard to accurately predict due to ever-changing atmospheric conditions. Despite having a La Niña watch issued the preceding summer, which would indicate below-average snowfall for the region, California's Sierra Nevada mountains had the best seasons on record. Squaw Valley received over 700 inches (58 feet of snow, about the height of a 6 story building) during their 2016-2017 season. They had so much snow, in fact, that they were able to keep daily operations running until July 15.
It's too early to tell what this winter will hold, but Pacific Northwest skiers are undoubtedly rejoicing over the NOAA's announcement.