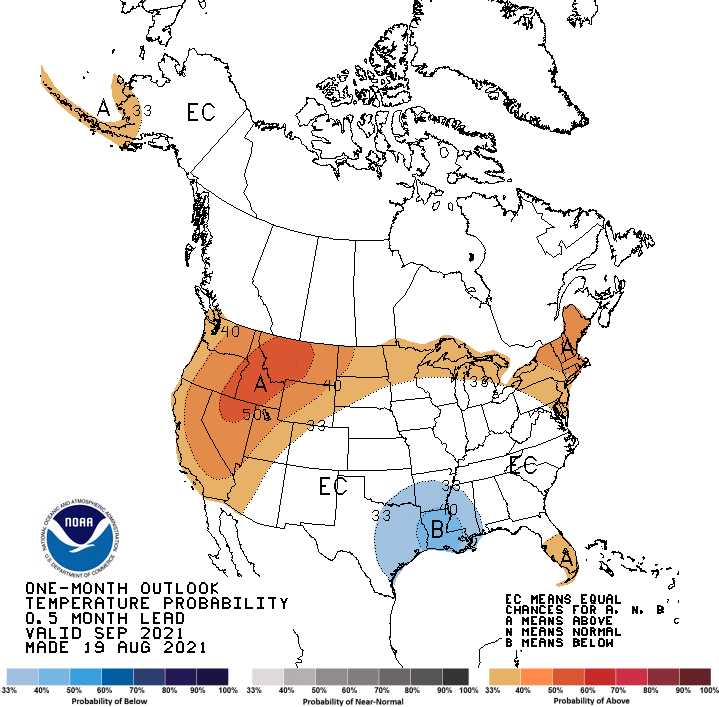 The NOAA yesterday released its outlook for September 2021. Forecast discussion below:
Above normal temperatures are favored for much of the western CONUS and Northern Plains. Enhanced probabilities of above-normal temperatures are largely absent farther to the south and east across the remainder of the Plains, most of the Mississippi Valley and the Southeast. Below normal temperatures are favored for the western and central Gulf Coast Region, the Lower Mississippi Valley, and eastern sections of the Southern Plains. Agreement is generally good among dynamical model guidance for warmer than normal conditions across the Great Lakes and Northeast. Thus, above-normal temperatures are favored for these regions. Uncertainty is high across most of Alaska due to weak or conflicting signals among dynamical model guidance. Therefore Equal Chances (EC) of above, near, or below-normal temperatures are indicated for most of the state. However, above-normal temperatures are weakly favored for parts of coastal southwestern Alaska.
Expect above-normal precipitation from parts of the Gulf Coast northeastward to the Great Lakes and Mid-Atlantic states, and a wet pattern across most of the southern two-thirds of the CONUS. Conversely, below-normal precipitation is favored across much of the West as dynamical model guidance generally supports a dry pattern, particularly from the Great Basin to the Northern Rockies and Northern High Plains. A wet pattern is favored farther to the north across southeastern Alaska due to good dynamical model support and agreement with MJO composites. Models suggest a dry pattern for parts of western Alaska, where elevated chances of below-normal precipitation are indicated.