" Multiple rounds of rain and significant mountain snow are possible this holiday weekend into the middle of next week. Be prepared for hazardous mountain travel & keep an eye out for forecast updates!"

NOAA, Sacramento CA, 12/30/20
Some models are showing up to 38″ of snowfall in Tahoe area between now and January 9, 2020…
Some are showing 60″…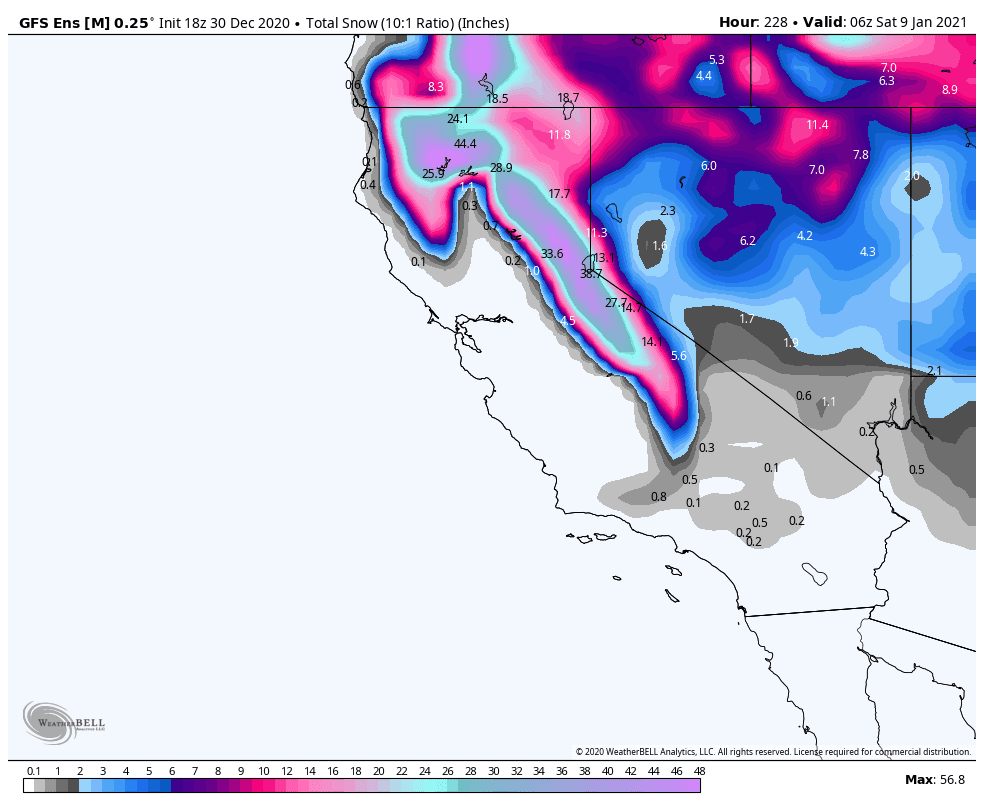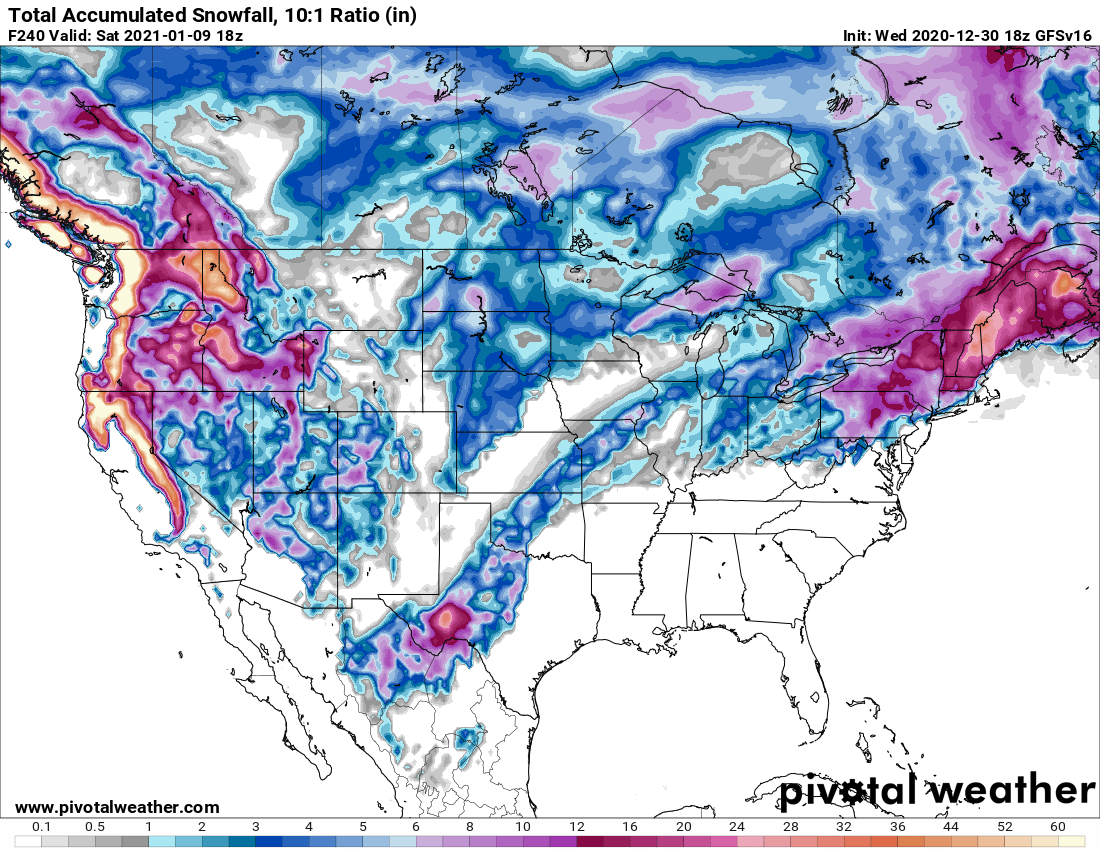 What does this all mean exactly?  
Our understanding is this most likely means that Tahoe is going to see a lot of snow starting Saturday and continuing until at least mid-week next week.
Tahoe's snowpack is currently sitting at 78% of average to date.
Our guess is that Tahoe's snowpack will be sitting at over 100% of average today once these storms are through late next week…
NOAA has already issued a Winter Storm Watch calling for 12″ of snow above 7,000′ for January 3rd and January 4th – and that's just one wave of this big storm cycle.
Snow levels are forecast at this point to fluctuate between 7,000′ and 4,000′ during this prolonged event.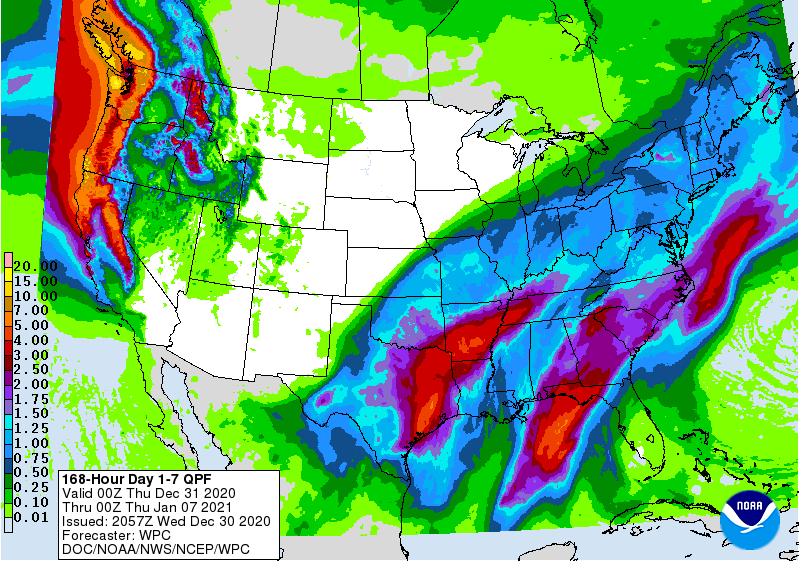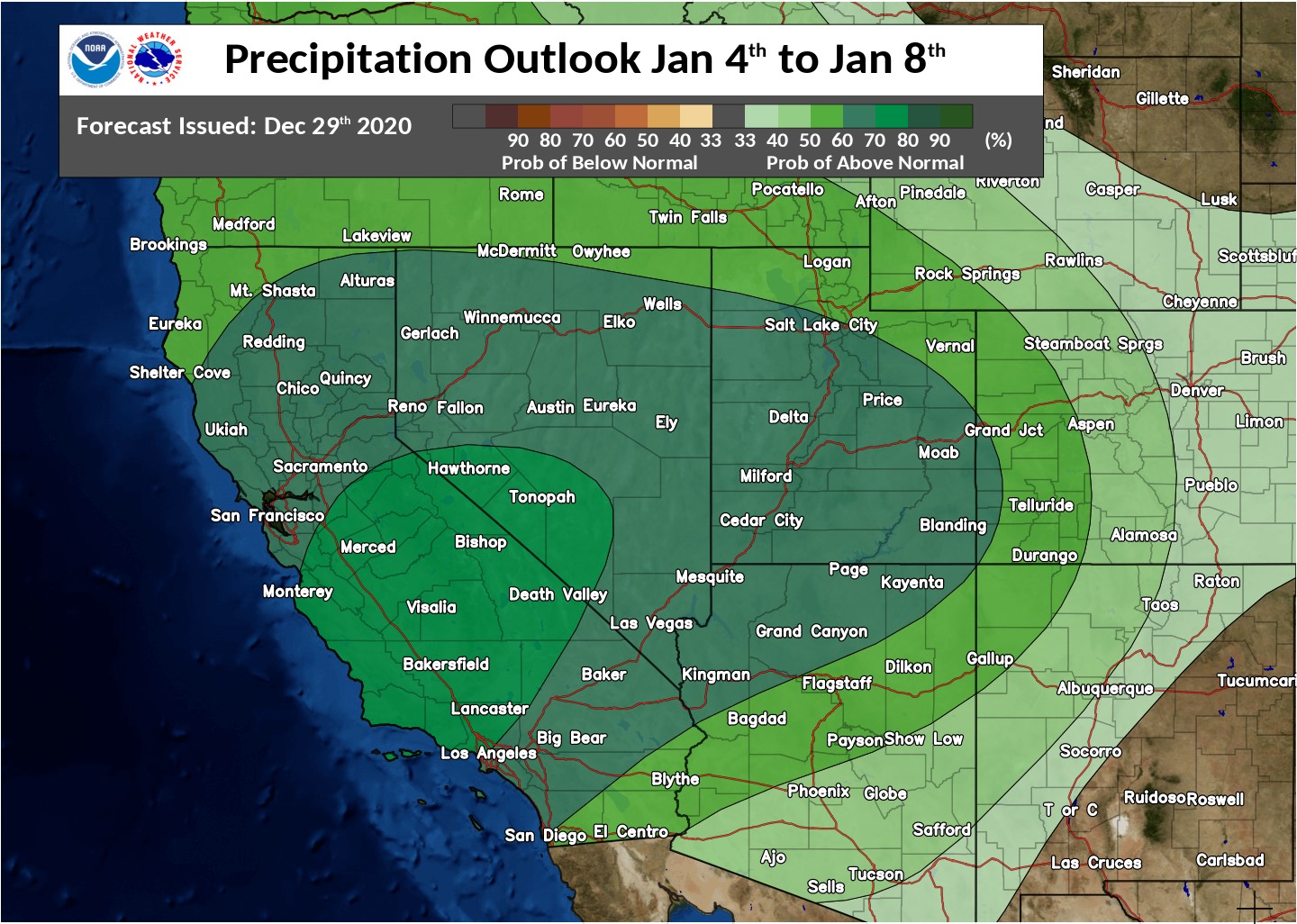 Winter Storm Watch for Lake Tahoe, CA:
Winter Storm Watch
URGENT - WINTER WEATHER MESSAGE
National Weather Service Reno NV
1231 PM PST Wed Dec 30 2020

Lassen-Eastern Plumas-Eastern Sierra Counties-
Greater Lake Tahoe Area-Mono County-
Including the cities of Portola, Susanville, South Lake Tahoe,
Truckee, Bridgeport, Coleville, Mammoth Lakes, Stateline,
and Incline Village

...WINTER STORM WATCH IN EFFECT FROM SUNDAY EVENING THROUGH
MONDAY EVENING...

* WHAT...Heavy snow possible. Total snow accumulations of 3 to 8
  inches, except 1 foot or more above 7000 feet possible. Exposed
  Sierra ridge winds could gust to 100 mph or higher.

* WHERE...Greater Lake Tahoe Area, Lassen-Eastern Plumas-Eastern
  Sierra Counties, and Mono County.

* WHEN...From Sunday evening through Monday evening.

* IMPACTS...Plan on slippery road conditions. The hazardous
  conditions could impact the morning or evening commute. Very
  strong winds could cause extensive tree damage.

* ADDITIONAL DETAILS...This is expected to be the first of a
  series of storms next week. Plan on difficult travel in and
  around the Sierra through much of next week with a bigger storm
  possible Tuesday night into Wednesday.
NOAA Forecast Discussion December 30th, 2020:
.Long Term...Saturday through Wednesday.

Significant change to the weather pattern remains on track for
the first week of 2021. A series of storms is expected to impact
the region starting over the weekend and lasting through much of
next week. If you are planning to travel in and around the Sierra
next week, keep an eye on the forecast and be prepared for winter
conditions.

The main changes to forecast has been a trend towards a weaker start
to the storms starting this weekend, and a trend towards stronger
storms later in the week. We`ve issued a Winter Storm Watch for the
first decent storm Sunday evening into Monday evening. It may end up
being a more of an advisory level storm, but it will be the start of
a major change to the weather pattern and significant winter
weather impacts for the upcoming week.

Over the weekend the main storm track will still be in the Pacific
Northwest with showery precipitation expected in the northern Sierra
and NE California. Saturday night into Sunday could see a few inches
of snow beginning to impact travel over Sierra passes from highway
50 northward. By Sunday evening, a stronger storm is expected to
approach the region with a decent moisture tap and increasing
snowfall rates Sunday night into Monday. Current projections are
showing the potential for around a foot of snow or so in the
upper elevations of the Sierra.

Winds will pick up along the ridges on Sunday and spread
throughout the area on Monday with the potential for impacts to
high profile vehicles and aviation. Much of the rest of the week
will be breezy with another very windy day possible midweek.

A short break in the weather is expected Monday evening into Tuesday
before another stronger storm is projected to impact the region
Tuesday evening through Wednesday. This storm has the best moisture
tap and has the potential for more significant wind and snow
impacts. By midweek colder air will be more likely to work into
the area with greater chances for snow accumulations into the
lower valleys of western Nevada. -Zach

- NOAA, 12/30/20