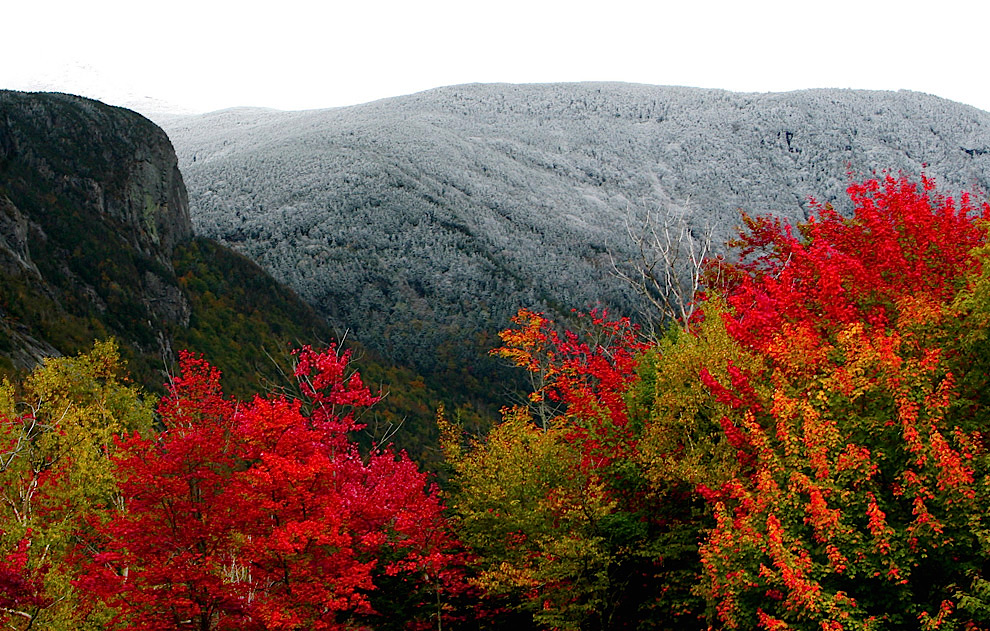 NOAA is forecasting up to 4″ of snow in Vermont this weekend above 2,000-feet.  According to the map below, snow will be hitting New York and New Hampshire, as well.
Monday should offer up some great opportunities to get photos of snow above the colorful fall foliage of Vermont's mountains.
The snow will start on Friday night in the highest elevations and continue into Sunday.
"GENERALLY ONE TO FOUR INCHES OF
SNOW WILL ACCUMULATE DURING THE 2 OVERNIGHT HOURS COMBINED.
SATURDAY NIGHT WILL BE THE COLDEST NIGHT OF THE PERIOD AS 850
TEMPS DROP TO ABOUT NEGATIVE 10 C. THERE MAY BE SOME LOWS IN THE
TEENS AND TWENTIES IN THE COLDEST SPOTS OF THE GREENS AND DACKS
EARLY SUNDAY MORNING." NOAA, Burlington, VT


"THE NORTHWEST FLOW ALOFT ON SUNDAY COULD ACT TO SQUEEZE OUT A
FEW SNOW SHOWERS SUNDAY MORNING HOWEVER MOST OF ALL THE
ACCUMULATING SNOWFALL SHOULD BE OVER FOR THE WEEKEND AS WE DRY
OUT IN THE SNOW GROWTH REGION. ANY SNOW SHOWERS WILL BE
OROGRAPHIC IN NATURE AND BE CONFINED TO THE WESTERN UPSLOPE
LOCATIONS OF BOTH THE GREENS AND THE ADIRONDACKS. THIS SNOW WILL
CONTINUE TO BE MORE OF A NOVELTY THAN ANYTHING SIGNIFICANT AT
AREAS LESS THAN 2000FT. THE COLD WILL BE THE LARGER THREAT SUNDAY
INTO MONDAY AS THE SURFACE RIDGE IS DIRECTLY OVER NEW ENGLAND
SUNDAY NIGHT." - NOAA, Burlington, VT