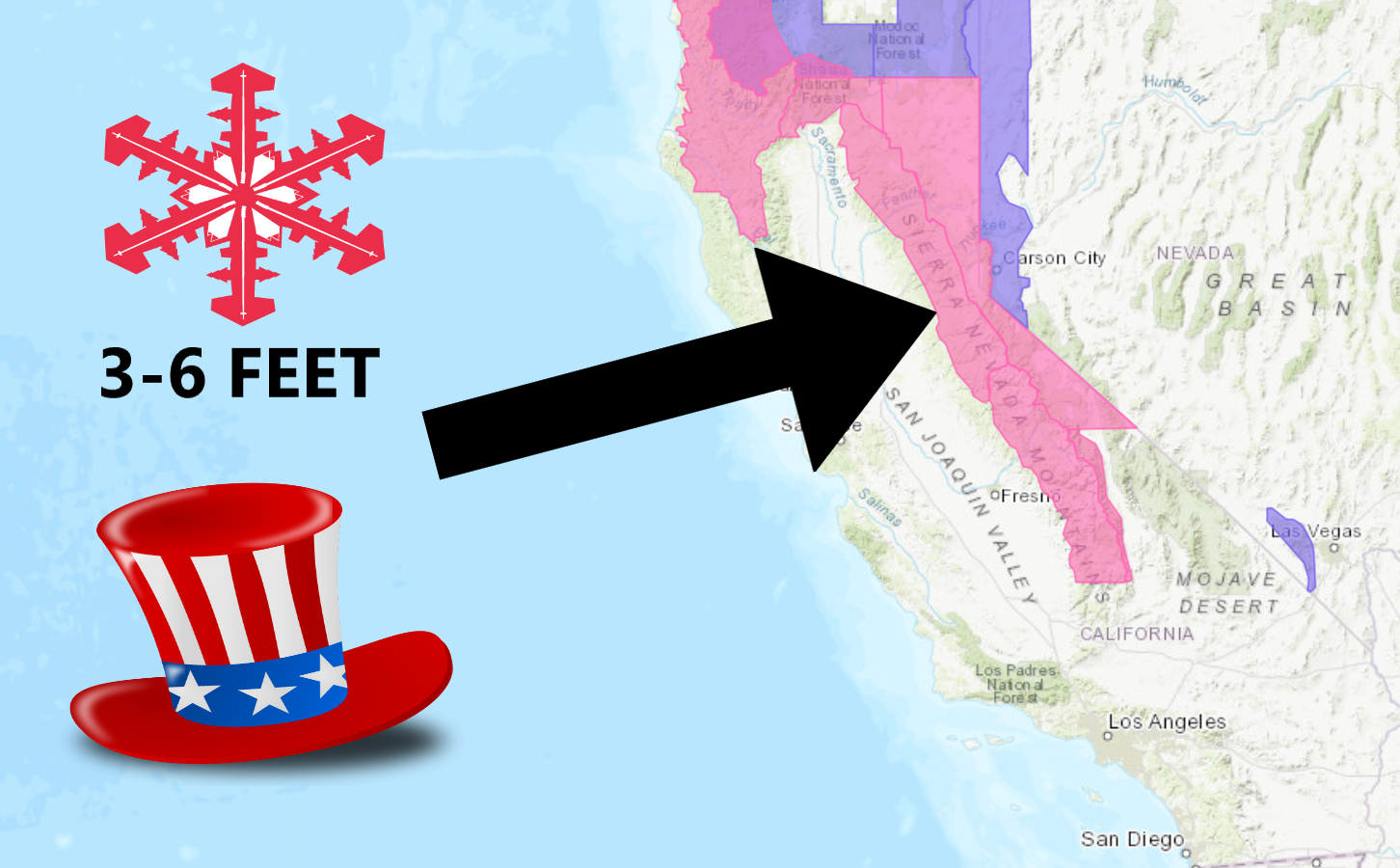 The National Weather Service has issued a Winter Storm Warning for California. 
It's in effect until 12:00pm on Sunday. Heavy snowfall is forecasted to impact the area throughout the weekend.
President's Day Weekend is going to be a DEEP one in California. 
Cold temperatures should produce some light, fluffy snow for your enjoyment.
California:
3-6 FEET of Snow Today Through The Weekend
"Major winter storm continues for the end of this week and into the weekend bringing area wide heavy rain, snow, and strong winds.

Snow levels are expected to peak at 7500-8500 feet tonight, then fall by Thursday night as a cold front makes its way through the Sierra. By early Friday, a second storm system drops southward dragging snow levels down to all valley floors. Accumulating snowfall is expected in the Sierra as well as for the western Nevada valleys. For more information, please read the latest Area Forecast Discussion on our website.

Major travel issues are likely for the remainder of the week and through the holiday weekend due to this very active weather pattern. Please plan accordingly. Besides for some very cold temperatures, more tranquil weather is on tap as we enter into next week."

– NOAA Reno, NV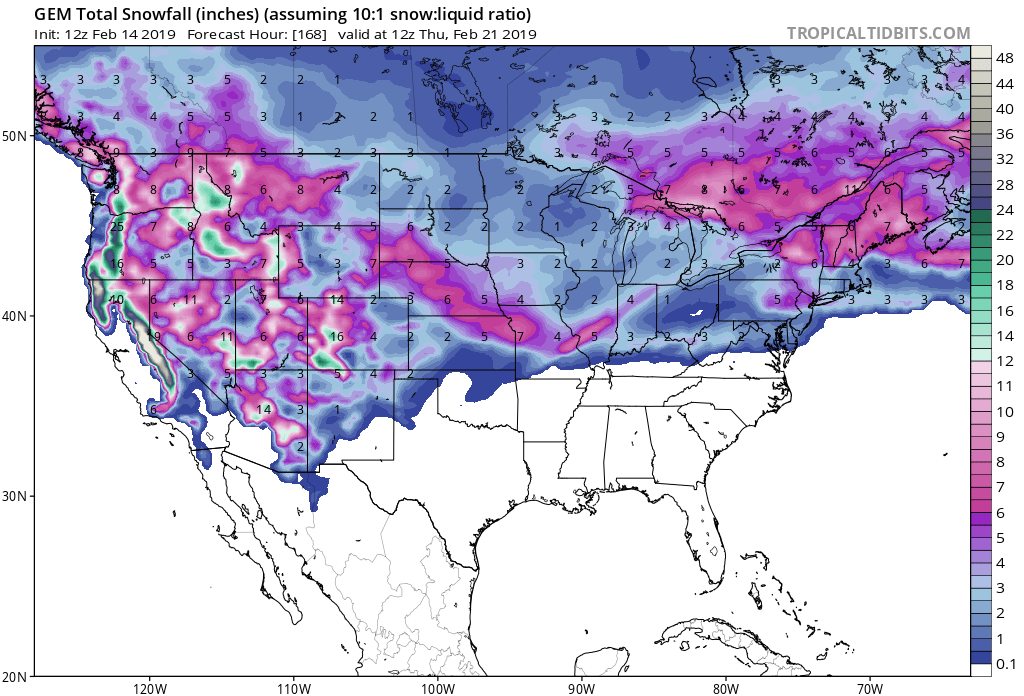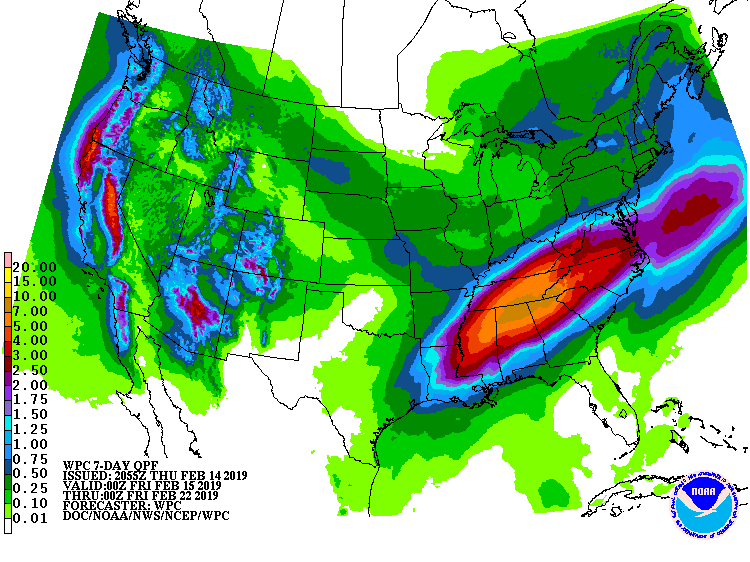 Snow levels are forecasted to drop rapidly throughout the day.
It's currently dumping at the base of KT 22 at Squaw Valley Alpine Meadows, CA.
The 6-10 day outlook calls for above average precipitation and below average temperatures in California.
Additional

 Storm Info: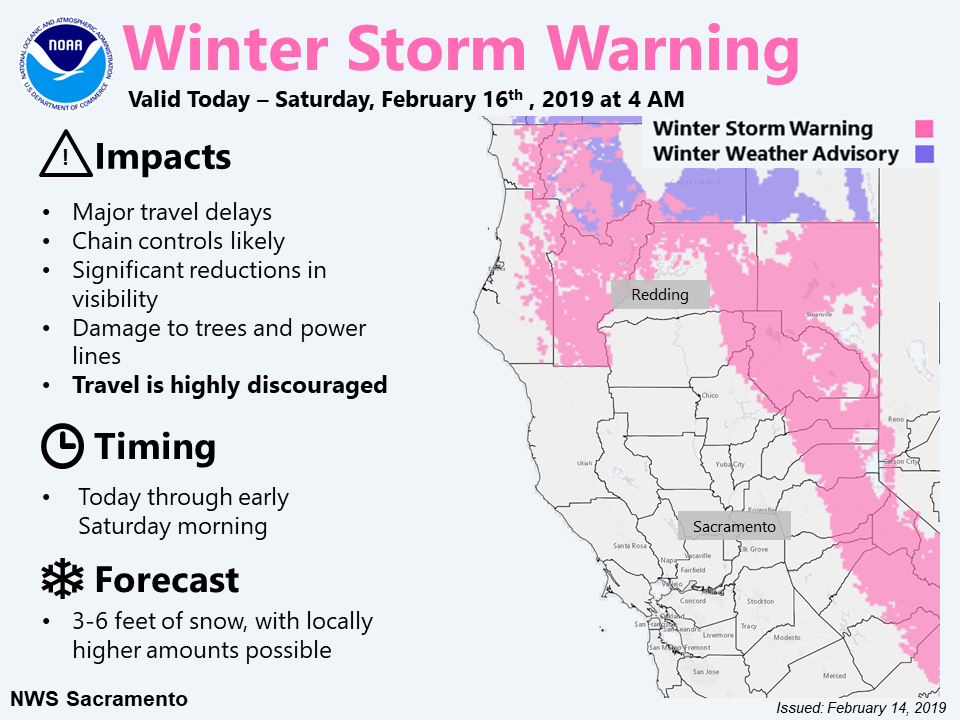 California: 

3-6 FEET of Snow Today – Sunday
* 

Heavy snow.

 Additional snow accumulations of 1 to 3 feet,
  except 

3 to 6 feet above 7000 feet.


- NOAA Reno, NV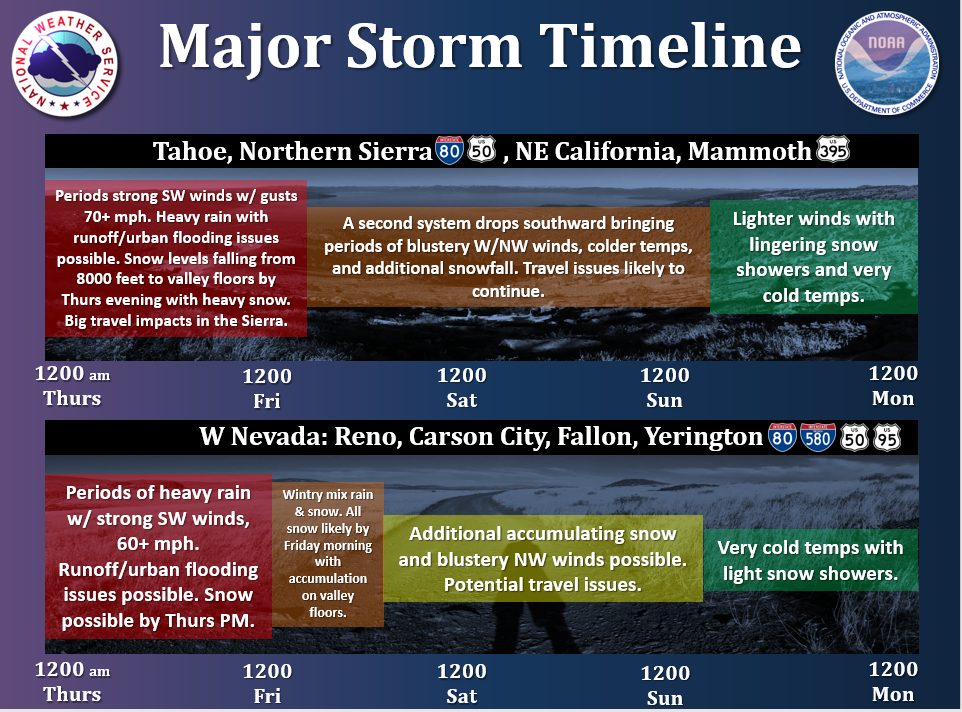 Winter Storm Warning:
URGENT

 - WINTER WEATHER MESSAGE
National Weather Service Reno NV
1044 AM PST Thu Feb 14 2019

Greater Lake Tahoe Area-
Including the cities of South Lake Tahoe, Truckee, Stateline,
and Incline Village

...WINTER STORM WARNING NOW IN EFFECT UNTIL NOON PST SUNDAY...

* CHANGES...

Extension of warning through Sunday

 and lowering of
  snow levels for the remainder of the ongoing storm.

* WHAT...

Heavy snow.

 Additional snow accumulations of 1 to 3 feet,
  except 

3 to 6 feet above 7000 feet.

 Winds gusting as high as 

130
  mph today across Sierra Ridges

 with 

gusts to 60 mph across the
  ridgelines the remainder of the weekend.



* WHERE...

Greater Lake Tahoe Area.



* WHEN...

Until noon PST Sunday.



* SNOW LEVEL: Snow levels are around 6500-8000 feet this morning
  and will continue to fall through the day with snow expected at
  all areas by late this afternoon.

* ADDITIONAL DETAILS...The heavy snow falling into the rain on
  roadways will create a slushy mess and there may be hidden areas
  of water under the snow, especially through tonight. 

Travel
  could be very difficult to impossible.

 The hazardous conditions
  could impact the morning or evening commute. Very strong winds
  could cause extensive tree damage.