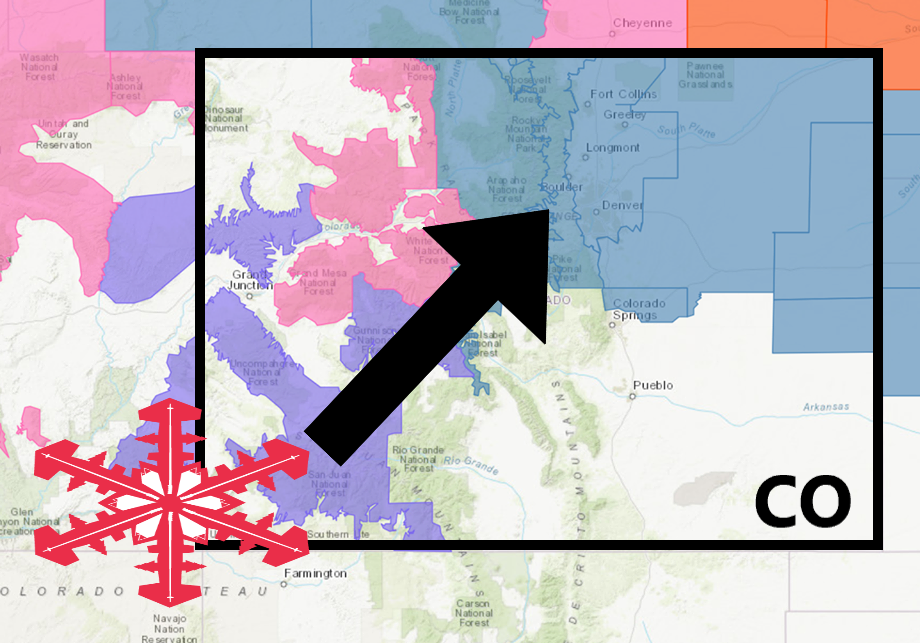 The National Weather Service has issued a Winter Storm Watch for Colorado.
It's in effect from 6:00am Wednesday morning – 12:00pm Thursday.
Heavy snowfall is expected to impact the area throughout that time.
Colorado:
6-12+" of Snow Wednesday – Thursday
"It will be very warn today with possible record breaking temperatures ahead of a strong spring storm. Gusty winds and dry conditions will elevated the fire danger across the eastern plains. A cold front will bring drastically colder temperatures for Wednesday. Snow is expected to develop Wednesday morning over the higher terrain and spread eastward. Precipitation is expected to begin as rain but change to snow during the day as colder air moves into the area. Blizzard conditions will be possible east of I-25 late Wednesday afternoon thru Thursday morning."

– NOAA Denver, CO
Copper Mountain, CO would be a good place to hit this week for some mid-week powder turns.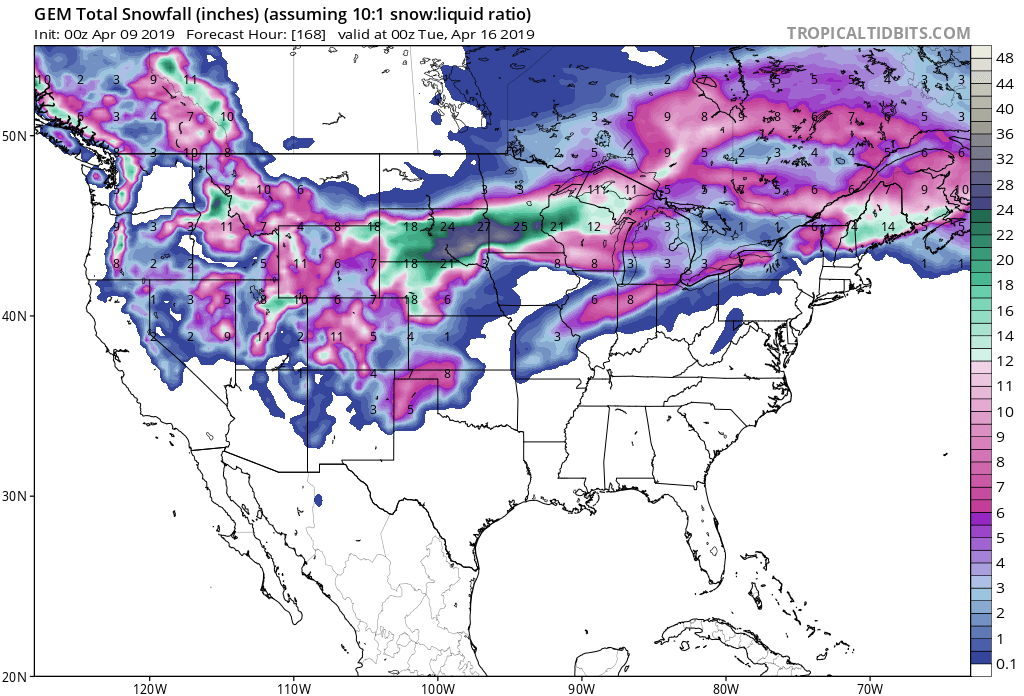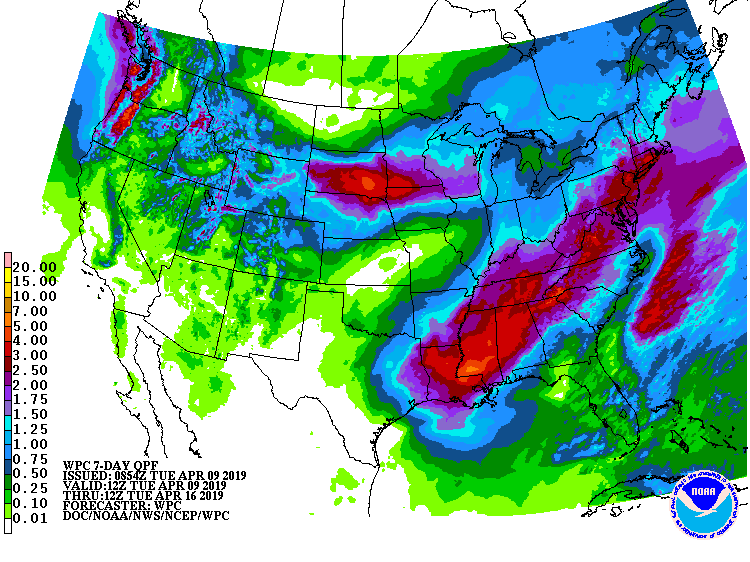 Snow levels are expected to start out around 7,000ft, before dropping down below 4,000ft throughout the storm.
The 6-10 day outlook calls for above average precipitation and below average temperatures in Colorado.
Additional Storm Info: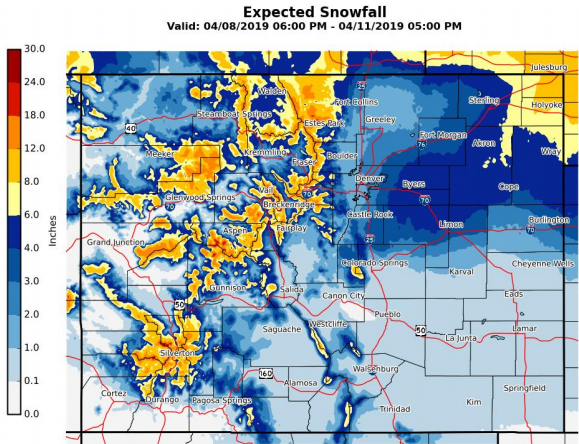 Colorado: 

6-12+" of Snow Wednesday – Thursday
* 

Heavy snow possible.

 Total snow accumulations of 

6 to 12 inches


  with some areas seeing 

up to 16 inches.

 Winds could gust as high
  as 35 mph.
- NOAA Denver, CO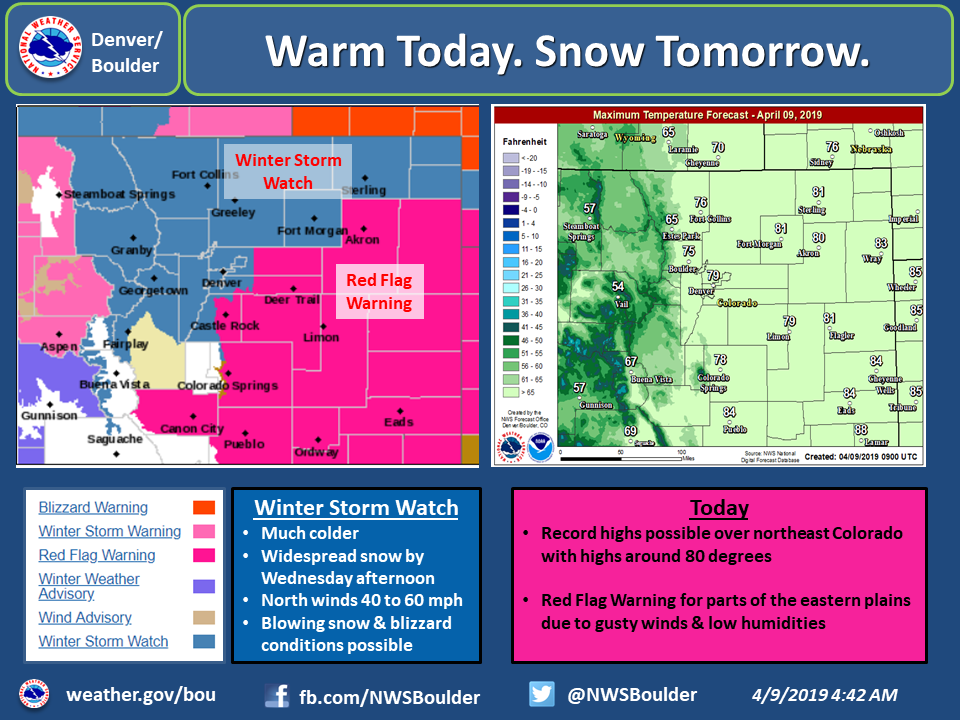 Winter Storm Watch:
URGENT

 - WINTER WEATHER MESSAGE
National Weather Service Denver CO
437 AM MDT Tue Apr 9 2019

...STRONG WINTER STORM EXPECTED TO MOVE IN WEDNESDAY AFTERNOON...

.Very warm temperatures are expected on Tuesday, ahead of a
developing upper level storm system moving over the Great Basin.
Drastic changes in the weather are expected to occur on
Wednesday. A strong cold front will race across northeast
Colorado Wednesday which will bring much colder temperatures,
strong north winds and heavy snow. Areas of heaviest snowfall are
still uncertain at this time and my occur anywhere from the Front
Range to the far eastern plains. Residents of northeast Colorado
should begin making preparations for this developing storm to
avoid being caught by harsh winter conditions.

North Park-Rabbit Ears Pass-
Grand and Summit Counties Below 9000 Feet-
Rocky Mountain National Park and the Medicine Bow Range-
The Mountains of Summit County, the Mosquito Range, and the
Indian Peaks-
Including the cities of Gould, North Park, Rand, Spicer, Walden,
East Slopes Park and Northern Gore Ranges, Gore Pass,
Rabbit Ears Pass, Dillon, Fraser, Granby, Grand Lake,
Hot Sulphur Springs, Kremmling, Cameron Pass,
Laramie and Medicine Bow Mountains, Rabbit Ears Range,
Rocky Mountain National Park, Willow Creek Pass, Berthoud Pass,
Breckenridge, East Slopes Mosquito Range,
East Slopes Southern Gore Range, Eisenhower Tunnel, Indian Peaks,
Kenosha Mountains, Mount Evans, Williams Fork Mountains,
and Winter Park

...WINTER STORM WATCH REMAINS IN EFFECT FROM WEDNESDAY MORNING
THROUGH THURSDAY MORNING...

* WHAT...

Heavy snow possible.

 Total snow accumulations of 

6 to
  12 inches

 with some areas seeing 

up to 16 inches.

 Winds could
  gust as high as 35 mph.

* WHERE...

The mountains and high parks of north central Colorado.



* WHEN...From 

Wednesday morning through Thursday morning.



* ADDITIONAL DETAILS...

Travel could be very difficult.

 Patchy
  blowing snow could significantly reduce visibility. The
  hazardous conditions could impact the travel through the
  entire period.