Brought to you by Visit Idaho and Ski Idaho
There's a reason they call Idaho the 'Gem State.' With twenty ski areas, quality snow, a lifetime of hot springs to visit, delicious Pacific-Northwest-style food, and friendly inhabitants, I'm curious as to why Idaho flies relevantly under the radar when it comes to ski destinations. Most of the resorts I visited there at the tail end of February were often totally deserted, but with good enough snow which ought to drive crowds—Northern Idaho especially.
In 10 days I ventured 1,600 miles round trip from Utah to Idaho, hitting five ski areas across the state along with a day spent backcountry skiing near the Sawtooths with Sawtooth Mountain Guides. I had little to no expectations when it came to what I thought the skiing would be like in Idaho and I was completely blown away. Powder, lake views, high mountain passes, snowy, old-growth forests, abandoned mining towns turned ski villages—Idaho is an implausible, often looked-over ski destination with limitless ski potential. On one stop of this adventure, it snowed two feet overnight and I skied all day inbounds with maybe only 100 other cars in the parking lot. All I could think was: why didn't I come here sooner?
So here's the scoop. Idaho has a lot of ski areas relatively close to each with good snow and great skiing. These resorts are super easy to drive to from Spokane, Boise, or even Salt Lake City. A few of these resorts are located only one-to-two hours away from each other while a couple are on the same highway, minutes apart. They vary in size but all of them have fun, challenging skiing, and a little bit of something for everyone. This is is my Powder Highway experience in Idaho, road-tripping from one lonely, powder-charged ski area to another. I hope it inspires a Powder Highway adventure of your own, and maybe even gives you an idea of which places to visit and ski.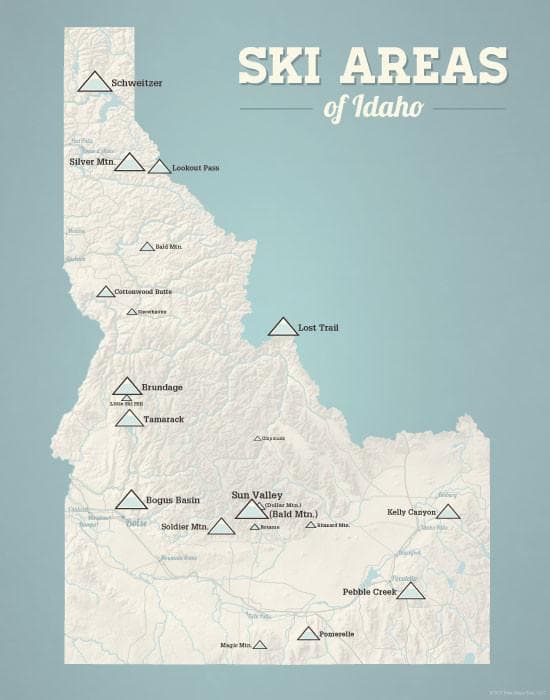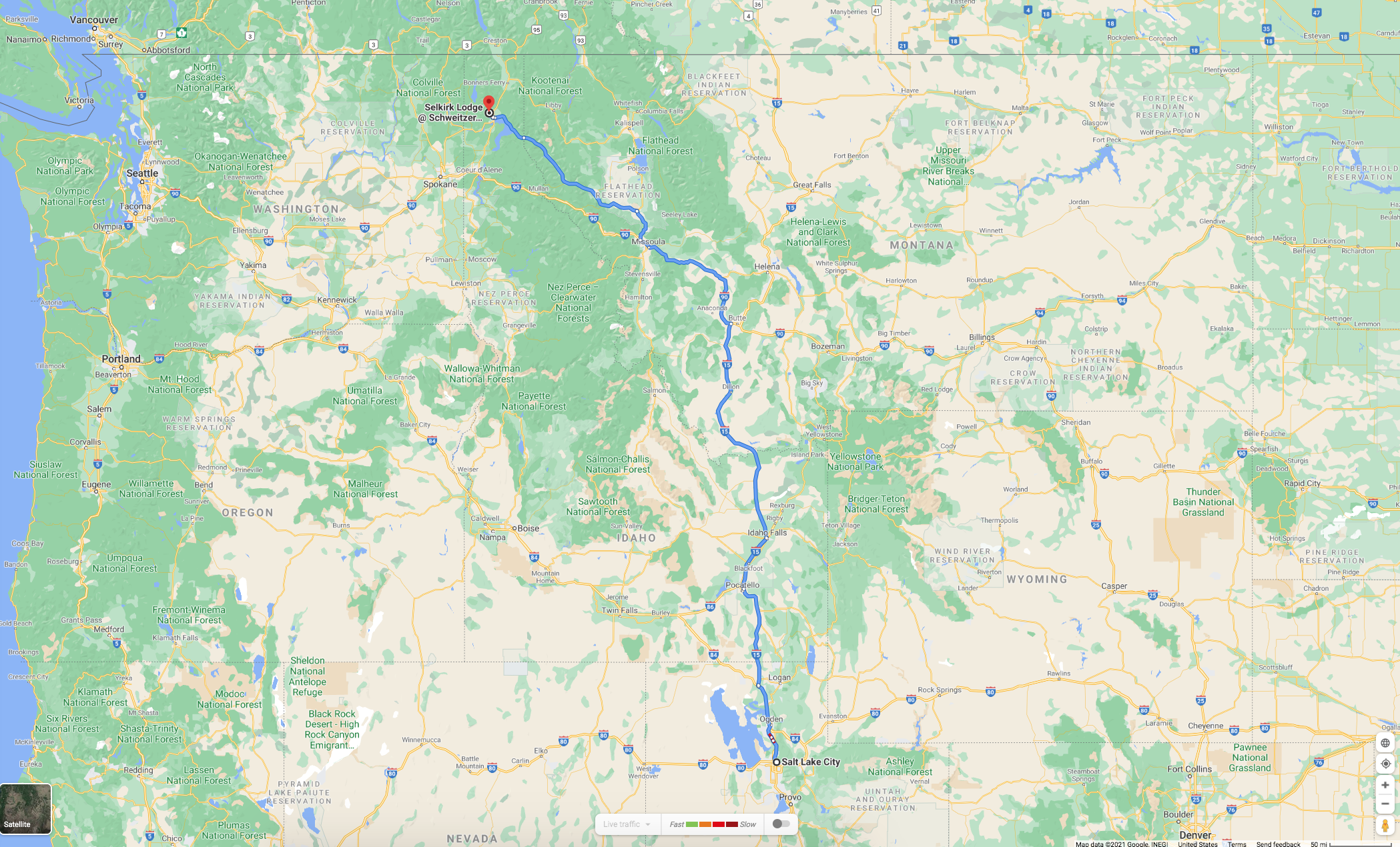 Schweitzer
Three-inches of wet Pacific Northwest powder floats like six-inches of Intermountain light-and-dry at Schweitzer Mountain Resort, stop number one on my Idaho Iditarod. In 11 hours, I drove from Salt Lake City, Utah to Sandpoint, Idaho, and arrived to howling winds and light snowfall. Schweitzer is approximately one-hour-and-45 minutes away from the airport in Spokane, Washington. This place skis like a bigger version of Grand Targhee on the Idaho/Wyoming border, except with prettier, mountain-lake scenery and thicker, wetter snow. Snowy, old-growth forest trees and frozen snow-ghosts dot this mountainous, rainforest landscape. Be sure to venture into the huge, flowy Outback Bowl at Schweitzer and stop for some lunch at the historic 'Outback' lodge, or go for some cat skiing with the resort's professional cat ski outfitters, Selkirk Powder.
Where to stay 
The beautiful, ski-in, ski-out Selkirk Lodge is the move. Rooftop hot tubs, friendly staff, direct access to the slopes, and a dozen breakfast, lunch, and dinner options within walking distance of your hotel room await you at Schweitzer's lovely base area.
Places to eat
Chimney Rock Grill
Powder House Pizza
Gourmandie
Mojo Coyote Cafe
Lake View Cafe
The Outback
Silver Mountain 
The skiing here is worth its weight in gold and not silver. For stop number two, I drove approximately two hours from Schweitzer to Silver Mountain to see what this place was about. Silver Mountain is based out of Kellogg and has the longest gondola in America, stretching over three miles of mountainous terrain direct from town. For a long time, Silver's gondola was the longest in the world. According to Tony, our marketing contact with Ski Idaho, one-quarter of the world's existing silver supply has been extracted from the Silver Valley in this part of Idaho.

Silver Mountain was originally called 'Jackass Ski Bowl', which was started in the 1960s as just something for the miners to do in their spare time. It had one chair at the time (Chair 4). It eventually grew into what is now one of Idaho's best ski areas. The vibe here is quiet but powerful—Silver Mountain has the feel of a 60s-era mom-and-pop joint but with big terrain, phenomenal tree skiing, steeps, and the utter opposite of crowds. Warder Peak has some great hike-to terrain and often holds good snow, and Mogul's Lounge at the top of the gondola is a must-stop for drinks and pub grub.
Where to stay
The Morning Star Lodge is one of the best spots to stay in Kellogg. On top of gorgeous, modern rooms with artistic wood finish and views of Silver Mountain and Kellogg, the hotel is positioned perfectly next to the gondola and right in the middle of Kellogg's bar and restaurant scene. And did I mention that the Morning Star has its own water park? Yeah, I'd probably stay here again.
Places to eat
Radio Brewing
Hill Street Depot
Moguls Lounge
Mountain House
Mountain Cafe
Lookout Pass 
I don't know how to describe Lookout Pass other than ridiculously deep. I was not expecting the snowpack to be as good as it was when I showed up here, let alone for it to snow upwards of two feet overnight while I was there. Lookout Pass Ski Area is positioned perfectly on a mountain pass in the Coeur d'Alene Mountains of the Bitterroot Range near Mullan, allowing for orographic lift, which brings snowfall totals like those in similar geographic positions such as Alta Ski Area in Little Cottonwood Canyon, Utah. The place spins three chairs that access absolutely epic tree skiing and pillow lines. With 384-inches of snow so far this season, you can often feel like you're riding lift-accessed backcountry terrain here at Lookout. Upon arrival, I'd recommend skiing Chair 3 and then for aprés, grabbing some delicious Bloody Marys at the Loft Pub in Lookout's base lodge.
Where to stay
I stayed in Wallace at the Wallace Inn, which is 20 minutes away from Lookout Pass and right in the heart of historic Wallace. This old mining settlement's history is as rich as its snowfall, which was good considering that I woke up to two feet of new snow on the hood of my car while I was visiting. The hotel has an exceptional location along with an awesome pool, jacuzzi, sauna, and steam room.
Places to eat
The Outlaw (In Mullan—mouth-watering, hand-pressed burgers)
City Limits Brew Pub
The 1313 Club
Blackboard Cafe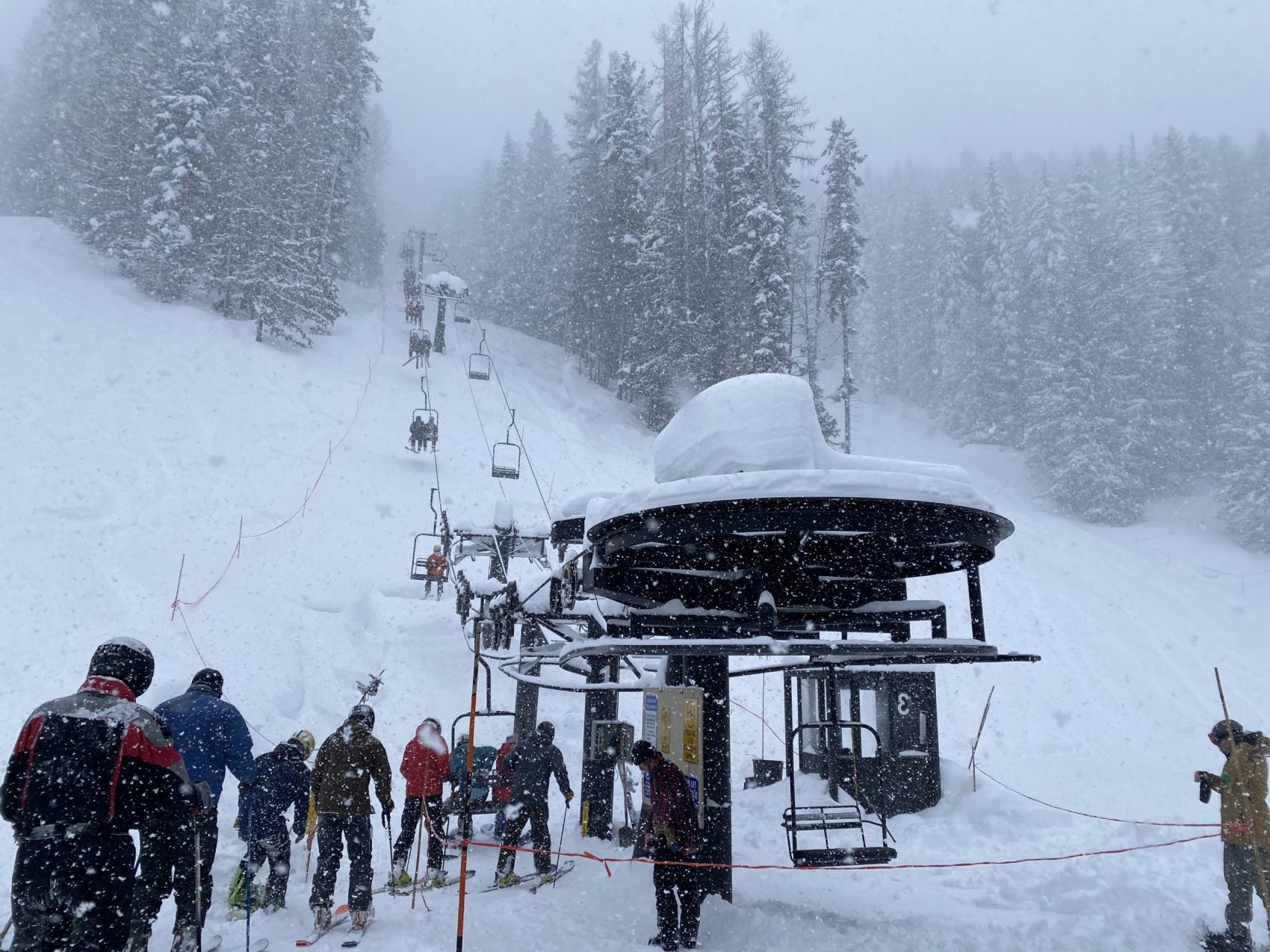 Lost Trail
The fourth stop on this trip was Lost Trail Ski Area: a remote, powder-charged ski area on the Idaho/Montana border—one I've never heard of prior to planning this trip. Located in what feels like absolute nowhere, this resort has huge terrain with only three eclectic lifts that give access to over 1,800 acres of skiable terrain. Powder, pillows, cliffs, couloirs, tree skiing, and views are what this place is all about—and no people. Lost Trail is lonely and laid back, and its skiing and deep snowpack do not disappoint. Hollywood Bowl has an insane amount of powder skiing, with a big open bowl up top, cliffs and chutes, and fun tree skiing below. Oh, and the Salmon River you drive along to get here could be one of the prettiest in Idaho and sports a robust population of bald eagles.
Where to stay
Stay at the Stagecoach Inn in Salmon, Idaho—roughly an hour away. The lodge's position along the Salmon River along with the jaw-dropping drive to the ski area make this place well worth it. Plus, Salmon is a cute, historic little town with coffee shops, bars, and tasty home-style restaurants.
Places to eat
Rise & Shine Espresso (Great coffee!)
Junkyard Bistro
Wally's Cafe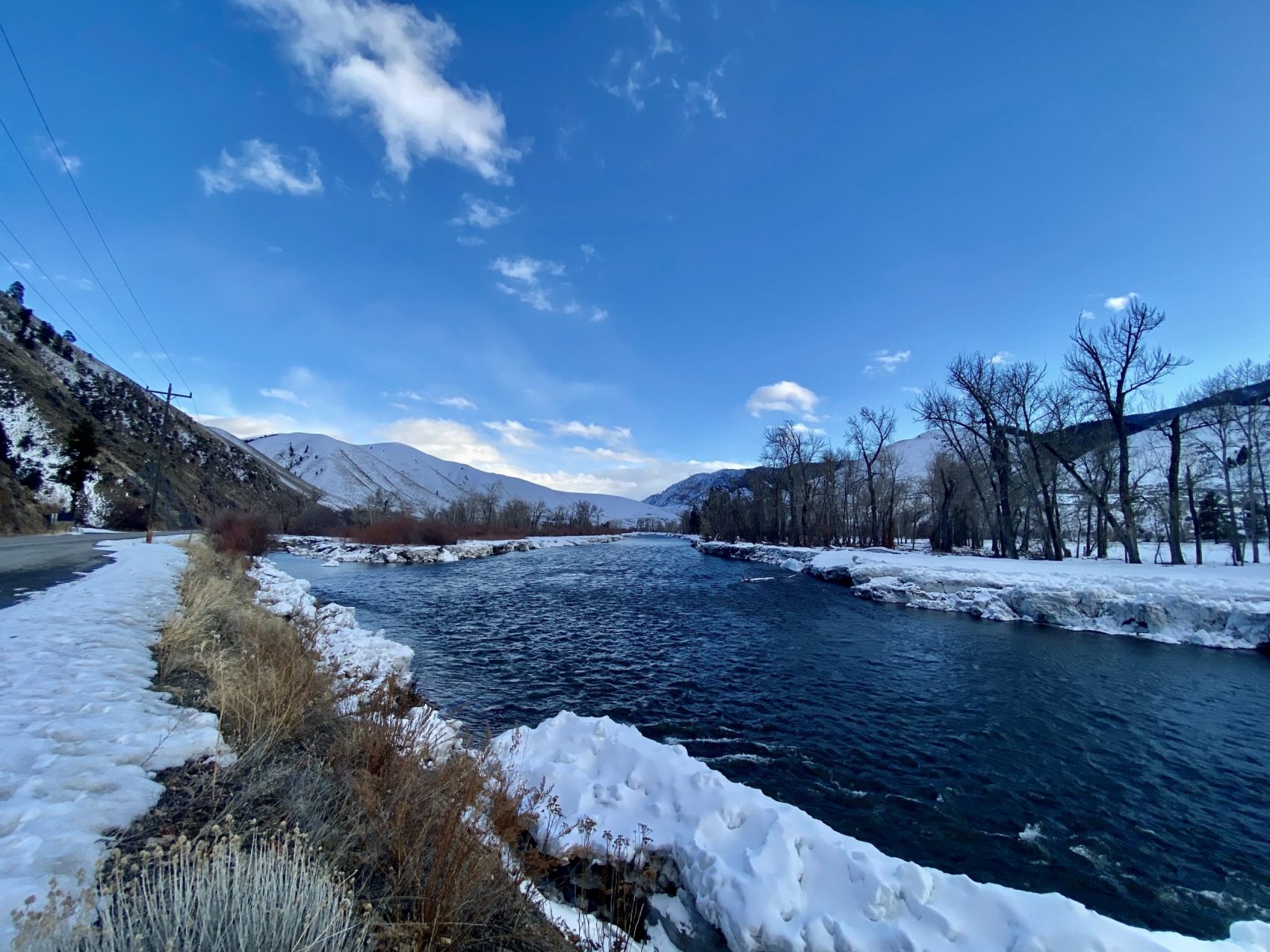 Sawtooth Mountain Guides
From Salmon, I drove four-hours-and-20 minutes to Ketchum, Idaho—home to Sun Valley, which is essentially the birthplace of destination skiing in North America. I spent three nights here, skiing a day-and-a-half at Sun Valley and a full day in the backcountry near Galena Lodge with Sawtooth Mountain Guides—Idaho's best backcountry skiing and riding guiding service. Sawtooth Mountain Guide Doug Bernard and I went for a walk in the Sawtooth Recreation Area near the legendary Galena Lodge and found absolutely beautiful snow conditions.
Blue skies and cold (but not too cold) temperatures greeted us on the skin track as we toured up to soft, fluffy snow in the heart of five different mountain ranges—the Pioneers, the White Clouds, the Boulders, the Smokys, and the Sawtooths. The views here were almost too much to take in. Big ski line after big ski line stared at you from all directions. Because of tricky avalanche conditions, we skied mellow, low-angle powder in an ancient-feeling forest, which was completely absent of anybody besides Doug and me. The only other tracks we saw were those of a bobcat. There's a lifetime of skiing out here, and Sawtooth Mountain Guides can certainly point you in the right direction.
Sun Valley
Sunshine, long consistent-pitch trails, and world-class lodging and food are what make Sun Valley stand out. It's always been this way in Ketchum—since 1936 when Sun Valley first opened. Tradition is huge at Sun Valley, which is where the world's first-ever ski lift came into play. When I skied here, there wasn't a single cloud in the sky and I was encircled with some of the best views in Idaho, if not the Lower 48. Everywhere you look you only see tall, jagged, snowy mountains—most of which are skiable.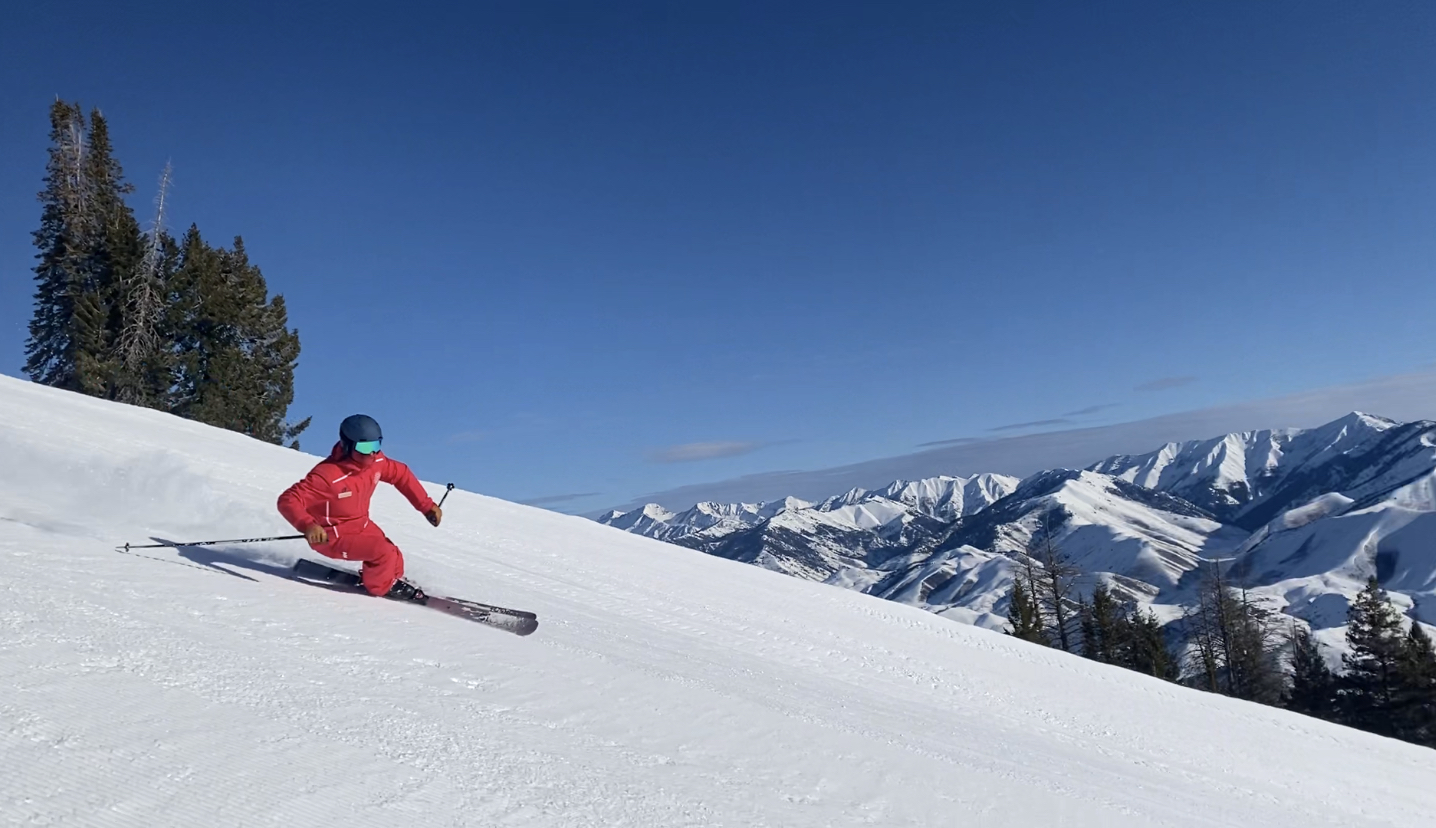 Sun Valley holds its grooming operations to an insanely high standard. I had the most fun I've had on groomers all season here—and I usually hate skiing groomed runs. It also just added in a brand-spanking-new lift this season and 380 acres of additional terrain including Sunrise Bowl and the Cold Spring Chutes, which you really should check out when you get here.
Sunrise Bowl is a major addition to Sun Valley—a huge, steep, south-facing bowl so large that it almost feels like a mountain of its own. And if you like steeps, Cold Springs Chutes is essentially an area cut out of a steep-skiing destination like Taos and pasted right here, in bounds at Sun Valley. Venture here and when your legs start burning, you'll know you're in the right place. For lunch, I'd hit Irving's Red Hots—a classic, family-owned hot dog stand in the Warm Springs base area that serves up some mean franks.
Where to stay
There's no way you can go wrong by staying at the Sun Valley Lodge—one of Ernest Hemingway's favorite Ketchum hangouts. Its sister hotel, The Sun Valley Inn, is slightly more affordable than the Lodge and just about as luxurious. Both these lodges will have you feeling like a 1930s-era aristocrat on a ski vacation. Make sure to take a dip in the heated pool and watch the sunset after a hard day of skiing, or grab some artisanal pastries from Konditorei, a nearby bakery.
Places to eat
Konditorei (Probably the number one breakfast spot)

Irvings Red Hots
Sawtooth Brewery Public House
Pioneer Saloon
Despo's
Grumpy's
Lefty's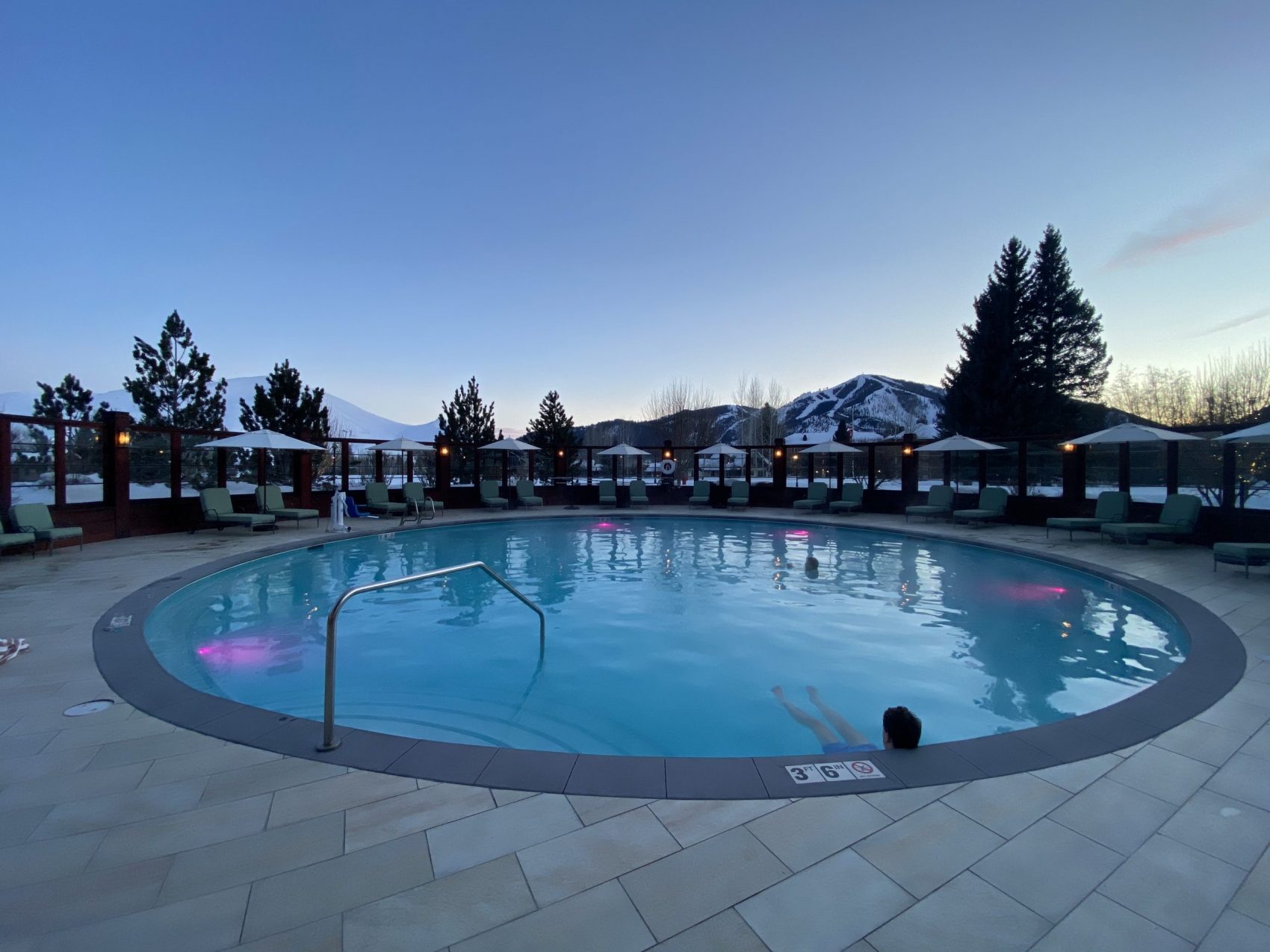 One final note from the author
I never thought much of Idaho in terms of skiing until I came here. Then I learned how underrated this place was. Everywhere I went I was greeted with great skiing, good snow, and charming atmospheres. Idaho is quiet, and I think its friendly population of locals likes to keep it this way. A lot of these ski areas, hotels, and restaurants mentioned on this list are family-owned and operated and are reliant on tourism to drive a profit. COVID-19 has tried to throw a wrench in it all, but with social distancing and a respectful attitude towards others and their health and safety, you can still plan a safe, powder-packed ski vacation. So if you are planning to throw your sticks or board onto a rack and hit the road in search of powder, adventure, or relaxation, I do hope that you consider this gem of a state.