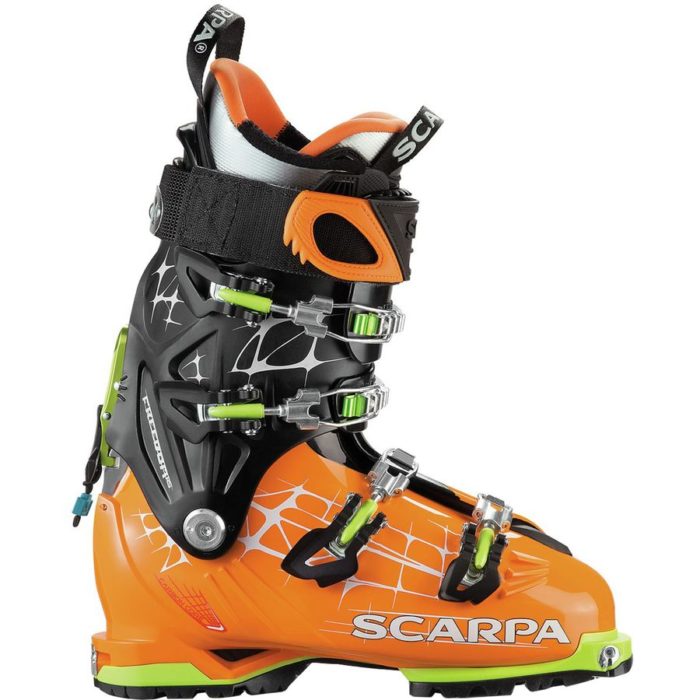 The Scarpa Freedom RS 130 is one of the best ski boots on the market. Period. End of story. I've been in this boot for the last 2.5-3 years and it has been one of the best inbounds and out-of-bounds (on-piste/off-piste) boots I've ever skied in. Below are some of the reasons why I believe the Scarpa Freedom RS 130 is a "quiver killer" of a boot.
This boot skis both side of the rope exceptionally well. The purpose of this boot was to have the all of the features of a hard-charging inbound boot with the features and some of the key abilities of a touring boot. The two features that make is possible are the flex and the walk mode. The Scarpa Freedom RS 130 has a stated flex of 130 and this gives it an aggressive freeride feel. I've skied the spectrum in this boot, from blower almost choker pow to the most heinous conditions out there that could make your fillings pop out of your mouth. It can handle it all and I've never felt like I was getting any compromises going down. One thing I've noticed over time is that with tough use the flex gets a bit softer as the plastic get stretched. Not a huge problem as this happens with pretty much all ski boots over time and a little give isn't necessarily the worst thing.
The walk mode is what separates this boot from the other 130 flex boots with walk modes. From hellish staircase bootpacks to bigger ski tours, this boot can compete with some more touring specific boots. It is light, not insanely light, but light enough to get you through a big summit push or some bigger ski tours. I feel like the best range for this boot is doing a 4-5 mile mission (or mountain pass laps) in the backcountry where you want to ski something like you would inbounds. When I first put the boots on in the store, I was amazed I didn't have to heel-toe it around and could actually walk like a normal person. Also, this boot is amazing for apres ski as you can practically run from bar to bar!
Another feature that I now cannot ski without is an Intuition Ski Liner.  Intuitions are awesome liners because they are easily customizable and warm. Intuitions are foam liners that you heat up, put your feet in, and then they instantly form to your foot. You can heat them up yourself or at a boot shop. If neither of those are options for some reason, you can wear them over time and they will quickly form fit. My toes have never gotten cold in intuition liners, no idea why, but in every different boot that I've had an intuition, I've never had cold feet! If you have never tried one I'd highly recommend them!
If you are still on the fence about this boot, check out what Dav (Chris Davenport, insane big mountain skier) had to say about them.