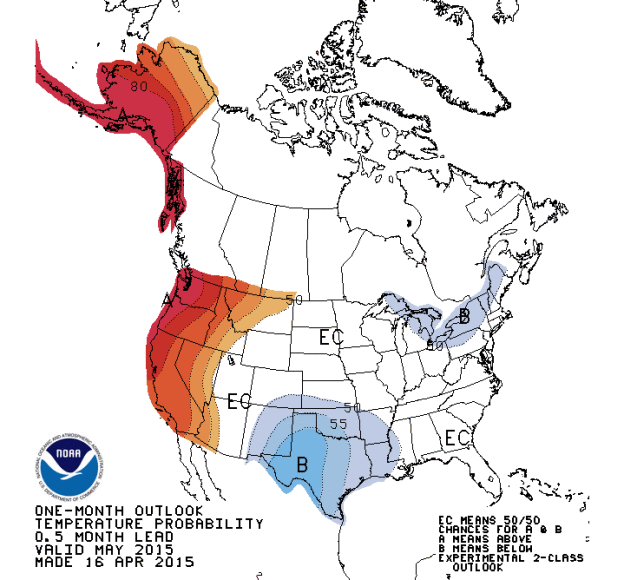 NOAA just released their weather outlook for May, 2015 in the USA.  From this outlook, it's tough to say where might be best in May.  In general, this year, you'll simply want to go where the snow is deepest and lowest and/or where the lifts are still spinning.
NOAA is forecasting above average temperatures for the entire Western USA and all of Alaska in May.  They're forecasting below average temperatures in May for Texas, Oklahoma, Louisiana, New Mexico and the Great Lakes as well as the Northeast of the USA.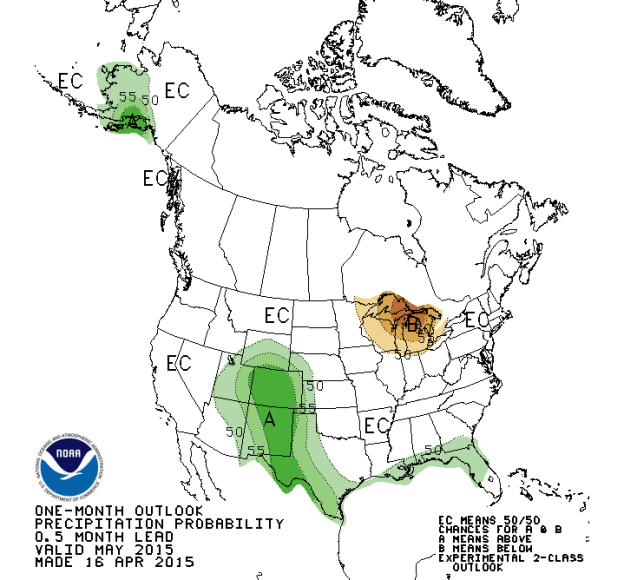 NOAA's precipitation outlook for May is showing above average precipitation for Utah, Colorado, New Mexico, Texas, and southwest Alaska. NOAA's precipitation outlook for May shows below average precipitation for the Great Lakes Region, Wisconsin, and Michigan.
NOAA's MAY OUTLOOK DISCUSSION:
THE MAY TEMPERATURE OUTLOOK SHOWS AN ENHANCED LIKELIHOOD OF ABOVE NORMAL 
TEMPERATURES FOR ALASKA AND FROM THE NORTHERN ROCKIES, ACROSS THE GREAT BASIN, 
TO SOUTHERN CALIFORNIA AND WESTERN ARIZONA. THE STATE OF PDO AND ENSO, AND THE 
DYNAMICAL MODEL GUIDANCE, SUPPORT THE OUTLOOK OVER THOSE REGIONS, WHILE 
ADDITIONAL SUPPORT COMES FROM THE ONGOING DROUGHT CONDITIONS ACROSS THE WESTER CONUS. 
 
BELOW AVERAGE TEMPERATURES ARE FAVORED OVER THE SOUTH-CENTRAL GREAT PLAINS AND 
WESTERN PORTIONS OF THE SOUTHEAST. REGRESSIONS OF TEMPERATURE ON PDO, NINO3.4, 
AND AMO, AS WELL AS DYNAMICAL MODEL OUTPUT, SUPPORT BELOW NORMAL TEMPERATURES 
ACROSS THIS REGION.  BELOW NORMAL TEMPERATURES ARE FAVORED FROM THE GREAT LAKES
 
ABOVE MEDIAN PRECIPITATION IS FAVORED OVER WESTERN ALASKA, CONSISTENT WITH 
DYNAMICAL MODEL OUTPUT AND REGRESSIONS OF PRECIPITATION ON THE PDO INDEX. FROM 
THE CENTRAL ROCKIES TO THE SOUTHERN GREAT PLAINS AND ALONG THE GULF COAST, 
ABOVE MEDIAN PRECIPITATION IS FAVORED.  THAT SIGNAL IS EVIDENT IN MANY 
DYNAMICAL MODEL SOLUTIONS, AND IS CONSISTENT WITH NINO3.4 AND AMO BASED 
CORRELATIONS. BELOW MEDIAN PRECIPITATION IS FAVORED OVER A SMALL PORTION OF TH GREAT LAKES REGION.  THAT SIGNAL IS EVIDENT IN CORRELATIONS WITH NINO3.4, PDO, 
AMO, AND APPEARED IN ABOUT HALF OF THE NMME MODEL GUIDANCE. 
 
IN AREAS WHERE CLIMATE SIGNALS ARE WEAK, SUCH THAT THE LIKELIHOODS OF MONTHLY 
MEAN TEMPERATURES OR MONTHLY ACCUMULATED PRECIPITATION AMOUNTS ARE SIMILAR TO 
CLIMATOLOGICAL PROBABILITIES, EQUAL CHANCES (EC) IS INDICATED.