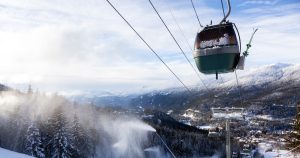 Whistler is delaying the opening of the new Creekside Gondola, with no set date for when it will start running. The gondola was originally planned to debut in line with the resort's planned opening day of Thursday, November 24th, but Whistler was unable to put the finishing touches on it in time.
This serves as a major blow to the operations of the Canadian resort. The Creekside base area serves as an important staging area for the massive 8,171-acre mountain, as it is 1 of 2 remaining free parking areas for Whistler. It is also the main area that skiers and riders coming up the Sea-to-Sky Highway from Vancouver utilize for parking, creating a notable issue for residents of the large Canadian city driving up to the resort. This is likely to create a situation in which those who park in this lot will be required to board a shuttle to gain access to the slopes, a scenario the mountain's operations team was certainly looking to avoid. This means that the Whistler Village base area is likely going to see an increased amount of congestion to begin the season, leading to longer lift lines. This situation can be seen as especially disappointing for locals of the largest resort in North America, as their commute to the mountain has been hampered significantly and operations seem likely to be taking a hit for a solid part of the beginning of the season.
The issue has been attributed to the fact that a number of the major components needed for the completion of the gondola, including the haul rope, have been trapped on a supplier boat en route to British Colombia. It has been reported that the boat has just cleared customs in California and is on its way to Canada, which is at least one positive aspect of this situation. However, even once the haul rope arrives and is successfully hung, there is still a significant amount of remaining steps necessary for the completion of the process. This includes a minimum of 1 month of additional construction, a plethora of safety checks, and additional maintenance. This timeline indicates that the resort is cutting its timeline very close to completing this project by the end of the year, and hopefully, a portion of the beginning of 2023 will not be needed to ensure that this is completed properly.
With the holiday season quickly approaching, it is very much in Whistler's best interest to get this gondola up and running as soon as possible. It seems that Covid-related supply chain issues are still creating significant issues for the ski industry nearly 3 years after the virus shut down the slopes for the 2019-20 season, as that is what the chair lift and gondola manufacturer assigned to the project, Doppelmayr, has chalked the issue up to. Hopefully, the resort is able to get this project wrapped up as soon as possible for all parties involved.