Jeff Bezos, we found a ski for you.
The Oro-Nero by Foil Skis are just about the boujiest skis we've ever stumbled upon. Hell, the things are made from wood that's older than written language.
The Oro-Nero is a stunning display of the possibilities of uncompromising dedication to luxury and "High Performance Art." Made with 8000-year-old certified Bog Oak combined with 14 karat gold plated bindings, poles and inlays. The Oro-Nero is the ultimate representation of Foil's belief in "No Limits." — Foil Skis

Primary Ingredients Include:
– 8000-year-old Bog Oak top sheet
– Graphite race nanotech base
– Quadriaxial carbon stripes
– Ash/Paulownia wood core
– Bamboo sidewalls
– Stainless steel edges
– Rubber dampening inserts
– Titanal plates
– Proprietary resins
8000-Year-Old Bog-Oak
Bog-Oak, also known as abonos and morta, is a material from trees that have been buried in peat bogs and preserved from decay by the acidic and anaerobic bog conditions, sometimes thousands of years. The wood is usually stained brown by tannins dissolved in the acidic water. Bog-Oak represents the early stages in the fossilisation of wood, with further stages ultimately forming lignite and coal over a period of many millions of years. Bog-Oak is often removed from fields etc. and placed in clearance cairns. It is a rare form of timber that is "comparable to some of the world's most expensive tropical hardwoods. — Foil Skis.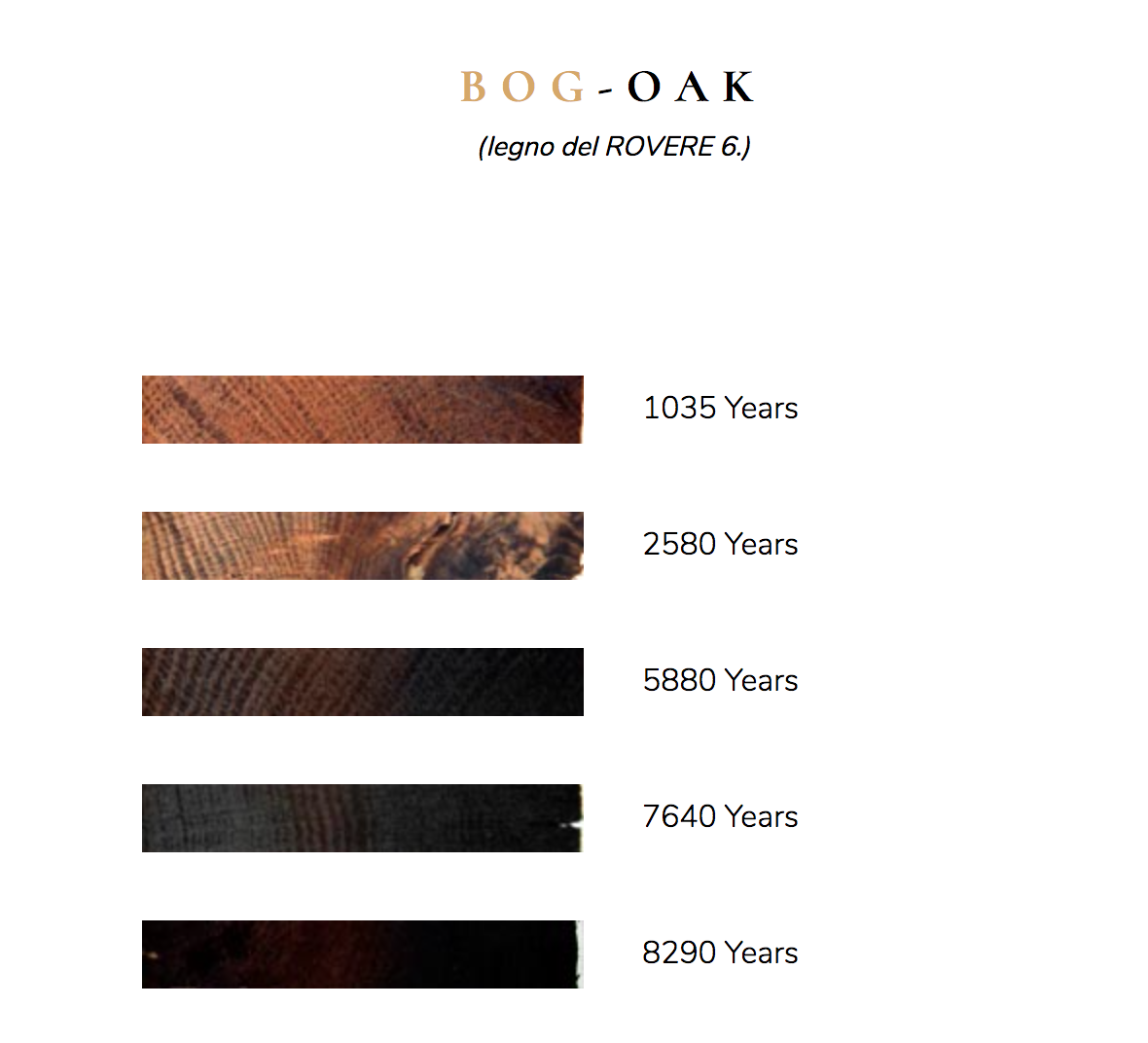 The Swiss Watch of Bindings
Foil bindings are designed for performance, safety and aesthetics. Every single detail has been meticulously conceived and painstakingly produced in order to provide a binding of unparalleled comfort, ease and elegance. The plated finish is extremely durable and guarantees a long-lasting beauty and unrivaled distinction. Every Foil binding is adjusted precisely to your boot in line with your physical attributes and level of proficiency. This adjustment ensures both a precise fit and a ski that is uniquely yours. — Foil Skis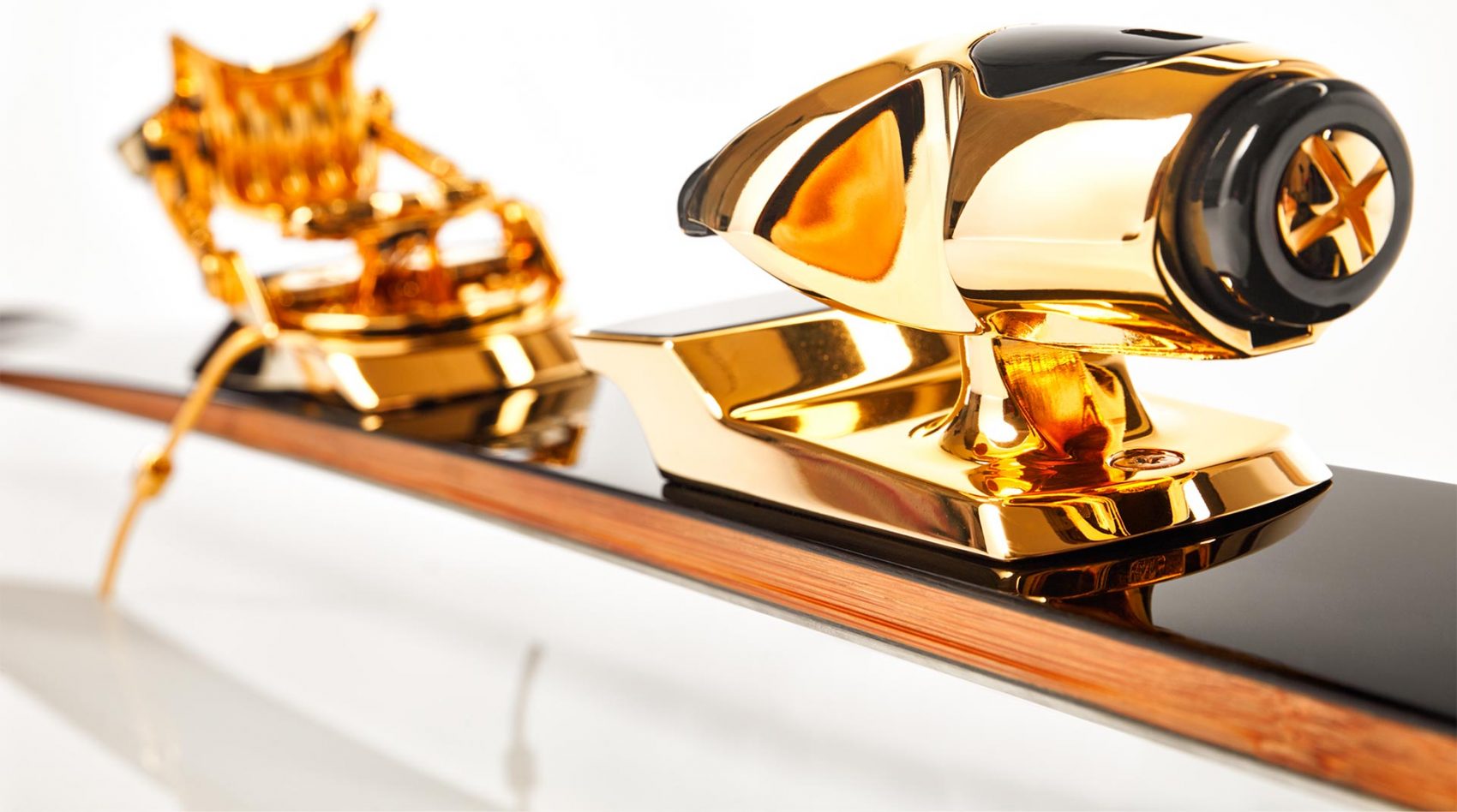 The Oro-Nero's come with a custom-built travel bag made specifically to transport these luxurious devils.
Simply stated, the Foil travel bag is one-of-a-kind. Custom designed by Foil and made from the finest, pure aniline, top grain leather, it is stately, elegant and practical. Each bag comes with a certification from the "Pelle Conciata al Vegetale in Toscana" (Vegetable-tanned leather of Tuscany) which guarantees the authenticity, natural tanning method and premium quality of the leather.

Foil travel bags are hand-stitched by Italy's preeminent leather craftsmen whose roots in the practice span generations. The bags are crafted in 3 sizes (depending upon ski lengths) and come with a full-length heavy duty zipper, carrying handle, front pull handle and discreet wheels. Internally, the bags feature a form-fitted frame for the skis and poles, elegant fabric lining, reinforced nose and side panels. — Foil Skis
About Foil Skis 
Foil Skis were born and raised in a small village nestled between the Alps and the Adriatic Sea in northern Italy…
Our love of sport, nature and movement – and our fascination with the deep connection amongst these elements, inspired us to create Foil.

Andreas Pichler, award-winning designer, artist and competitive alpine skier, embraced Foil's legendary foundation and then, with valuable input from a team of master craftsmen, designers and athletes, shaped Foil into what it is today.

Over ten years of intense analysis, development and testing has gone into Foil skis with only one goal in mind: to create a ski of World Cup performance, in perfect balance with the body, in harmony with nature and one that aesthetically celebrates the timeless beauty of skiing.

Foil Skis are the truest expression of our lifelong desire to create authentic "High Performance Art." The result is the embodiment of supreme engineering and superb design. Like a Master Chef, the team at Foil has learned not only how to select the finest ingredients but also how to combine them in a way that has produced a ski which is every bit as breathtakingly beautiful as it is a sheer joy to ride. — Foil Skis