Report from May 25, 2023
We hit the road around 7:30, with bright blue skies and the Spring sun shining. 
The drive from South Lake through Emerald Bay to The Spring Skiing Capital was beautiful and serene. 
The waterfalls were absolutely raging, and the Spring bloom is really starting to show.
Arriving at Palisades around 9:00, my confidence was high that we would get a couple great hours of corn skiing in. 
Starting off the day with a hot-lap up Roundhouse and a cruisy groomer down Dance Floor, the snow felt perfect. 
Fast and soft. Slushy but textured. Firm enough to play around on and carve some wide turns.
It's.. It's corn!
Summit Express was next on the agenda. 
The snow walls at 8,600′ are still enormous for the end of May. 
Colder air guaranteed us a fantastic lap down Alpine Bowl, and rest assured, it was. 
Next lap up Summit, I made the game-time decision to hike High Traverse. 
The ridgeline was almost fully melted, however we found a nice patch to strap in after another group took off.
Decent snow quickly turned sunbaked, then sun-cupped, followed by a slow traverse down the road to Sherwood.
It was worth the views, and couple of calories burned.
We took a car break around 11:00.
The sun was hot, and layers needed shedding.
Also, some watermelon and veggies were a delicious, hydrating snack. 
Around 11:45, we got back out.
I was sure that the blazing sun and warmer temperatures negatively affected the snow by now.
I was wrong.
A fun little cat-track side-hit that was begging for a boosting caught my attention.
Another lap up Summit and over toward Wolverine Bowl proved to be a good move.
The snow kept softening but remained relatively fast and fun.
After a few more fast laps, we decided to call two more skip the last, in hopes of making it to the beach to dip our toes on the drive home.
Right when we made it down, ski patrollers were closing lifts due to lightning in the distance.
There were some very ominous clouds developing to the east as we walked to the parking lot.
After a bite to eat, our leisurely drive down the west shore turned dark and rainy.
We stopped near Tahoma to skip a few rocks and smell the fresh rain.
Looking towards south shore, Heavenly and Freel were vibrantly illuminated by the rays of sun shining down.
What an awesome end of May day!
Snow Numbers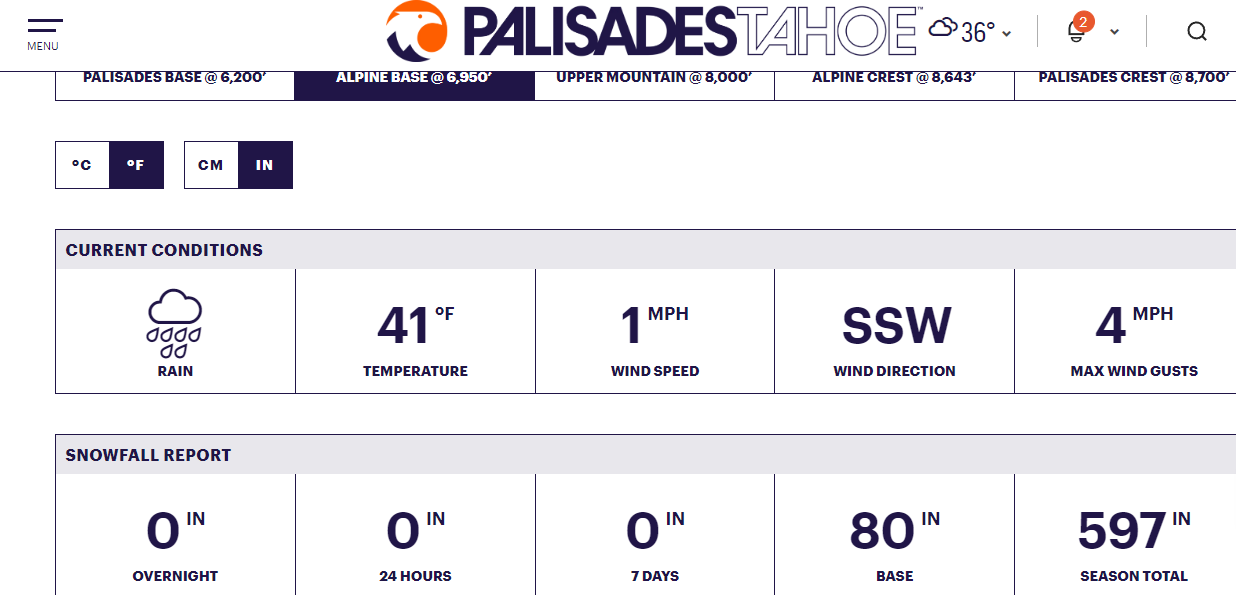 Weather Forecast