Report from December 28, 2021
Today was a wild one at Palisades Tahoe, CA.
Palisades Tahoe just broke their all-time record for December snowfall at 199″ and there is 6-10″ of snow in the forecast tomorrow.
They've seen 113″ of snow in the past 7-days.
The morning started out with blue skies and The Fingers looked perfect…
I went straight for my favorite cliff to backflip and…
I learned just exactly how NOT to do a backflip off a cliff!!
It's always a bad sign when you land a backflip with zero skis on…
I was feeling super tired this morning after 13-hours of driving, 1-hour of skiing, & only 6-hours of sleep yesterday and I kept telling myself that I was going to take it easy…
Right up until I saw that my favorite Cliff to backflip was in and looking fabulous.
As I approached it 2 guys beat me to it and I stopped to let them clear out and potentially crash and get up cleaned up and move on.
After waiting for about 30 seconds I pointed it and decided to go more left than I usually do to make sure I didn't land on anyone and make sure I didn't land in a bomb hole.
Bad plan.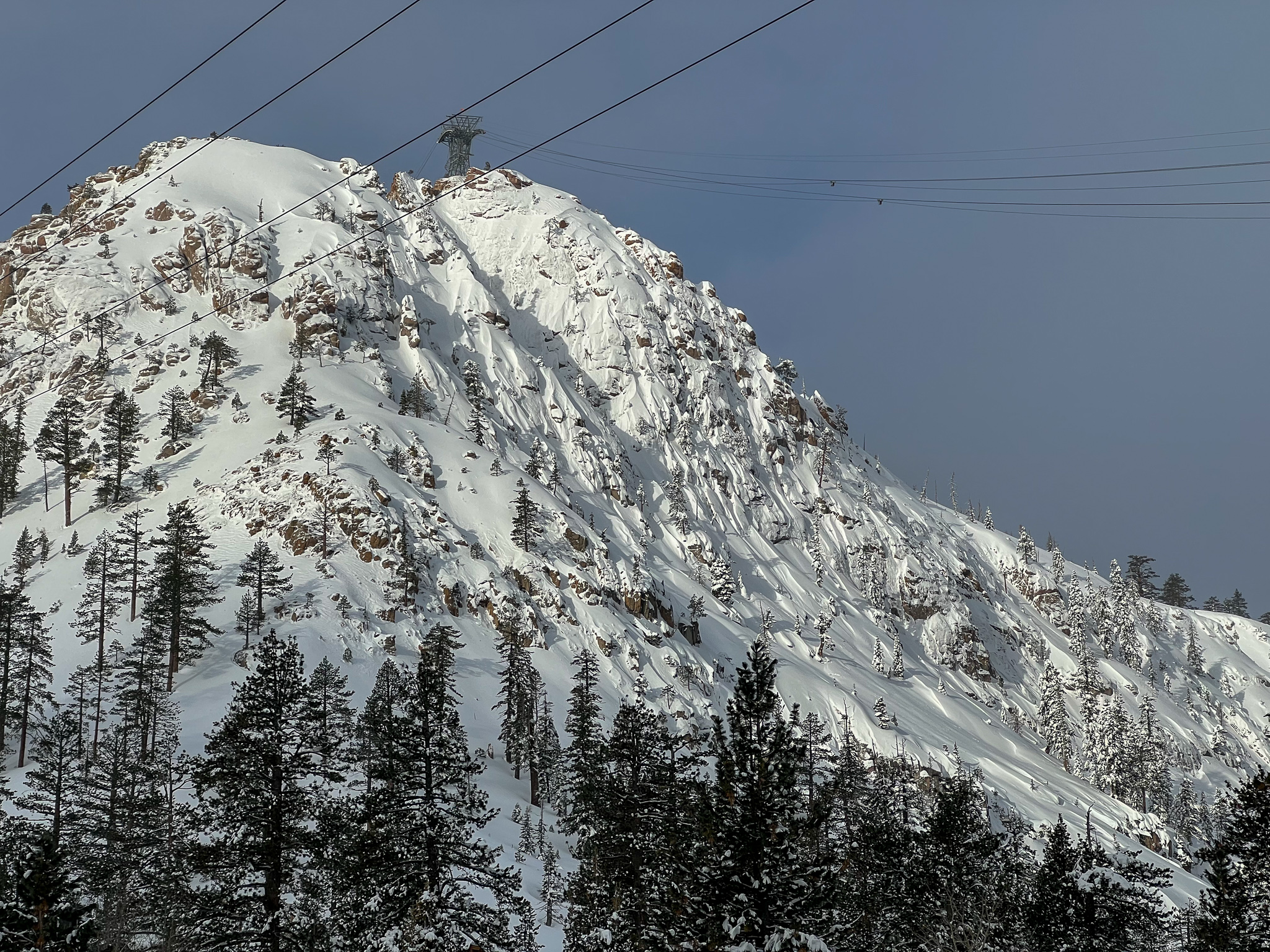 There are a lot more rocks to clear when you go further left and I didn't have enough speed to clear them.
3/4 of the way through my backflip the tips of my skis hit the rock so hard that they came clean off and I finished the flip with no skis and luckily landed on my feet!
I was feeling pretty dejected all day after this crash…
At least the POV of it is pretty fun to watch!
Anyway, I got my skis back on and went and skied Easy Fingers and they were spectacular.
I went and hucked Ice Goddess and was feeling better after that 🙂
Palisades Tahoe went off today.
Ross Tester (Freeride World Tour competitor) a huge flat 3 off Hatchet Line in The Fingers, flashed The Middle Knuckle and did a ton more that was mind-blowing.
Ryan Faye (former Freeride World Tour competitor) was also going off with backflips off KT Gap, a ferocious Middle Knuckle, and more.
I felt very humbled at Palisades today…
People were going off all around.
Not much was open due to avalanche danger so the line on KT was pretty long and after 4 runs I decided to head home and rest up a bit before noon.
NOTES:
We just got an emergency alert on our phones that says:  "Tahoe Hwys are at a standstill. Traffic will be turned around for safety by NDOT"
We are getting reports of there not being any gas in Tahoe City, Kings Beach, Truckee, Auburn.
Snow Numbers
Weather Forecast
Photos