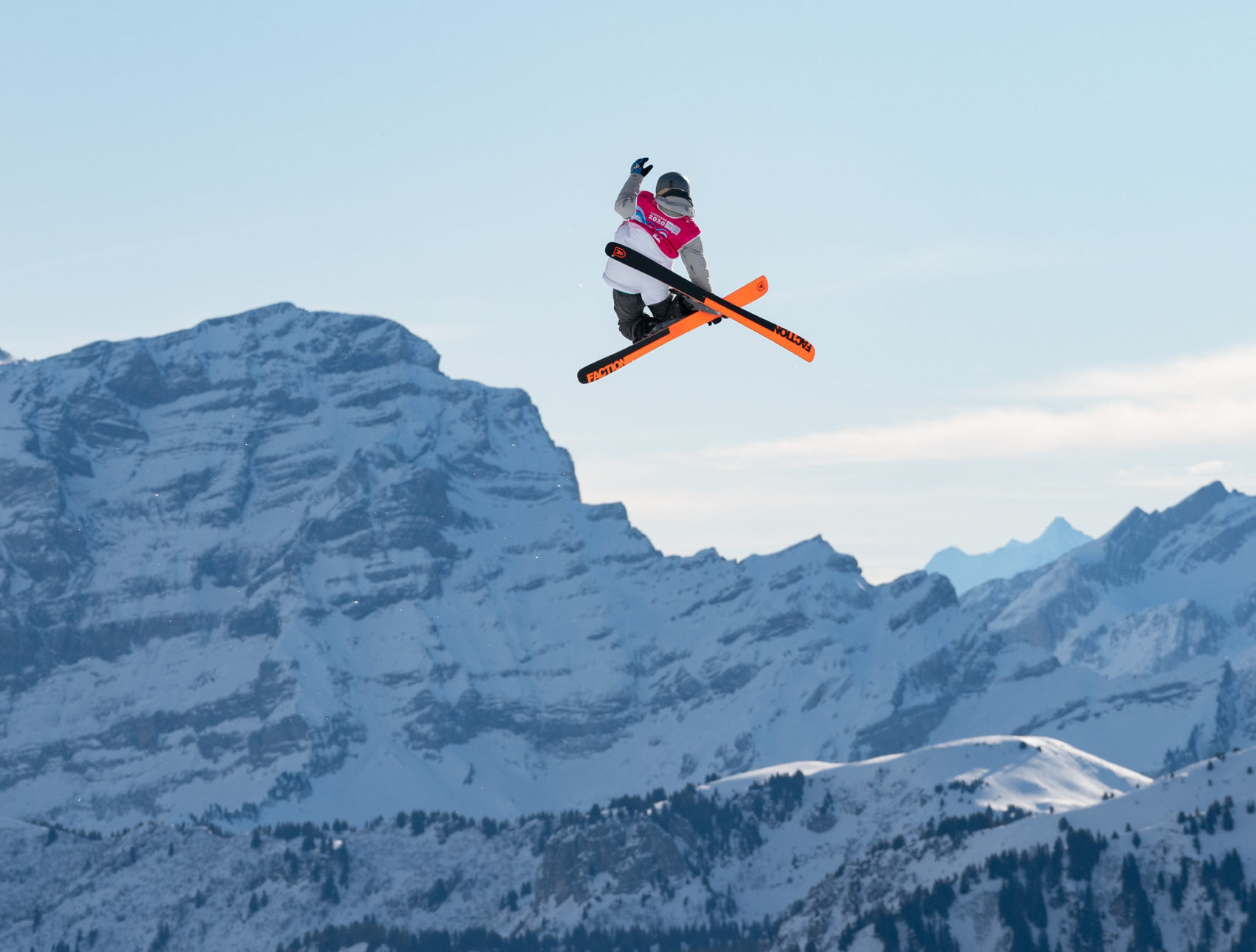 On Saturday, January 18, 15-year-old Jenna Riccomini placed 8th in the world at Leysin Park in Lausanne, Switzerland after posting her third and final round score of 52.0 at this year's Junior Olympic Slopestyle event!  She also had an opportunity to compete in Big Air and Halfpipe while she was there. I grew up with Jenna's aunts and uncles in small-town Edinboro, PA.  Her immediate family now resides in Port Matilda, PA. Not too shabby for a girl who learned to ski at the age of two at a place in North Carolina called Ski Beech and later spent most of her early youth ripping around on an almost 100% man-made base at Tussey Mountain in State College, PA.
The Riccomini family that I grew up with are all hard-working, loving, and excel at their sport or sports of choice.  I once threw what I thought was a perfect knuckleball to her uncle Matt as a 12-year-old where he literally, single-handedly – off one foot – sent it soaring over the center-field fence. 25 years later, I still want that pitch back!  Enough about baseball, though. My point is that she's got champion in her genes, and she's working as hard as ever to be the best at what she does!
I asked her father, Paul at what age he taught Jenna to ski.  Since Paul has been a ski instructor for most of his life, he taught all his kids to ski himself.
"Since I was a ski instructor at Mt. Pleasant and Tussey Mountain, I had all of my children on skis at age 2. It was important for me that all my kids learned to ski so that we could ski as a family." – Paul Riccomini
I guess the joke is on you now Paul.  I highly doubt that you can ski 'with' Jenna any longer.  Maybe on the same hill at the same time, but there aren't too many experienced skiers that could ski 'with' the teenage girl pictured below.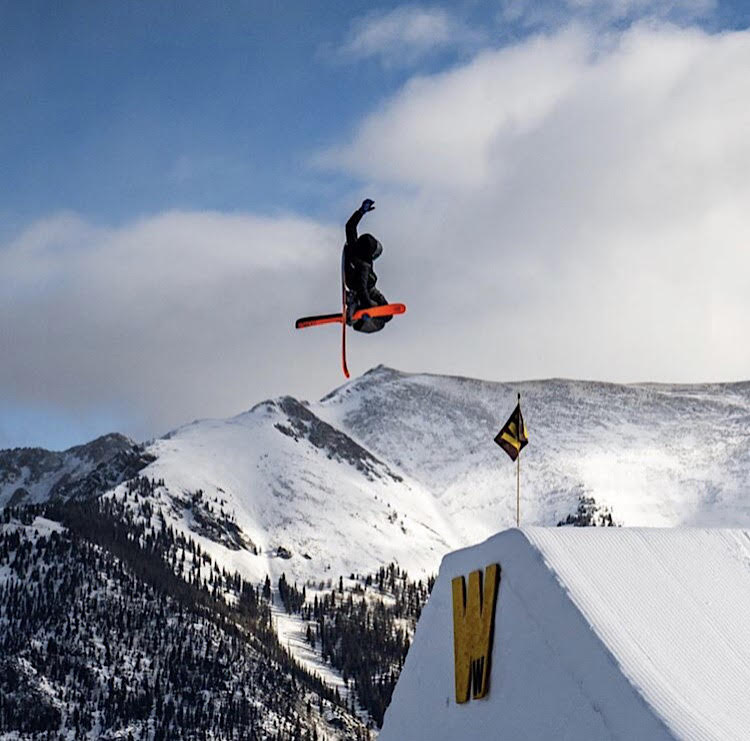 That's one sick grab, Jenna!
Jenna credits skiing with her brother as a young child most for uncovering her love for the park. Chasing him around off big jumps and sliding boxes with him drove Jenna to work on honing in her skills.
At the ripe old age of 8, Jenna took her first lesson in the terrain park from a fellow named Dean Spirito.  Dean is one of the coaches for Team Summit at Woodward Copper.  Dean and Jenna teamed up and he became one of her main coaches.
"Dean has been with me since the beginning. He was my first coach and still is my coach." – Jenna Riccomini
Here is a little snippet of Jenna practicing new tricks in the park.
Video Credit: Paul Riccomini
You can find more videos like this one and also keep up with what Jenna is doing on skis with a quick visit to her Instagram page!
"I know Jenna and she is a great girl. She has been out to Park City for training a few times and is on the Radar of US Freeskiing. She competed in Slope Style (which I believe is her focus) and halfpipe. I watched her slope run and the park is what we call 'heavy'! Big jumps and Big Rails. She is on her way to big contests and big things." – Rick Shimpeno, US Olympic Snowboard Halfpipe Coach
Rick has been all over the world at the largest events, including several X Games as well as the 2018 Peyong Chang Olympic Games.  He may specialize as a halfpipe snowboard coach, but I'm sure he knows when he sees a great athlete on skis. Keep up the hard work Jenna. You're going even further in your future as a freestyle skier!
The first competition that Jenna competed in was a rail jam at Copper Mountain. She won!  That first win is what spurred her on to continue getting better and compete as much as possible. Jenna gives credit to all the coaches and professionals that have encouraged her along the way and she says that plays a huge part in her motivation to continue.
"The single event that probably gave me the most motivation was the Aspen Open last year. It was on the same course that they just held X-Games. It was the most challenging course set up with the biggest jumps I have ever competed on!" – Jenna Riccomini
It was at the Aspen Open where Jenna recalls one of her Team Summit coaches, Teddy Goggin helped Jenna adjust to the 'Heaviest' jumps she can ever remember hitting.  It was also at the Open where Jenna made it through to the finals and also had her first taste of competing against International athletes from Canada.  She said, "there were some really good athletes!"
To ring in the New Year and go into Lausanne with a boost of confidence, Jenna headed across the pond in good spirits after winning a Copper Mountain USASA Slopestyle Event on January 12th.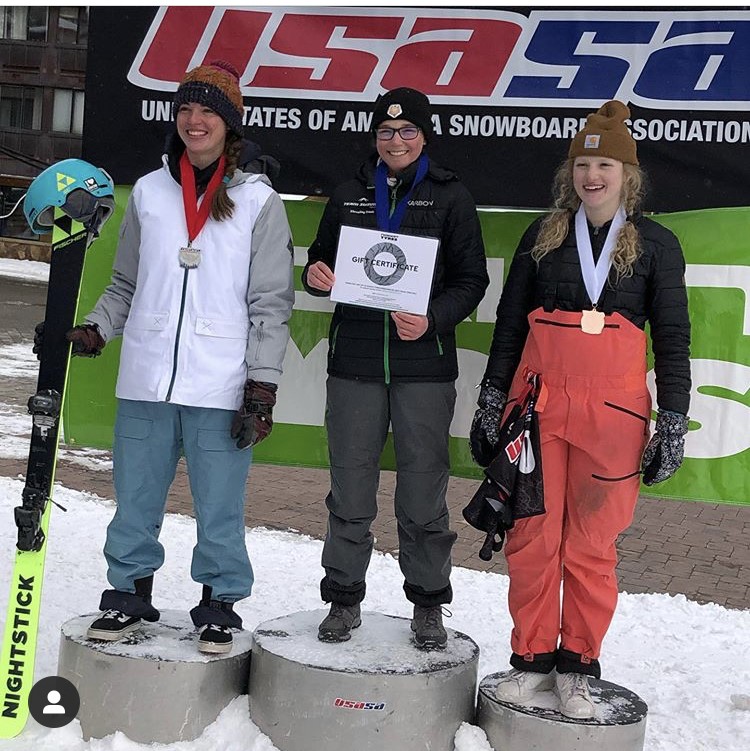 Jenna began training full time 3 years ago when she joined Team Summit.  She lives in Colorado most of the year with her host family, where she also completes her school work online since she says she is lucky enough to have the option for cyber classes through the State College Area School District.  She added, "It's hard being away from home and my friends, but it was really the only option to continue to train at a high level."
When asked, Jenna said that her number one goal is to make it to the 2022 Olympics, but she also strives to compete and do well at other large events like The Dew Tour, X-Games, and some World Cup events.  Her great coaching and parenting shine through as Jenna says she knows she can't concentrate on certain events or zero in on one goal. She would like to make it onto the USA Rookie Team and was really stoked to get to work with the Rookie Team coach during her time at the Junior Olympics.
"I just need to continue to work hard and try to improve every day and not worry about events. If I continue to improve those things will hopefully work out." – Jenna Riccomini
Jenna also received one of the highest honors one could be given when she was chosen to carry the United States Flag at the closing ceremony in Lausanne.  What an amazing experience that I'm sure she will remember longer than some of the best slopestyle runs!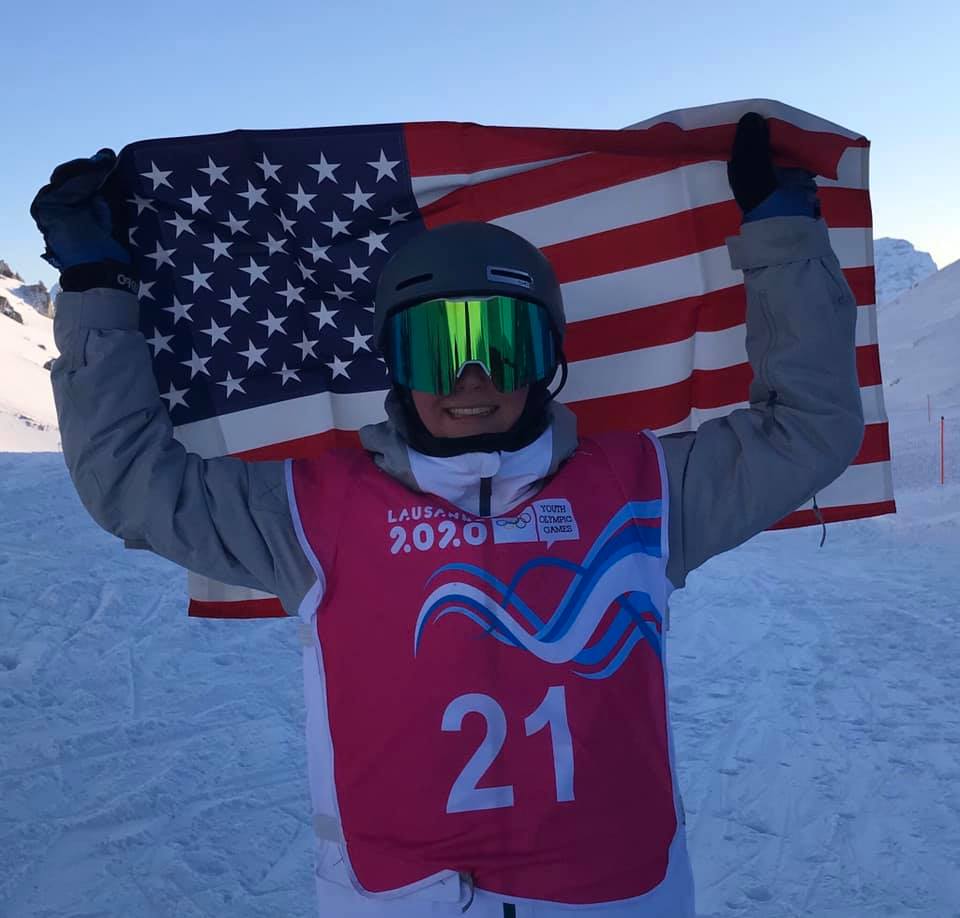 I asked Jenna who was her biggest role model in Freestyle Skiing.  In her opinion, the best Women's Freestyle Skier is Kelly Sildaru from Estonia. Here's what Jenna had to say about Kelly.
"Right now the best women freestyle skier in the world is Kelly Sildaru from Estonia. One of the highlights of the Youth Olympics was getting to meet Kelly. She is so good and inspires me to try to get better." – Jenna Riccomini

Jenna's favorite activities when she is not skiing or training are "skateboarding, fishing, and hanging with my pet guinea pigs."
PHOTO TOUR: