SkiPA Unveils Resort Improvements Ski Enthusiasts Can Expect to See This Winter
The days are getting shorter and many resorts across PA have already started making snow. That means just one thing. It's time to get the skis waxed and ready for the start of the 2019/2020 ski and snowboard season. The Pennsylvania Ski Area Resorts have been busy improving their offerings both on and off the slopes. This year the resorts have made big investments to their snowmaking systems and grooming fleets, with the goal of offering earlier openings, more skiable terrain, enhanced snow coverage and a later season. New bars, trail offerings and upgrades to snow tubing parks and facilities have been added. And, new rental equipment inventory will make it even easier to find the latest gear this season. Finally, multi-resort ski passes, online ski perks, and special packages will make it convenient and affordable to visit the Pennsylvania Ski Resorts this winter.
Following are some highlights of what's new on the Pennsylvania slopes for the 2019/2020 season from the Pennsylvania Ski Areas Association:
IN THE EAST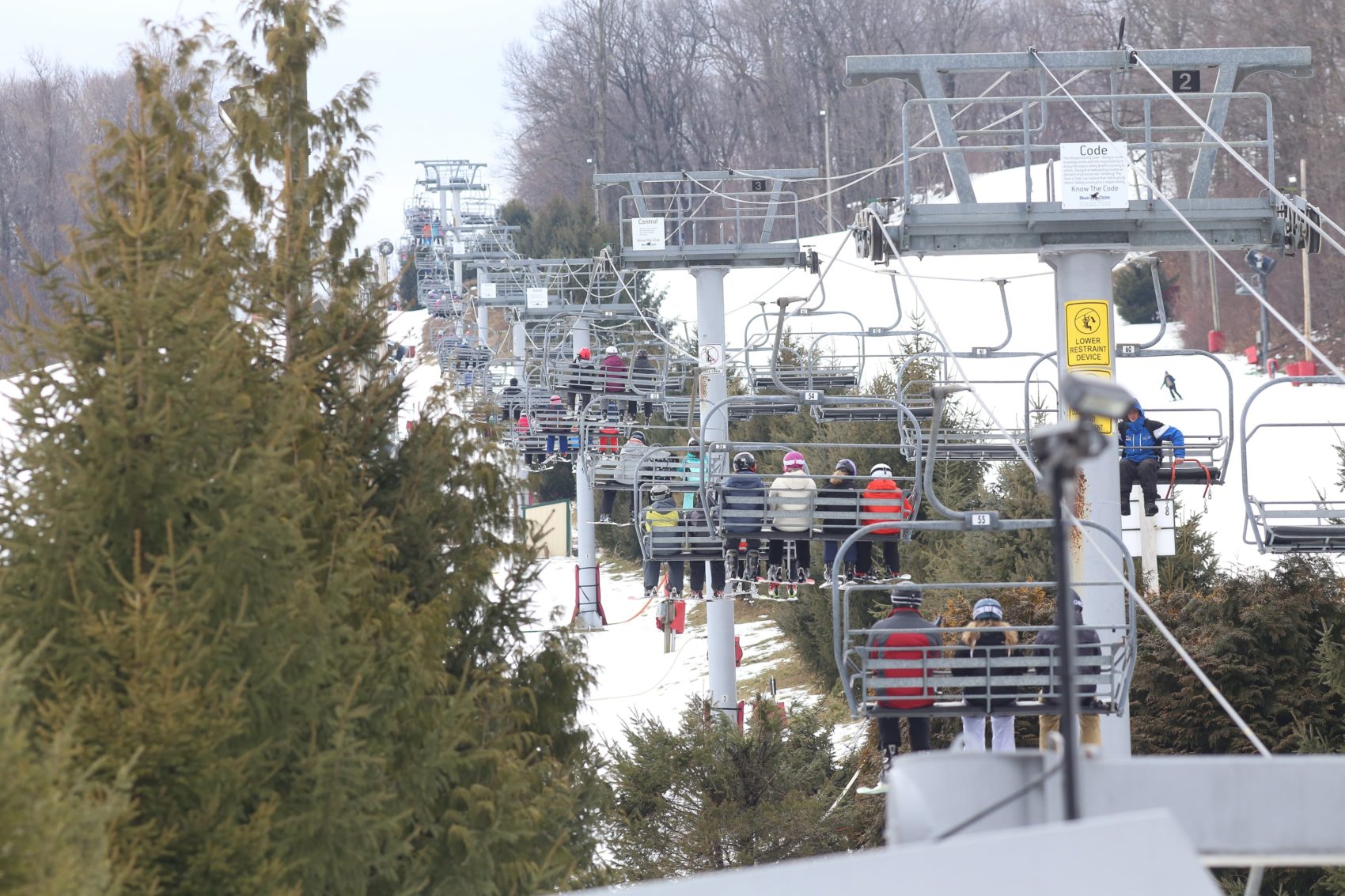 Bear Creek Mountain Resort, Lehigh Valley
Nestled on over 330 wooded acres in scenic Berks County, Pennsylvania, Bear Creek Mountain Resort is a four-season destination resort just a short drive from Philadelphia, New York, D.C. and Baltimore.  The resort features 21 trails on 86 acres of skiable terrain with something for every level of skier or rider, from an expanded beginner area complete with a carpet lift and chair to Sasquatch, the most challenging black diamond trail with a 50% slope.  This season ski and snowboard enthusiasts can look forward to even more slope time than before with a robust snowmaking system and a deeply discounted season pass. The new Loyalty Pass will be the only pass available at Bear Creek this year.  It is an unlimited season pass available for $369 through November 30 and $399 on December 1, down from $500 last season.  For more information, visit, http://www.bcmountainresort.com.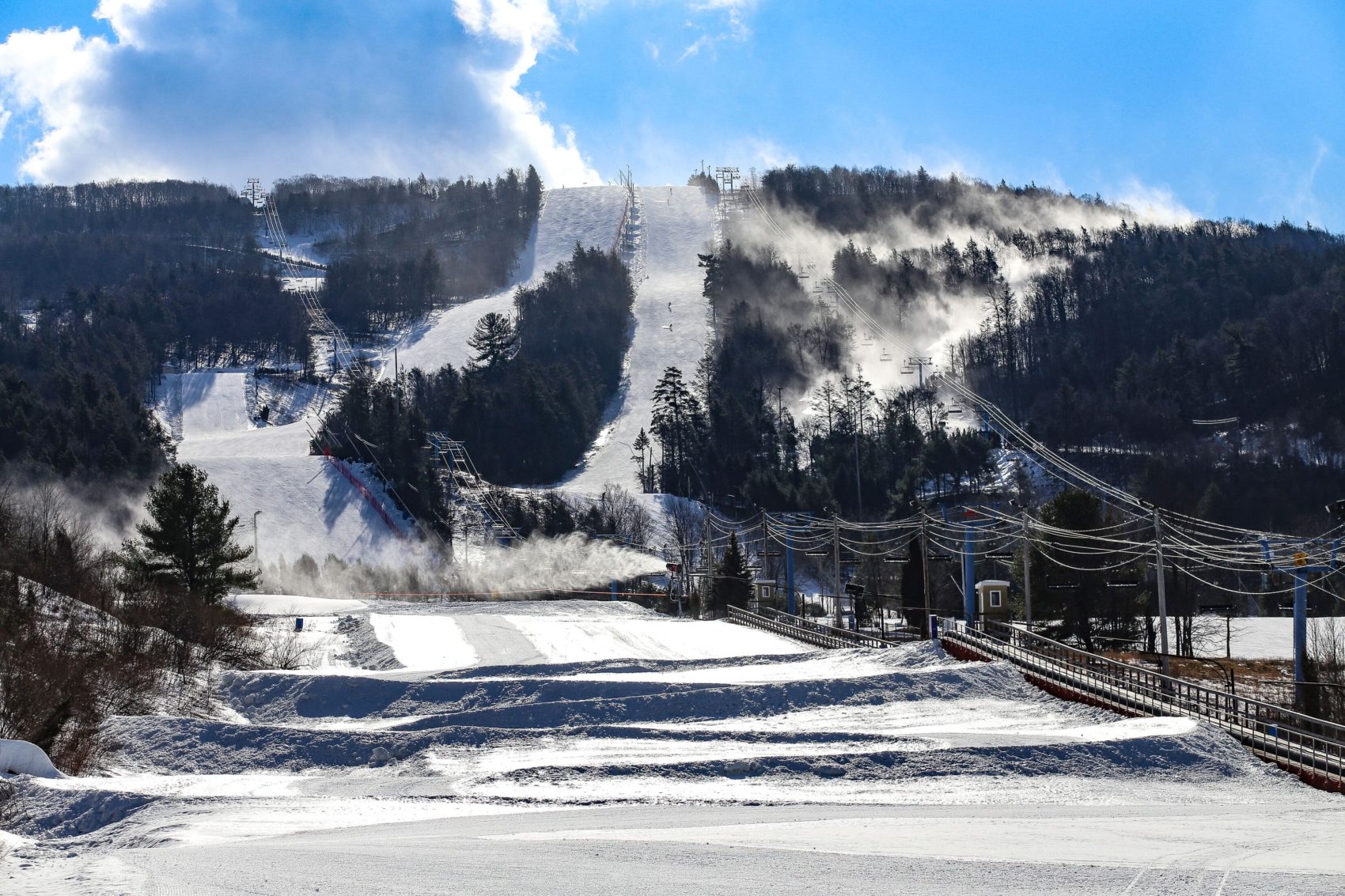 Blue Mountain Resort, Palmerton
Blue Mountain Resort is a mecca for winter family fun. Just a short drive from Philadelphia and New York, it features 40 trails for skiing and snowboarding including the state's highest vertical, the longest runs and most varied terrain for every skill level. Blue Mountain also boasts 34 of the fastest snowtubing lanes in Pennsylvania. This season the resort has expanded its RFID Access and E-store to include its snowtubing park, allowing for more family fun on slopes without waiting in line.  Families can purchase snowtubing tickets for a specific session ahead online and then scan at the resort kiosks. There are now gates at the bottom of each lift and the resort has added Double Tubes, so families can slide together. Those avid skiers looking for a challenge will be psyched to check out Blue Mountain's 40th trail. Appropriately named, "Coming Soon," it is an ungroomed trail that features seven skiable acres of exhilaration and escapades and is only open when there is enough natural snow. Other improvements slopeside, include a complete facelift for the Burma Lift.  All 122 Burma Chairs have been freshly painted and feature new stainless-steel hardware.  The resort has also invested in its grooming capabilities with the addition of a cutting-edge Pisten Bully 400 Park Groomer. Finally, Blue Mountain has introduced discount incentives for online purchases.  Online guests will have the opportunity to receive great discounts by buying in advance and especially during off-peak times. With this new pricing model, skiers could score a lift ticket for a as low as $20. There are a limited number of online tickets for the lowest price, so buy early. For more information, visit, https://www.skibluemt.com.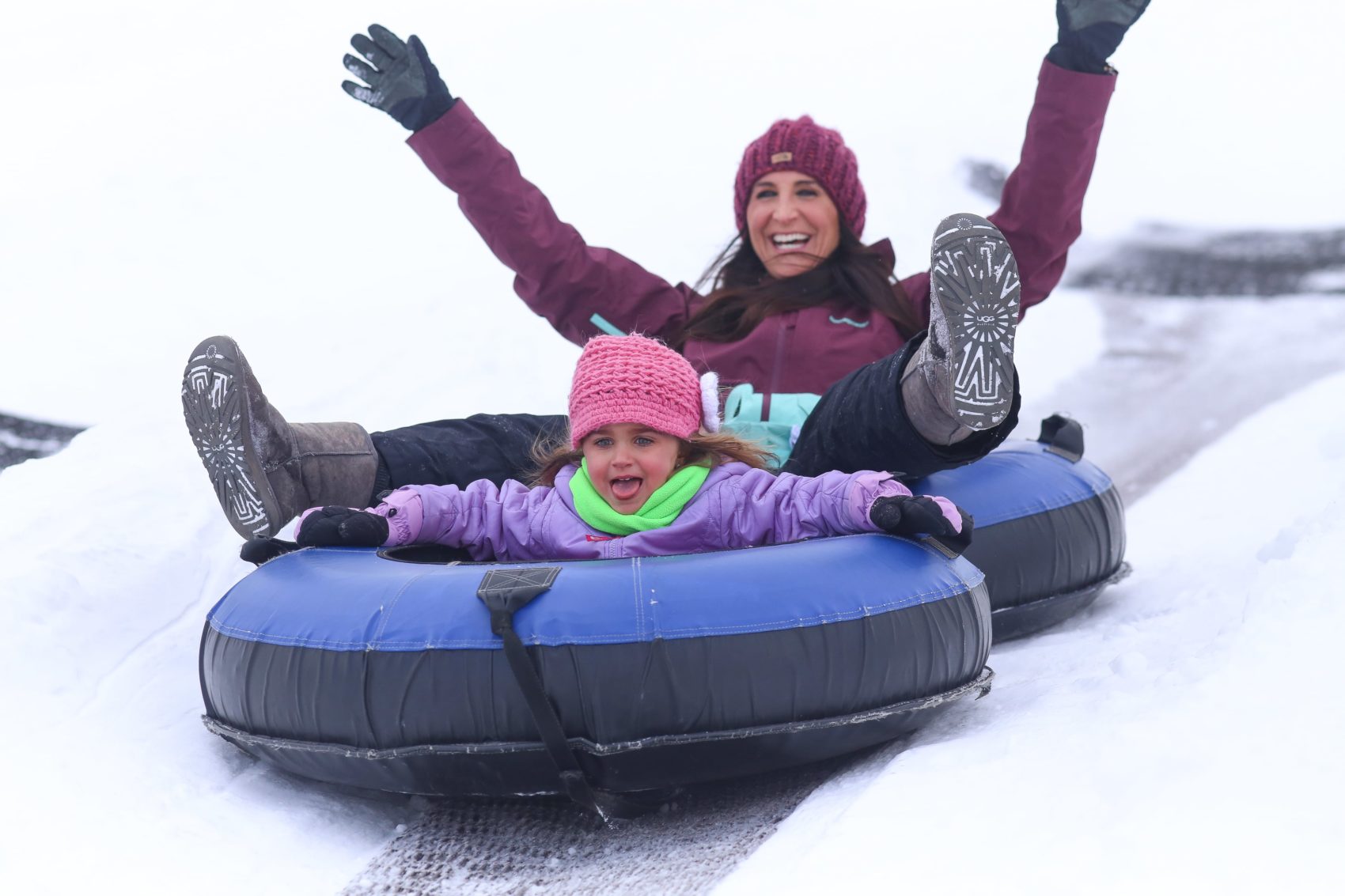 Camelback Resort, Tannersville
Located just 90 minutes from NYC, Camelback offers the most skiing and snowboarding terrain in the Poconos, as well as the biggest snowtubing park in the U.S. with 42 lightning-fast lanes.  The resort is also 100% lighted for night skiing and features Galactic snow tubing.  Skiers and boarders can look forward to enjoying the resort's 166 acres of skiable terrain even longer this season with more snowmaking power than ever before. Camelback has invested $1.7 million this winter into the purchase of 377 brand new HKD snow guns including 1 Halo Fan, 196 tower guns and 94 Vipers. This is the largest improvement and investment on the mountain in the resort's history.  Camelback has also added a new state-of-the-art Pisten Bully 400 Snowcat to its grooming fleet, to allow for smoother slope conditions.  Learn more at www.skicamelback.com.
Elk Mountain Ski Resort, Union Dale
Situated in the beautiful Endless Mountains, Elk Mountain offers 180 skiable acres with 27 trails ranging from green to blue to black diamond, featuring a trail for every skill level. It's a favorite resort for those skiers looking for challenging terrain. The resort is committed to maintaining the beauty of the natural landscape of the Endless Mountains and has a tree-planting program that dates back to the late1970's. This season Elk planted 600 plus trees to its upper Tunkhannock and Lackawanna trails, not only do these White and Norway Spruce trees function as a windbreak for the ride on the chairlifts, but they also add to the aesthetic appeal of the slopes.  The resort takes its snowmaking and grooming seriously and added another snowmaking pond enhancing the efficiency of its powerful snowmaking capabilities. The Winter Garden Restaurant also has some enhancements this season including a facelift to the ladies' restroom and new windows. For more information, visit http://www.elkskier.com.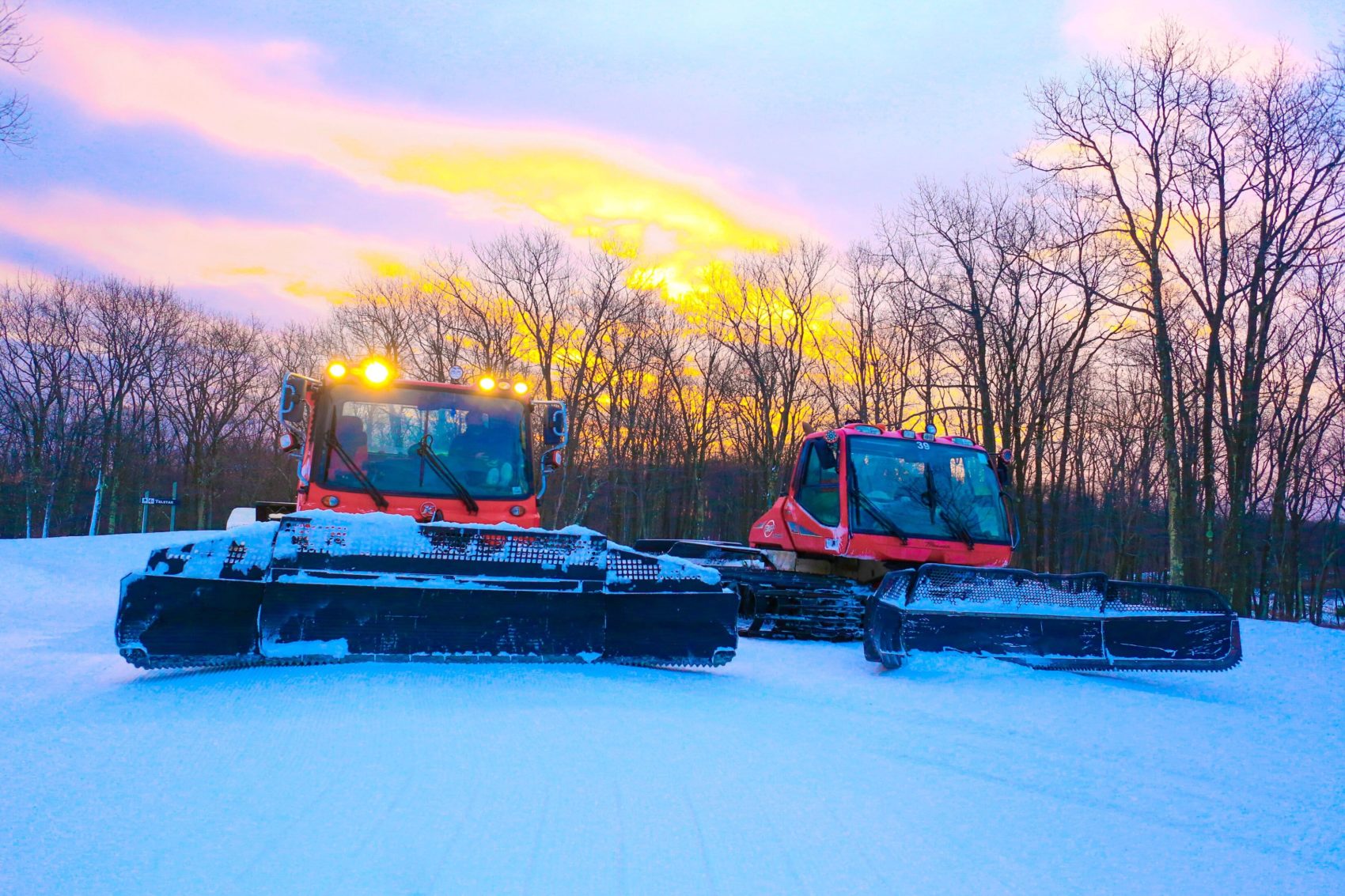 JFBB Ski Areas (Jack Frost and Big Boulder), Blakeslee
Jack Frost and Big Boulder are located in the Pocono Mountains and just a few hours from New York City and only an hour or so from Philly. The mountains complement one another nicely. Jack Frost provides a variety of inviting terrain with 20 trails and Big Boulder devotes 50% of its terrain to park features, boasting the most progressive and innovative terrain park system in the Poconos.  The big news at JFBB is that it is now part of the Vail Resorts family of resorts. For the winter of 2020, all Vail resorts Epic Pass holders will have full access to JFBB, and JFBB guests can purchase the Epic Pass or upgrade their already purchased Peak Pass at epicpass.com. The Epic Pass offers pass holders access to 37 resorts across the US, Canada & Australia, and many other resort partners across the globe.  For more information, visit, https://www.jfbb.com.
Montage Mountain Resort, Scranton
Montage Mountain Resort is home to easy-going beginner terrain, great steeps and some of the best trail diversity in the Mid-Atlantic.  There are 26 trails ranging from beginner to expert on over 140 acres.  The resort also features a 10-lane tubing park with LED lighting for nighttime fun and an innovative Terrain Park. Montage is kicking off the 2019/2020 season with a Lift Ticket 3-Pack special. Skiers can purchase three lift tickets for any age for $129 or $199 with rentals through November 24, 2019. Pricing is up to a $107 savings. Starting November 25, the 3-Pack special is $179 or $249 with rentals. Best of all there are no black-out dates.  Families can ski on weekdays, weekends and even holidays with this offer. No refunds provided. For more information, visit, https://www.montagemountainresorts.com.
Shawnee Mountain Resort, East Stroudsburg
Located in the Pocono Mountains, Shawnee Mountain Resort is an ideal beginner and family-friendly ski resort. The big news this season is the expansion of its grooming fleet and the addition of a new 4000-ft state-of-the-art Snowcat Service Building.  Adding to its already impressive grooming capabilities, Shawnee Mountain has purchased a new Pisten Bully 400 Free Grooming Machine for the coming ski season. And the Snowcat Service Building will maintain Shawnee Mountain's commitment to the best grooming in the Poconos. All Shawnee's 23 trails, 2 terrain parks and the Pocono Plunge Snow Tubing Park are groomed nightly throughout the winter season. Additionally, as part of a multi-year, multi-million-dollar snowmaking upgrade project, the snowmaking system on the popular Lookout Trail and on the challenging Chief Thundercloud Trails now fully automated with computerized controls. Snowmaking covers 100% of all Shawnee's 125 acres of skiable terrain of which 85% is now fully automated. Additionally, guests interested in checking out rental equipment this season can gear-up in style with an upgraded inventory including 500 pairs of Elan skis, 220 pairs of Alpina ski boots,65 Rossignol snowboards, 235 pairs of Elan snowboard boots and 220 adjustable Atomic and Giro helmets. The Shawnee Mountain Rental Shop is one of the largest in the U.S., able to outfit over 4000 skiers/riders daily.  For more information, visit, https://www.shawneemt.com.
CENTRAL
Blue Knob Mountain Resort, Claysburg
Blue Knob continues to focus on upgrades and repairs to existing infrastructure and facilities.  All chairlift towers have been sandblasted, primed and repainted for the upcoming season. Improvements to the snowmaking system continue, too, with the repairs and replacement of both water and airlines. Guests visiting The Summit Lodge will notice new flooring in the cafeteria area. Those looking for a weekend getaway will appreciate the great value on overnight packages this season. The "Stay & Ski" package, in effect on non-holiday weekdays, offers a one-night stay and an "open to close" lift ticket for $85 per person. Blue Knob is also working with local hotels on offers that will provide room discounts for Blue Knob skiers & riders as well as discount coupons for lift tickets and tubing passes. Blue Knob is now part of the all new "Indy Pass", a multi-resort ski pass that has expanded to 44 ski areas across North America. Passes can be purchased at a discount for the 2019-2020 season at $199 and include two days of access – 88 total days – at 44 independently owned resorts. The price will go up to $219 on December 1, 2019. For more information, visit, http://www.blueknob.com.
Liberty Mountain Resort, Carroll Valley
Located near historic Gettysburg, Liberty Mountain offers something for all winter sports enthusiasts from skiing, snowboarding and tubing to ice skating on the Alpine Courtyard Skating Rink. For this winter season, Liberty has made major snowmaking system upgrades with the goal to be able to open earlier and with more terrain than ever before. In addition, the plan is to move up the historic start date for snow tubing operations at Boulder Ridge. The core of the upgrade is the installation of a new pump house adjacent to the main snowmaking pond. With three pumps and a 36-inch intake line, Liberty will be able to increase the water flow to the mountain from 4,500 to 6,500 gallons per minute. Increasing the water flow and pressure will benefit every gun on the mountain, allowing the resort to make snow across the entire mountain faster. In addition, the resort has replaced older snowmaking pipes on Whitney's Way and has installed additional pipe in the First-Class area to handle this added water capacity.  Liberty has also installed new state-of-the-art fan guns and low-energy snowguns in various locations. By improving system reliability and increasing the system's pumping power and water capacity, the resort will be able to better take advantage of favorable early-season temperatures, as well as snowmaking weather windows throughout the season. Liberty Mountain is now part of the Vail Resorts family of resorts. For the winter of 2020, all Vail resorts Epic Pass holders will have full access to Liberty Mountain, and Liberty guests can purchase the Epic Pass or upgrade their already purchased Peak Pass at epicpass.com. The Epic Pass offers pass holders access to 37 resorts across the US, Canada & Australia, and many other resort partners across the globe. It is now easier than ever to purchase Lift Tickets in advance and save in the process! You can purchase, lift tickets, rental equipment & full packages at up to 20% discount when you buy online in advance of your visit. The further ahead you pick the day you plan to visit and purchase your tickets, the more you will save! For more information, visit, http://www.libertymountainresort.com.
Roundtop Mountain Resort, Lewisberry
Roundtop Mountain Resort offers 20 trails on 103 skiable acres that cater to all skill levels and is located just two hours from Philadelphia and Washington D.C. The resort features night skiing seven nights a week and 100% snowmaking delivering great conditions all season, making it a popular winter ski destination.  For the 2019/2020 ski season, Roundtop has expanded its snowmaking capabilities and expects a 25% increase in snowmaking power with the addition of 46 HKD Impulse Snow Guns, 3 SMI Fan Guns, 1000 GPM Pump and a 5000 GPM Booster Pump.  Additionally, Roundtop has invested in its rental inventory by replacing all rental skis and boots. Roundtop is also now part of the Vail Resorts family of resorts and guests can purchase the Epic Pass or upgrade their already purchased Peak Pass at epicpass.com. For more information, visit, http://www.skiroundtop.com.
Whitetail Resort, Mercersburg
Located on Two Top Mountain in the Tuscarora Mountains of Southern Pennsylvania,  Whitetail Resort features skiing and snowboarding on 23 trails, a 935-foot vertical drop, eight lifts, a halfpipe, and two terrain parks. Whitetail's largest project this summer was to its snowmaking capabilities with the installation of over 40 TechnoAlpin fan guns on both Snowpark and Bold Decision trails. This will have a positive impact on the resort's ability to open these trails earlier and to maintain snow coverage throughout the season. Whitetail is pleased to announce it has been given the approval for the sale of alcohol at the ski resort and golf course. With the addition of the alcohol license, the resort has opened a new bar at the Solstice Restaurant.  The Solstice Bar is a full-service bar featuring 12 beers on tap, a variety of adult beverages, and four televisions. Whitetail has also remodeled the Patrol Headquarters Building at the top of the mountain. And, finally, guests will notice a change to the resort signage as Whitetail unveiled a brand-new logo this year. Whitetail is also now part of the Vail Resorts family of resorts and guests can purchase the Epic Pass or upgrade their already purchased Peak Pass at epicpass.com. For more information, visit, http://www.skiwhitetail.com.
WEST
Hidden Valley Resort, Hidden Valley
Hidden Valley Resort is an ideal winter destination for families. With 26 slopes and trails and three terrain parks on 110 skiable acres, a vertical drop of 470 feet, and a first-class Snowsports school, Hidden Valley offers a comfortable environment to learn to ski or snowboard. This season the resort is boosting its snowmaking and grooming capabilities with the addition of a new Techno-Alpin T510 Fan gun and a Prinote 350 Bison groomer.  Other on-mountain improvements include repairs to the Avalanche Chairlift. For more information, visit, http://www.hiddenvalleyresort.com.
Mount Pleasant of Edinboro, Cambridge Springs
Nestled in the snow belt region of northwestern Pennsylvania in Erie County, Mount Pleasant of Edinboro offers family-friendly winter fun for all ages. Most of the trails are lit up at night to allow for safe night skiing and snowboarding. The big news this year is the addition of a new pump house at the top of the hill for more water and even more powerful snowmaking capabilities. Mount Pleasant is already making plans to celebrate its 50th Anniversary in the 2020/21 season.
Seven Springs Mountain Resort, Seven Springs
Conveniently located off the Pennsylvania Turnpike, Seven Springs Mountain Resort is the state's largest four-season family resort and winter adventure headquarters.  The resort has invested in its snowmaking capabilities by replacing 1,200 feet of snowmaking water pipe, adding three snowmaking stations at the bottom of North Face, mounted fan guns on Wagner Slope and near the top of the Polar Bear Express and the addition of six new HKD tower guns. Seven Springs has also renovated the Cat drives on Tyrol, Southwind and Polar Bear Express lifts, installed new grip parts on the Polar Bear Express and a new haul rope on North Face chairlift. Slope lighting has also undergone repairs and updates. Seven Springs is also pleased to welcome John Boburchuk as the new Ski Patrol Director this season. The resort is kicking off a special Wednesday night "Family Four Pack" deal this winter, which includes (4) night session lift tickets, equipment rentals, beginner lessons, hotdogs and soda for $120. For more information, visit, http://www.7springs.com.