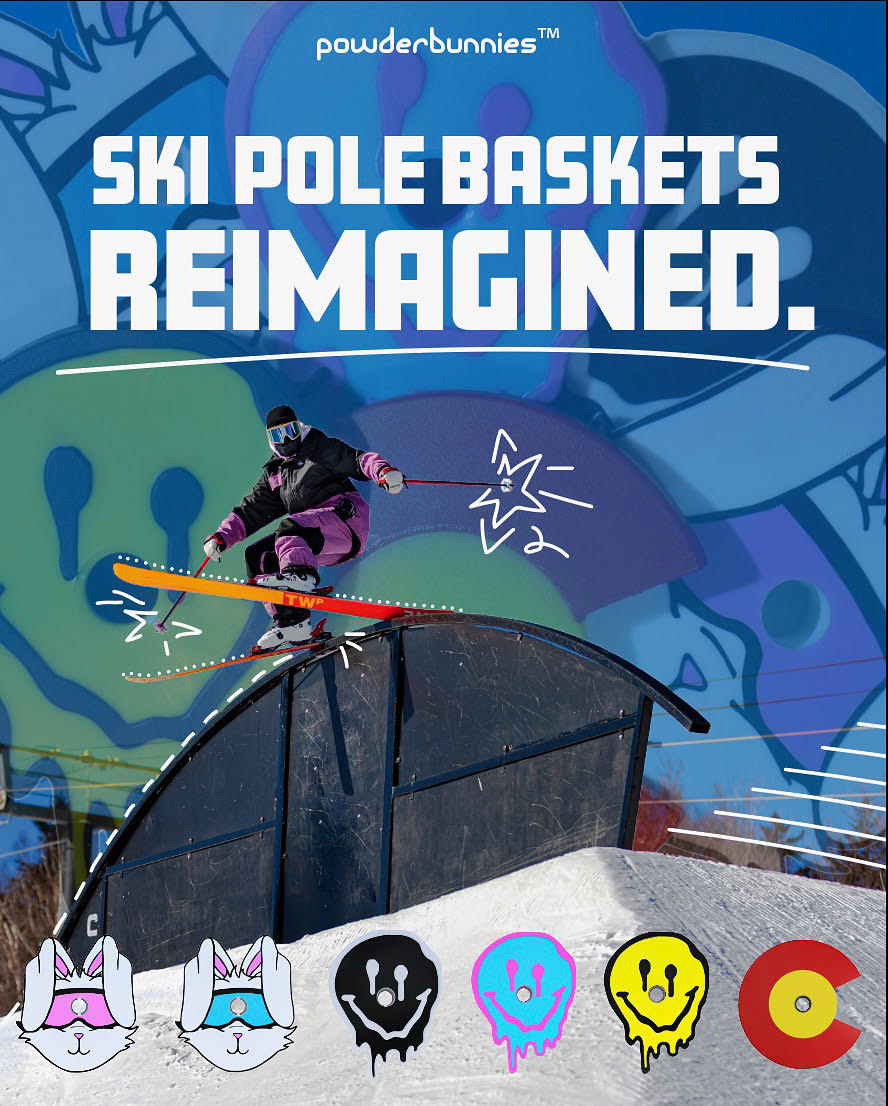 Powder Bunnies offer custom pole baskets so you can stand out and look even cooler than you already do. These baskets make a great gift for every skier–even if you gift them to yourself! They are durable, easy to install, and most importantly make you look better while shredding. With their unique design, Powder Bunnies fit on virtually every pole so everyone can enjoy a pair of fun pole baskets.
Related: FRIDAY FUN: Embrace The Après Life With WhiSki Poles | The Ski Pole Flask
Style Points AND Great for Powder
With a large surface area, these pole baskets are great in powder as well as fantastic for that spring flare you might need out on the mountain. But who are we kidding? You should have some great flare all the time! When you are shopping for your new baskets make sure to check out their awesome merchandise so you can become part of the family.
We wanted to allow skiers to increase their individuality on the mountain by creating custom ski pole baskets. ~Dennis Gastel, Powder Bunnies founder
Birth of the Powder Bunnies
When Dennis Gastel moved to Winter Park, Colorado at the beginning of the COVID-19 pandemic he and a few of his friends had an epiphany. As they were standing in the lift line one day they realized that everyone seems to have all sorts of ski flare from snazzy skis to funny helmet covers and everything in between. However, Gastel realized that most people's poles were lacking any fun customizations. When MIT students turn into 90-day-a-year skiers amazing innovative concepts emerge. They penned their first design and were off and running. Gastel and his partners have plenty more great designs up their sleeves and are excited to debut them for the 2022-23 ski season.
Related: SCOTT Poles: Iconic Through the Years
Basket Installation
Powder Bunnies are just as easy to install on your ski poles as stock baskets are (and maybe even easier). Before you can show off your new baskets the old, less cool ones need to be removed. Simply place a wrench around the top of the basket and tap it with a hammer. Some baskets are more well attached than others so it may take a few hits to remove the old baskets.
Installation begins by dropping your Powder Bunnies into hot water for a few seconds to soften the plastic. Then, slide the baskets to your desired height and tighten the hose clamp with a screwdriver. Yep, it's that easy to add a little bling to your poles.