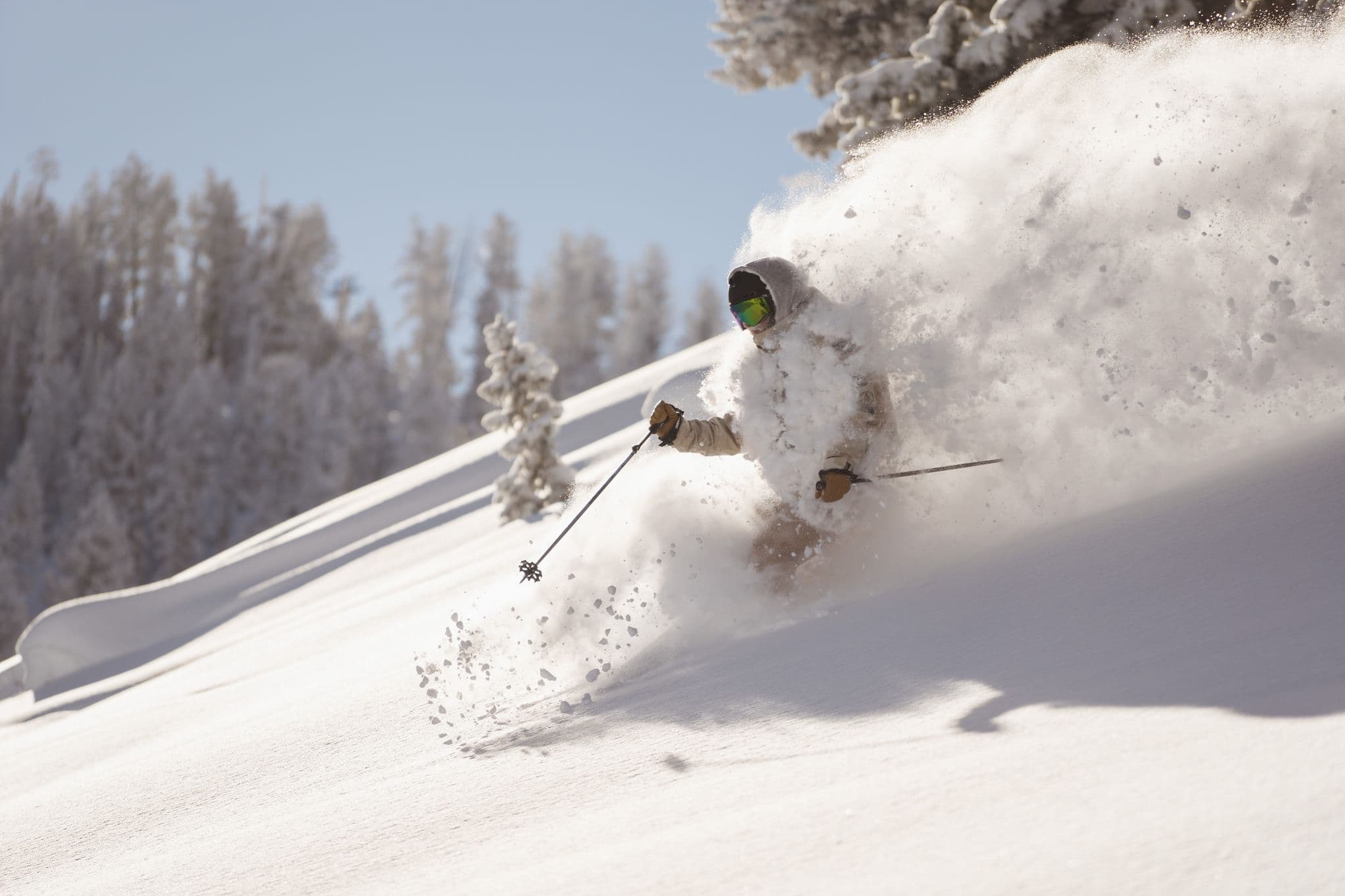 North America's largest ski resort, Powder Mountain, UT, has unveiled its operating plan for the upcoming winter 20/21 season.
Pow Mow will be introducing a traffic light system, a simple way of letting guests know which operating scenarios to expect on that day, guided by Federal, State, and local guidelines. 
Already famous for its uncrowded terrain, Pow Mow already limits skier capacity to 1,500 and that policy should do them well throughout this COVID winter. If that needs to be reduced, it can be.
Full plan below:
Powder Mountain Resort, North America's largest ski resort, known for its uncrowded terrain and limited skier days is pleased to announce the operating plan for the upcoming 2020/21 winter season. Pow Mow, as locals call it, prides itself on providing not only a genuine skiing experience, but a safe and healthy environment for their guests. During these trying times, the Powder Mountain Resort staff wants to ensure skiers and snowboarders can continue to enjoy their beloved outdoor recreation. The resort has created three operating plans that address the most likely operating scenarios as dictated by infection rates as well as Federal, State and local guidelines.
Powder Mountain Resort's operating scenarios will be color coded to provide the guests streamlined expectation when visiting:
Green: Minimal operational changes with heightened sanitization protocols.
Yellow: Policies to address infection rates similar to current levels and current operating guidelines from government authorities. Measures include metered flow in and out of buildings and enclose spaces, contactless transactions, limits, or cancellation of some services.
Red: Policies to address increased infection rates from current levels and more stringent operating guidelines from government authorities. Measures include no access to indoor facilities other than emergency services and metered access to restrooms. All transactions will be online and all F&B, rental and retail will be serviced through service windows only. Many other services will be highly restricted or cancelled. Daily ticket cap may be reduced.
Powder Mountain Resort caps day tickets sales at 1,500 per day, roughly 15% of the normal capacity for similarly sized resorts. The resort can guarantee over 3 acres per skier or about 600 feet of social distancing while on mountain. Mark Schroetel, Powder Mountain Resort's General Manager, states "Our size and lift configuration uniquely position us to provide our guests safe outdoor recreation and our exceptional team allows us to be agile as we address the ever-changing operating challenges created by Covid-19." In areas where guests naturally congregate, Powder Mountain will be requiring masks or face coverings to be worn at all times. Those areas include base areas, ticket windows, lodges and lift mazes. To minimize congregation and provide plenty of space for guests, several improvements are being made for this winter. "Single ride snow cats accessing side country terrain off Lightning Ridge and Raintree are signature experiences at Powder Mountain. The small enclosed cabins on our old haul cats did not allow for social distancing and safe travel. Our mountain operations team came up with a creative solution using custom fabricated open-air decks on newly acquired, more powerful snow cats. The decks have the same capacity as our old enclosed cabins so social distancing would still be a problem. To maintain capacity at pre-Covid-19 levels we are taking advantage of the more powerful cats by adding open air trailers that will be towed behind the units. The combination of the open-air decks and trailers will allow safe, socially distanced access to these signature areas" adds Schroetel. The sports shop is also undergoing major renovations to create an outdoor rental deck with pick-up and drop-off windows for rental customers. Additionally, maze areas are being created at several lifts to allow for appropriate social distancing and new online ordering platforms are being implemented for all areas of the resort.
All detailed operational changes and notice of current operating scenarios can be found at powdermountain.com/winter2021. Specific and major department changes are outlined below:
Day Tickets:

Capped daily at 1,500 tickets.
All purchases must be processed online.
There will be contactless guest ticket pick-ups at the ticket window.

Season Passes:

Guests will be required to upload their own picture and fill out the waiver online pre pass pick-up.

Food and Beverage, Lodges, and Restrooms:

Metered flow and limited access to lodges in Yellow scenario.
Metered access to restrooms and no other lodge services in Red scenario.
Guests will be able to order food online via an app.
Guests are encouraged to based out of their vehicles to avoid indoor spaces.
Guests will be required to wear face masks or face coverings at all times in lodges unless seated at a table and actively eating.

Powder Country and Woody's World:

Bus service for Powder Country and Woody's World will be active in Green and Yellow scenarios, however, capacity on buses will be limited and long wait times should be expected.
Powder Country and Woody's World will be transformed to ski n' skin ONLY when the Red scenario is initiated.
For the safety of your party, other guests, resort employees, and users of Highway 158 (Powder Mountain Road) parking and self-shuttling on Highway 158 is prohibited and will be enforced.

Snow Sports School:

Lessons and programs will be limited to private and semi-private lessons only.
Both the Snow Sports and Children's Center buildings will be closed to public.
Guests will meet instructor at predestined areas on mountain.

Single Ride Cat Skiing:

The new open-air decks and trailers will be loaded at 50% occupancy.
Guests will be required to wear face masks or face coverings on the snow cats and while in line.

Terrain Parks:

Powder Mountain Resort will not be building terrain parks at Sundown and Hidden Lake this season.
Boardercross and fun runs will replace the terrain parks and be added around the mountain.

Adventure Center:

The yurt will remain closed to the public.
Guests will purchase products online and will need e-tickets for proof of purchase.
Guided and host tours will be restricted to groups arriving/traveling together.

Ski Shop:

Rentals will only be available for purchase online. No helmet rentals will be available.
A new deck and pick-up/drop-off window with contactless point of sale are begin implemented.

Chair lifts:

Additional lateral spacing between lift lines will ensure proper social distancing.
Guests will be required to wear face masks or face coverings in lift mazes and while riding the lift.
Guests within the same party may be loaded together.
Guests wishing to ride solo will be permitted to do so.
Unrelated guests will be permitted to ride two to a quad, with riders taking the outside position on the chair.
Guests will be required to present their lift ticket in a readable, scannable manner on each lift ride to assist lift ticket scanners in their duties.

Transportation:

Shuttles will run between Timberline, Sundown, Village and Hidden Lake only.
Capacity on shuttles will be limited to seated guests only.
Face mask or face coverings are required for all riders.
Powder Mountain Resort is also making a number of changes to ensure team members are working in a safe environment. "Our greatest asset is our team" explains Schroetel. "We want to make sure they are safe and remain healthy. We are providing PPE, conducting pre-shift health screenings, instituting COVID-19 Virus and Antibody testing on a regular basis for all team members and their families and continue to evolve and improve our safety protocols to take care of those who make Pow Mow so special."
Powder Mountain Resort will continue its commitment to be the most uncrowded major ski resort in North America by limiting ticket sales to 1,500 per day. "Powder Mountain has always been a well-kept secret, known for wide-open terrain, an adventurous spirit, and days of powder after a storm. With more people discovering Pow Mow every year, we will continue doing something radically different than other ski resorts to preserve the Pow Mow experience and provide a safe environment for or guests." said Schroetel. "Our artificially low daily ticket cap and limiting season pass sales to just 3,000 annually not only Preserves the Pow, but also provides as safe an outdoor recreation opportunity as possible during these unprecedented times. This is the second year in a row we have sold out of passes prior to the season and highly encourage people to sign up for the wait list to improve their chances of getting a pass next year" added Schroetel.
Powder Mountain Resort will open for the 2020/21 winter season as soon as Mother Nature provides the powder snow the resort is known for, which is typically between Thanksgiving and Christmas. With increased skiers and snowboarders looking for an uncrowded resort and other resorts instating guest limits due to Covid-19, guests are recommended to purchase day tickets in advance to ensure a spot on-mountain.
Although, the experience might differ from years past, the skiing will remain exceptional. Powder Mountain Resort, with support from their community, team members, and guests, is ready to provide a great ski season and is committed to what matters most, the wellbeing of everyone who will enjoy unrivaled powder skiing and groomed trails at the resort this season.