After work I went out with my dog Noodle, he's an Irish Goldendoodle, 1.5 years old. He loves the snow and for ~24" depth it was surprisingly bottomless.
I followed some tracks of people who must've known where it was grassy because I didn't feel anything.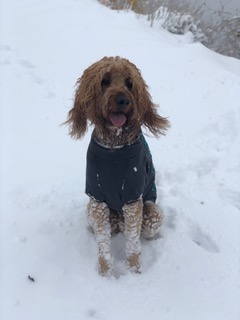 This is what Noodle looks like when he's not choking on snow chasing me down the mountain!
Many thanks to our buddies at Powderchasers for sharing with us and getting us dreaming of winter…