Pre-season pricing for the fastest-growing multi-mountain pass in the world—featuring world-class resorts in all regions of the US, Canada, and now the powder belt of Northern Japan—ends on November 30th. The Indy Pass encompasses a network of fiercely independent mountains that are incredibly diverse but all have one thing in common—they offer smaller crowds, lower costs, and welcoming authentic vibes.
Experience the joy of skiing and riding at an independent ski resort and join the Indy Revolution today.
2021-22 Pass Pricing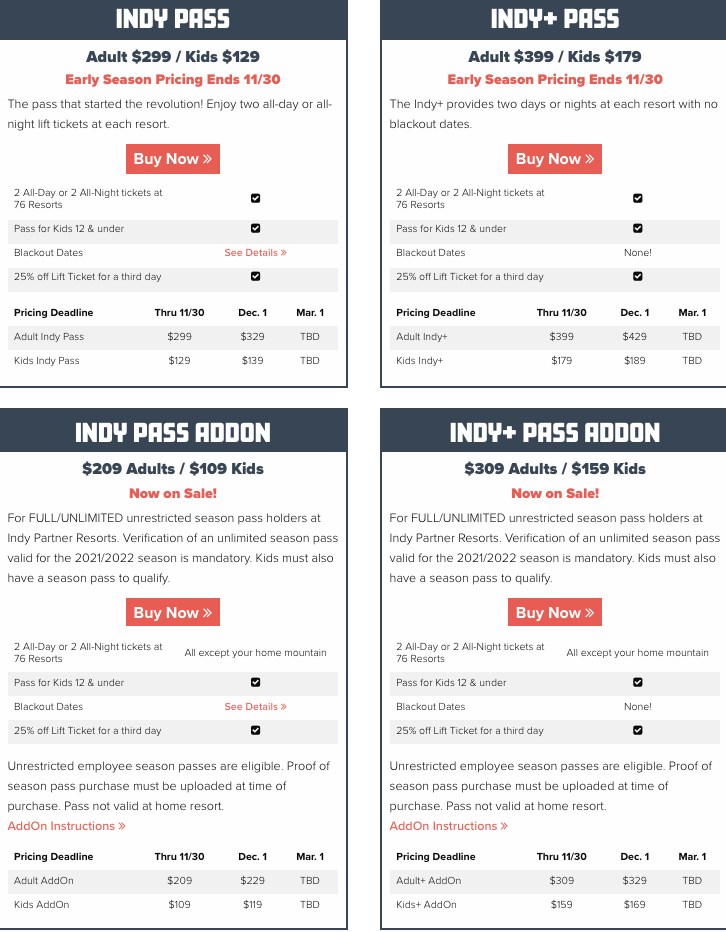 Pass Benefits 
Passholder Value for both Indy Pass and Indy+
25% off rack rate for a third day
Lodging discounts at select independent properties across the US and Canada.
---
The Indy Pass Assurance
Our COVID-inspired pass assurance program has changed for the '21-22 season. If you are not able to use your pass at all, we will provide you with a 10% credit towards a pass for the 22-23 season. No refunds will be issued for non-use due to any reason.
---
Pass Protection Program
You may purchase a pass protection policy for $25 that guarantees you a full refund for up to one year after your purchase date if you don't use your pass – no questions asked. If you choose to renew your pass instead you will receive a $25 discount on a new pass.
*Note: Pass Protection must be purchased for EACH pass at time of purchase. Pass usage must be zero days at the end of season, April 30, 2022.
View this post on Instagram