Faction Skis is excited to announce a new collab with Stance Socks, featuring the breathtaking artistry of Kengo Kimura — across both the Faction Prodigy 2.0 Stance Collab Ski & the Stance Faction Spirit Sock, made of 100% Merino wool for the utmost comfort and zero stink.
The product just dropped TODAY.
The Faction x Stance Collab Pack features:
• Faction Prodigy 2.0 Collab — the premium all-mountain twin-tip ski.
• Stance Faction Spirit Sock
• Faction Ski Pole – Red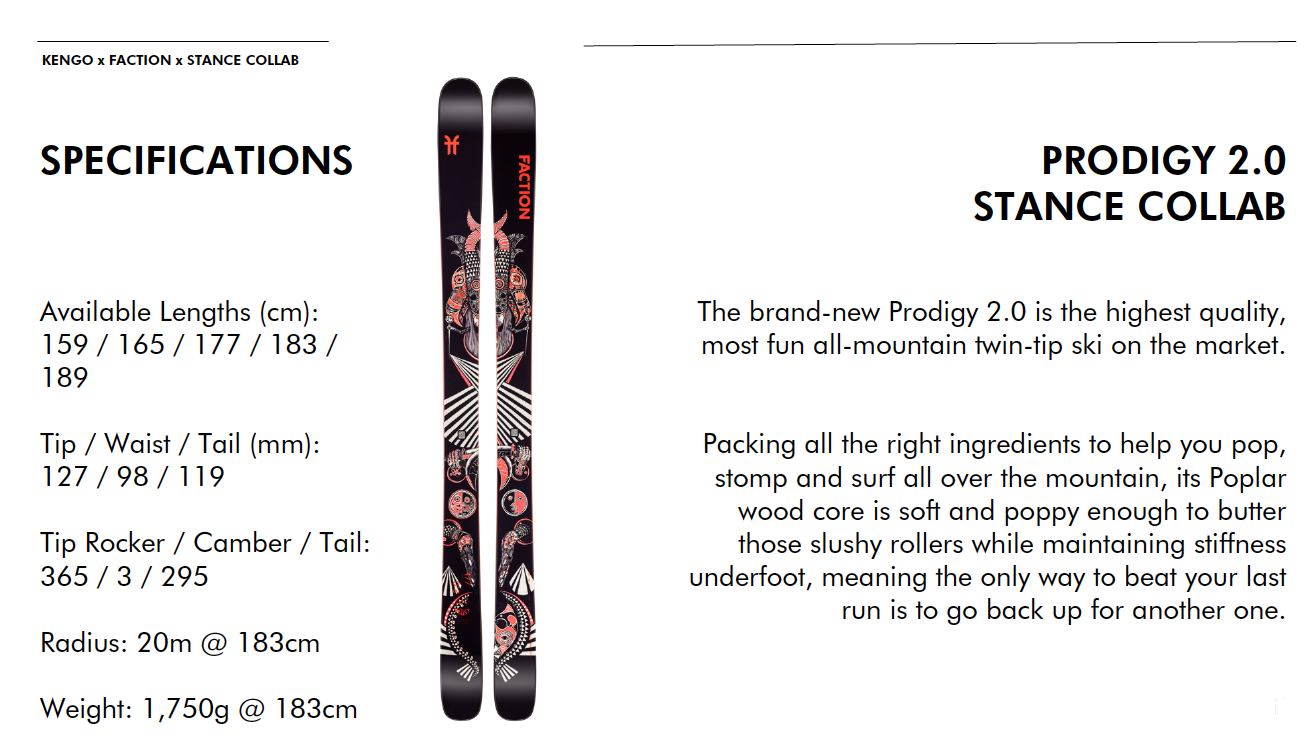 Kengo Kimura's art is inspired by the Japanese print style of Ukiyo-e, roughly translating to, "pictures of the floating world."
The Japanese dynasty and temples capture Kengo's imagination and flows onto his canvases through his fountain pen — reinterpreted with his own distinct style. Ukiyo-e is a strong influence in Kengo's work. This ancient method can be translated as "pictures of the floating world" and depicts themes of beauty, poetry, nature, spirituality, love and sex. A Japanese Emperor is depicted on the Faction x Stance Collab products, immersed in intricate details of a playing card.
Athletes
Keep an eye out for these pro skiers to rep the Stance x Faction Collab gear this winter:
Alex Hall: Utah, USA – Alex Hall has built an immense reputation in competition and in front of the lens. Tune in to Faction's latest feature length film — THE COLLECTIVE — to see him in action.

Shingo Sasaki: Hokkaido, Japan – Shingo is a freeride skier with a wild spirit. Harnessing the Prodigy 2.0 Collab ski and Stance Faction Spirit sock to keep things fresh on snow – and in his boots.

Benjamin Forthun: Bergen, Norway – Benjamin Forthun has taken Instagram by storm. The incredibly talented skier has captivated audiences with stunts on snow in winter and in water through summer.

Taisuke Kusunoki: Hokkaido, Japan – Taisuke was the first Japanese rider to join The Faction Collective. Mastering the depths of the deep and mysterious forests of Hokkaido, his skiing is pure magic.