After this record-breaking season, you may be tired of constantly buying shovels that break and have to throw them out. What if there was a shovel that was purpose-built for the kind of snow pack we had in the West this year and that was built to last? Well, we found out there is. The good people at DMOS Pro Shovel Tools reached out to us and asked us to put theirs to the test, and we can tell you that we feel they are worth the investment.
If it's better you are after, then look no further than DMOS Pro Shovel tools. Not only are these shovels the most durable on the market, but they are also made from 100% recyclable materials right here in the USA. Even better, the shovels are currently on a bomber warehouse sale with huge savings on recommended retail prices.
DMOS shovels are lifetime-quality tools
DMOS Snow Shovels feature a unique rectangular shape, making moving vast amounts of snow easier. I was surprised not to see the usual rounded bottom but found that the rectangular shape makes shoveling much more efficient. I wasn't straining my back muscles, aided by the adjustable handle. If you're tall like me, you will find many snow shovel handles are too short. DMOS handles fully extended give you 65" of reach. 
The aluminum telescope handles collapse easily and comes with a practically unbreakable custom extruded truncated oval handle that doesn't snap as some cheaper versions do. Compare that to the fiberglass or wood handles on most other hardware store shovels, designed to break under heavy loads or after freeze-thaw cycles.
As a bonus, the DMOS shovel handle is detachable, so you can store your DMOS easily without taking up too much space in your garage over the summer.
All DMOS shovels are designed in Wyoming and manufactured in the US with aircraft-grade 6061 aluminum and cold-rolled steel and are virtually unbreakable. These shovels are the real deal. They do not break mid-season. These tools are made to last and can hack through the heaviest of snow, ice, or debris without much wear and tear.
If you are — like me — done with buying cheap products made from plastic, then this is the shovel for you. Similarly, this was the driver for DMOS' founder, who grew tired of watching her son break plastic shovel after plastic shovel while building kickers in their backyard in Wyoming. In 2015 DMOS launched their first shovel, 'The Kicker Tool™,' with the help of a Kickstarter funding campaign. In the eight years since, this Salt Lake City-based company has continuously worked on perfecting their shovels, thanks partly to feedback from pros like the park crew at Jackson Hole, to bring you the most durable and functional snow shovel out there.
What is also super close to my heart is that the guys and gals at DMOS take sustainability seriously and focus on using materials that can be 100% recycled. There is enough plastic clogging up our landfills and polluting our oceans, and I'm not too fond of adding to that pile with wasteful purchases.
I specifically tried the Stealth XL shovel, which has a large scoop and mitered teeth, and the Alpha 4, a slightly smaller snow shovel without mitered teeth. Both shovels were (and still are, thanks to this never-ending season) excellent tools for clearing snow from my driveway during a season in which we have received over 200 inches in Dillon, CO. Both shovels got a serious work-out, as you can tell from the scratches. I tried my best to put them to their limit, but these shovels did not quit.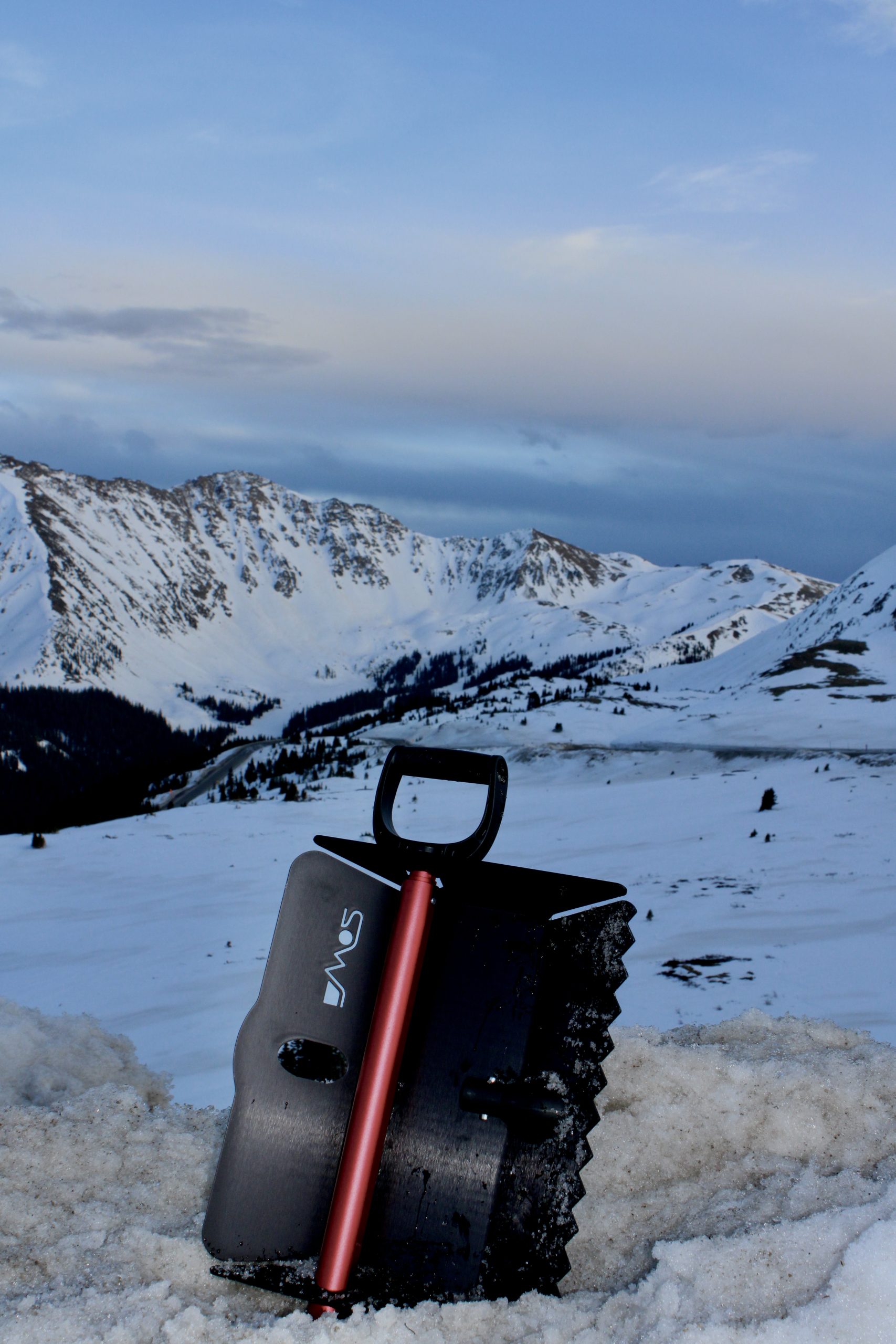 Dimensions & Tech Specs — Stealth XL
Materials:

Blade 0.100" thick 6061 aluminum.

Handle extruded from 6000 series aluminum.

The connector and grip are made from Nylon Zytel.

Weight: 4 lbs 7 oz, packed size 21.5 x 14 x 3".

Length is adjustable to 61.5, 51, and 39.5".

Rated to survive 3800 pounds of force.

3-part adjustable length handle for use in any space.

The anodized finish offers ultimate durability for more challenging conditions.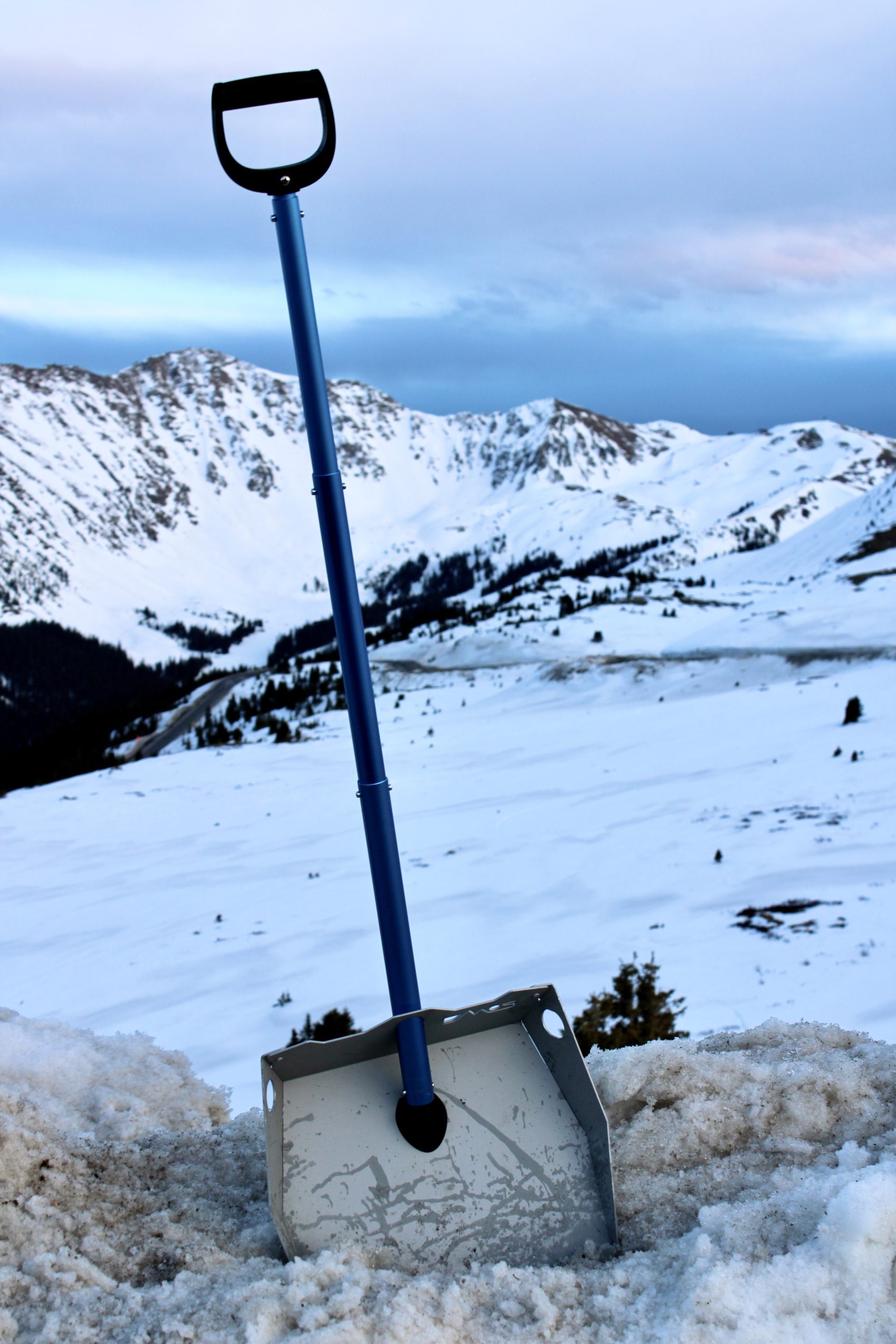 Dimensions & Tech Specs — Alpha 4
Materials:

Blade 0.100" thick 6061 aluminum with two oversized 6000 series smash rivets.
The connector and grip are both made from Nylon Zytel.

Handle: telescoping indexed locking 3-part adjustable handle.
Weight: 4 pounds 7 ounces.
Height adjustable 65, 51, and 39". Collapses down to 23 x 12 x 4".

Rated to survive 12,000 lbs of force!

Serviceable front of blade – thick enough to sharpen or file with a bastard file to keep it knick-free.
Slight rocker – allows the shovel to be floated above a rough surface like bricks, pea gravel, or even trap rock.
Put plain and simple, DMOS is revolutionizing the shovel game. In addition to their excellent Snow Shovel line, they have a collection of Spade Shovels, which are better suited for digging than moving, if that's what you're looking for. Their shovels fit into different mounts and bags for convenient storage and transportation.
I know I will only be shoveling with DMOS Pro Tools in the future, whether for moving snow, digging dirt, or moving anything else outside. Get yours now, while most products are still on warehouse sale, I promise you won't regret it.