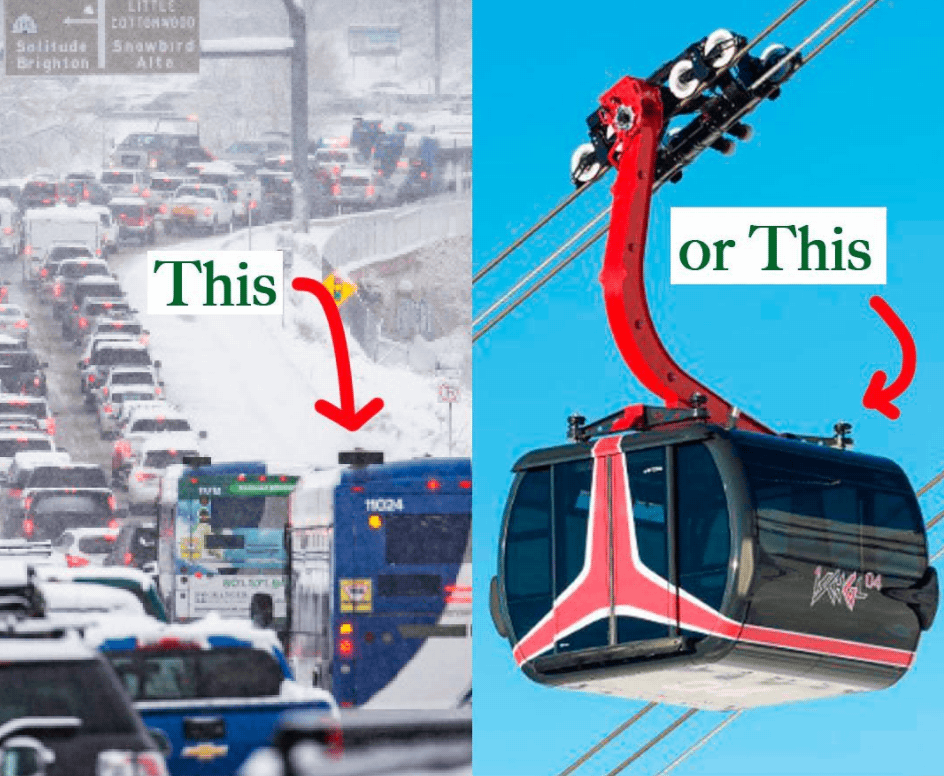 Little Cottonwood Canyon, near Salt Lake City, Utah, has had a growing traffic problem become increasingly apparent in recent years. The latest poll provides insight into the local Utahns' opinions on improvements. Suggested realistic alternatives have been narrowed down to two primary options: a gondola through the canyon and an improved bus transportation system. Only 20% of those polled chose the gondola, while 60% said they preferred an enhanced bus infrastructure. High costs for the two proposals are a deterrent for many, with the gondola construction costing an estimated $592 million and the bus system costing upwards of $510 million.
The highway is one way in and out, providing sole access to Snowbird and Alta ski resorts. SR-210 saw an average of over 9,000 cars per day in January 2019. Numbers were down throughout 2020 due to Covid restrictions but are near highs again this winter. The need for improvements is seemingly only going to increase as the area and skiing/snowboarding in general gain popularity.
Local leaders are voicing their opinions on the matter. Recently elected mayor of nearby Sandy, UT Monica Zoltanski, and the election runner-up have both taken stances against the gondola. Arguments arise that the money for either project is better focused elsewhere, benefitting more than just two ski resorts.
There are numerous factors to take into consideration for the final decision. The extremely avalanche-prone highway may benefit from a gondola, which would continue to operate with road/traffic obstructions. Conversely, inclement weather with high winds can limit gondola operations, with a bus system remaining in operation. Some, including almost 10% of those polled, wish to leave the highway as is, likely seeing the canyon at its limits without disturbing the surrounding environment any more than it already is.
According to the current UDOT schedule, a vote for funding may take place no sooner than 2023. This gives residents at least another year for their voices to be heard on the matter.