Prices in the ski industry increase from one year to the next, and it is something we have all gotten used to. Increases in season passes, daily lift tickets, food and beverages, and additional costs are something everyone skier or rider has become accustomed to. What would we all do if a ski resort lowered its prices in any of those categories? It probably would seem unbelievable and even like some sort of a joke.
However, Purgatory Resort in Colorado is lowering its daily lift tickets this season to $9 for select days throughout the upcoming season. Purgatory announced last month that it would be selling some lift tickets for as low as $23 a day, which is incredibly low to begin with. Comparing prices with other ski resorts located close to Purgatory does not even compare, with some daily-lift tickets costing over two hundred dollars at those places. 
Purgatory posted this on its website:
"Use our online ticket calendar, and shop for the best prices on lift tickets. Starting at $9, our prices are variable and go up with demand. If they seem high, we'll probably be busy that day. Purchasing your tickets early lets you shop for the best rates and get to the fun stuff even faster.  Plus, you're even able to adjust for unexpected situations with online self-service exchanges up until the night before you arrive."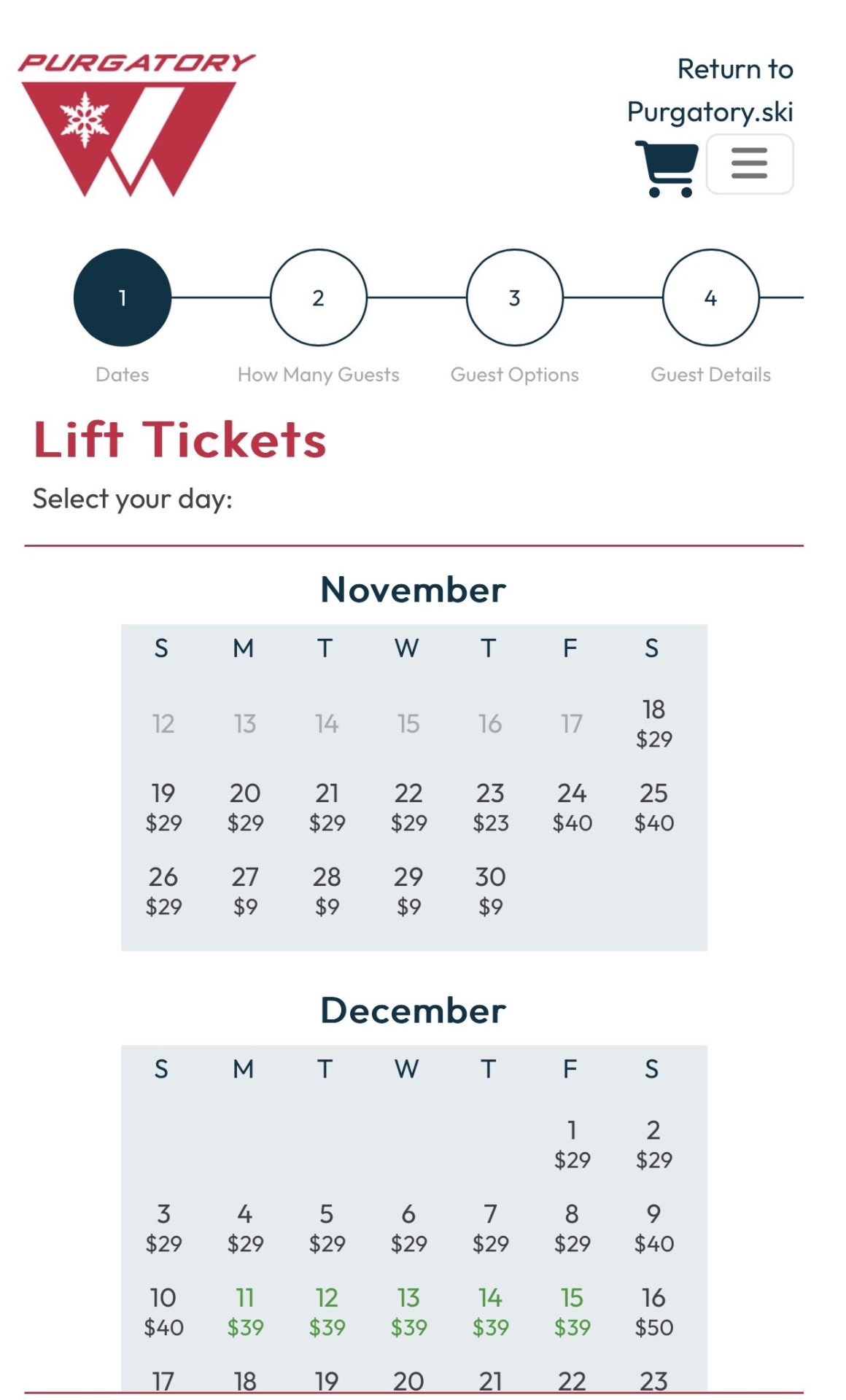 This upcoming ski season is going to see some of the highest lift ticket prices the industry has ever seen, with some resorts pushing the $300 mark. This brings up questions of how exactly Purgatory can have daily lift ticket prices so extremely low. Will Purgatory limit lift-ticket purchases for days they offer such low prices to enable the guests the best experience while they are visiting? Or will parking, lift lines, and other operations at the resort be overwhelmed and cause epic waits and lines?
Theresa Blake Graven is the Public Relations Account Manager for Treehouse Communications, which represents Purgatory. She said that using a Demand Based Pricing strategy in the industry is becoming more popular, and it is based on how many guests a resort is anticipating to have on a given date. It also rewards guests who plan and purchase their tickets online instead of waiting until the last minute. 
The week following Thanksgiving this year is when Purgatory is offering $9 lift tickets, and Graven said, "Historically, that is a very slow week at Purgatory, so [the resort] just put these little Easter eggs in there for $9." Graven added that this is the way that demand-based pricing works; there is no real ceiling, there is no minimum or maximum price, and it is all based on this algorithm of how many tickets Purgatory sold per day. This goes along with Purgatory's motto, which is to give people the freedom to ski and make skiing and riding more accessible for families and newbies, and continue to grow participation in the sport.
"Our goal is to give people the freedom to ski," said Dave Rathbun, General Manager of Purgatory Resort. "Dynamic pricing ensures the best value and a positive experience on the slopes. It's our way to reduce the cost of skiing for people who plan ahead, and it helps prevent overcrowding, especially during epic snowstorms and busy holidays when skier demand justifies higher ticket prices."
Graven said Purgatory is located in the Southwest region of Colorado and is not very close to metropolitan areas like Denver or Albuquerque. This allows Purgatory to be more flexible with pricing than other resorts on the I-70 corridor that have a higher number of skiers and riders that are located very close to each other.
"This dynamic pricing strategy adjusts in real-time based on ticket demand," Graven said. "So, when you buy early, you secure the best deals. For instance, a $9 ticket today may rise in price as demand grows."
Purgatory's dynamic pricing strategy is based on demand-based pricing, which simply means that busier times will result in an increase in pricing, and slower times will mean a decrease in pricing. The theory is that instead of limiting the number of lift tickets sold on a specific date, the pricing should mitigate the number of skiers on the mountain. Therefore, there would be no need to limit the amount of lift tickets sold on busy days. On dates when the resort would typically see lower amounts of guests, the lift ticket prices would be lower in price, thereby increasing the number of guest visits. 
Purgatory's goal is to provide skiers and riders with the best experience possible, and this pricing strategy is part of that plan. Purgatory does not want skiers or riders to show up to the mountain and be turned away because of limited capacity, and that is why it has turned to the strategy of demand-based pricing. There can be a lot of negative backlash to resorts putting a limit capacity on skiers and riders, and this is another reason Purgatory has turned to this strategy. 
Graven compared this strategy to other industries outside of skiing that take a similar approach to mitigating use. Some electric companies charge a higher premium for customers who use electricity during peak times. The goal is to limit the number of people who use electricity during peak times, and this can be related to increasing the prices of lift tickets during peak times at resorts. 
There also have been resorts throughout the country that have had to limit operations due to limited or short staffing, and that is something Purgatory wants to avoid. When guests plan ahead and purchase tickets online, that gives the resort the ability to plan effectively and ensures it is staffed properly. "Purgatory is rewarding people who plan ahead with great deals and ensures everyone has a positive experience on the slopes instead of waiting in lift lines," Graven said.
Purgatory's opening day this season is Saturday, November 18, with lift tickets costing a very low price of $29. Prices throughout November until December 16 will remain below $50 a lift ticket. This allows Purgatory to evaluate any changes they may need before the season kicks in. This will be Purgatory's second season operating with the strategy of demand-based pricing. 
For more information, check out Purgatory's website.