Forecast by SnowBrains Meteorologist Rowan Sullivan
7:30 PM MST 11/7/2021
Forecast Summary
A quick-hitting weather system will deliver fresh snow to California's mountains early this week. Snow will begin in the high elevations by Monday evening, lasting through the night before the storm exits the region through the day Tuesday. 
Snow levels will be relatively high with this storm. Accumulating snow will fall to about 7,000′, with the heaviest totals confined to the higher elevations above 8,500′. A handful of the lower elevation resorts will likely see rain mixing in near their bases.
By Tuesday afternoon, California mountains can generally expect 6-12″ of snow, with a few favored areas looking at up to 20″ of snow. 
Short Term Forecast
Monday-Tuesday
A wet and windy storm will push onshore across northern California on Monday afternoon. It'll be nuking by Monday evening near Mt. Shasta, with snow spreading into the Tahoe area overnight.
The snow level forecast is interesting with this storm. Temperatures will be close to freezing through a deep layer of the atmosphere, meaning snow levels will jump around between about 6,500′ and 8,000′ for much of the event. Ski areas above 9,000′ are in for significantly more snow than their neighbors situated at lower elevations.
By Tuesday, Mt. Shasta can expect 6-10″ of new snow. Most Tahoe resorts can expect 5-9″ of snow, with an inch or two down to lake level. Farther south, Mammoth's higher elevation will make for 10-20″ of snow on the mid-upper mountain.
For those of you looking for preseason turns, elevation is your friend. The best riding conditions will exist above 9,000′. However, strong winds will necessitate caution in avalanche terrain. The Sierra Avalanche Center is posting occasional preseason snowpack updates, which are worth reading.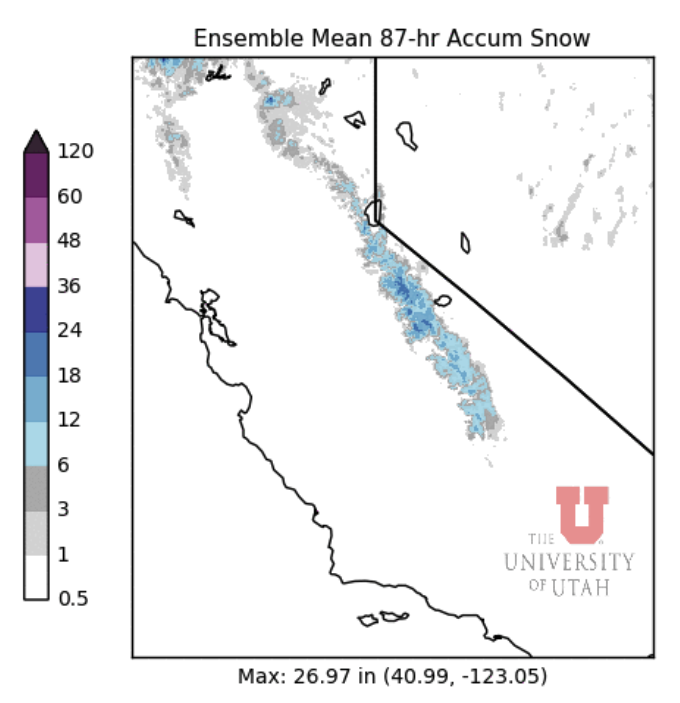 Extended Forecast
Beyond this storm, the forecast looks pretty quiet for about a week. Ensembles suggest an upper-level ridge will build overhead, pushing the storm track north of California until around the middle of November. You can see this ridge below in the orange and red colors over the Western US. It looks like the next chance for a storm arrives sometime around the 16th of November.