Similar to the Women's race the day prior, the Men's only Parallel World Cup of the season brought on extremely close racing. The Men's race had better luck weather-wise than the women, with a more gentle sky and no precipitation. Set by French ex-athlete Emmanuel Couder, the 19-gate dual course was straighter than that of the women's course and brought excitement throughout the event.
The drama started with the qualifying rounds. French favourite and two-time world champion Alexis Pinterault made a mistake in his 2nd qualifying run that left him outside of the top 16 that would make it into the final. Pinterault's Norwegian rival, and silver medallist last time in Lech/Zuers, Henrik Kristoffersen qualified 3rd. Other surprise results included names such as Gino Caviezel (SUI) in 20th, Filip Zubcic (CRO) in 24th and Clement Noel (FRA) in 34th. After qualifying only seven of the twenty-one countries would be represented in the final. Young Canadian representatives came out well, with Erik Read and Trevor Philp qualifying 6th and 10th respectively.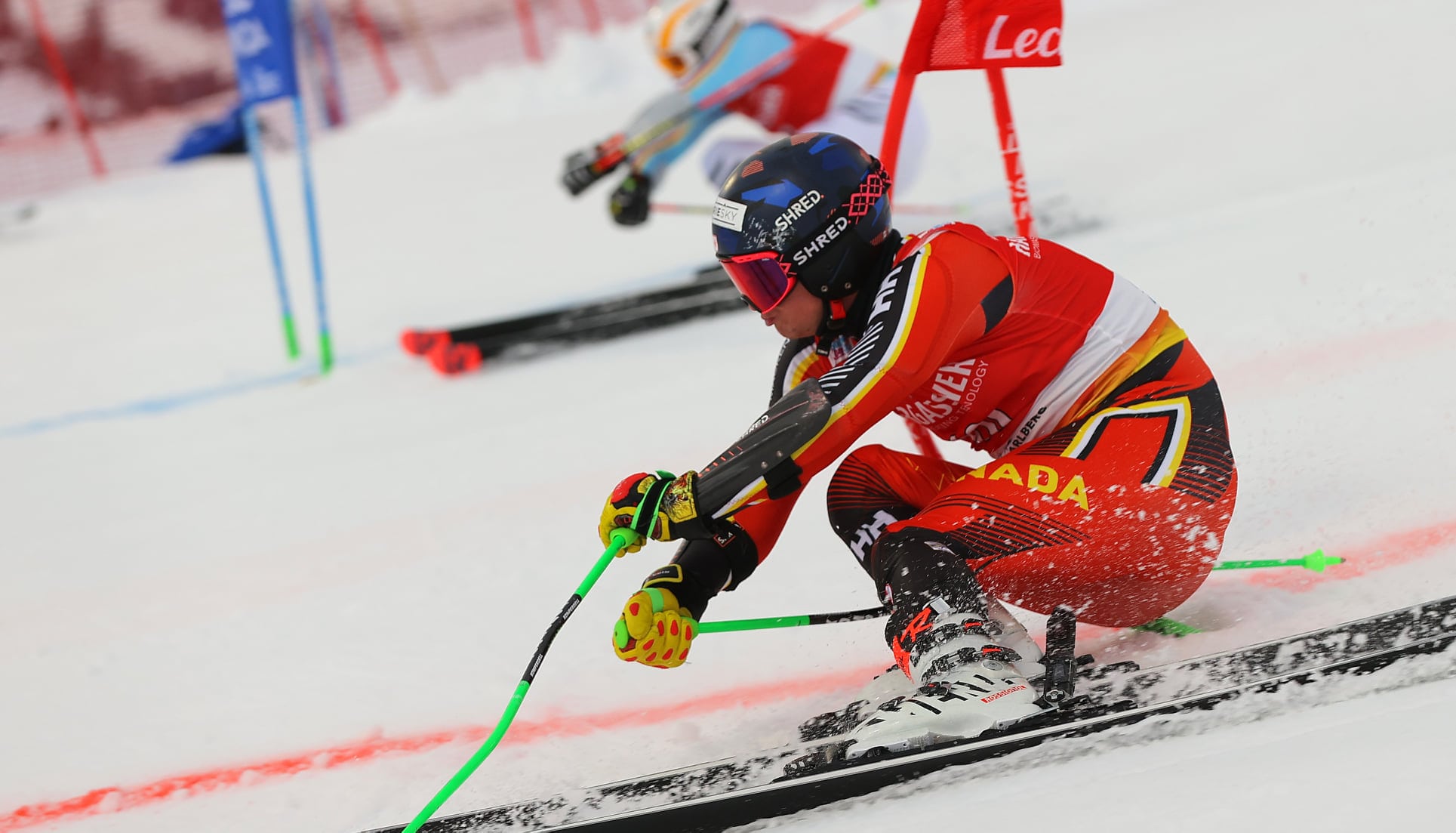 In head-to-head races such as Parallel Giant-Slalom and Ski Cross, it is widely accepted that anyone that makes the finals can win the event. This rang true, as competitive first heats set the tone for the rest of the evening. With the majority of the first round being won by hundredths of a second, the race was on. Kristoffersen bested Austrian Stefan Brennsteiner by 0.02s and Adrian Pertl (also of Austria) defeated German Alexander Schmid by 0.09s. Canadian Erik Read seemed disadvantaged out of the start gates, drawing Italian powerhouse Alex Vinatzer but managed two clean runs finishing 0.06s ahead of his opponent. The other Canadian Trevor Philp also managed an upset, defeating 7th place qualifier Linus Strasser of Germany and putting two Canadians in the top 8. The final heat of the first round would see a huge upset, as 15th qualifier Christian Hirschbuehl of Austria defeated Zan Kranjec of Slovenia. Kranjec had qualified 2nd and sat on the podium in the Giant Slalom opener in Soelden.
Excitement continued into the quarter and semi-finals. Henrik Kristoffersen capitalized on a small mistake made by Erik Read near the finish, to secure his first World Cup top-4 since winning the Chamonix Slalom in January. Top qualifier Dominik Raschner (AUT) would also benefit from mistakes, and found himself easily into a semi-final berth. Hirschbuehl ensured an Austrian medal, by pulling off a second upset against Trevor Philp. Only one of the four skiers in the Semi-Finals had world cup victories to their name.
The Semi-Finals were two Norweigian vs. Austrian affairs, which ultimately culminated in a guaranteed 1-2 result for the host country. Raschner enjoyed a half-second advantage into his second run against Norweigian Atle Lie McGrath. McGrath ultimately would slip onto his inside hip, and hand the Big Final position to Raschner. Hirschbuehl elated the crowd even more, by recovering from a half-second deficit in the first round and forcing 2019 World Champion Kristoffersen to the small final.
After three massive upsets, Christian Hirschbuehl wasn't quite finished. A close battle against teammate Raschner led to Hirschbuehl fighting back from another first-run deficit and becoming the 297th individual athlete to win a Men's World Cup. Raschner would settle for silver, also claiming his first World Cup medal. Atle Lie McGrath would pick up his second World Cup medal by also defeating his teammate Kristoffersen. Trevor Philp landed 5th, matching his individual World Cup personal best from Bansko, Bulgaria in 2019.
The men's FIS World Cup now travels across the pond for Downhill and Super G races in Lake Louise, Canada coming November 26th. Hirschbuehl and Marco Odermatt (SUI) are now tied for the World Cup overall championship, and Austria now leads the Nation's Cup.
Full race results can be found at fis-ski.com