Debatably the most-watched ski racing discipline, the 2021/22 Downhill series kicked off in stormy conditions this weekend in Lake Louise, Canada. Downhill features pure speed, with athletes reaching speeds up to and over 150km/h (93mph) through a single, timed run. After a hiatus due to the COVID-19 pandemic, Lake Louise found itself back on the calendar as the season opener this year. Through tough weather conditions that caused the cancellations of a third training run and ultimately the first of two downhill races, hard work from the organizing committee and volunteers allowed the Saturday downhill to go ahead. The downhill at Lake Louise has a set of just 42 gates over the nearly two miles of track and features a vertical drop of 2,700 feet (827m).
Before the first racer, the Lake Louise 'WinterStart' track was opened by now-retired Canadian Cowboy Manuel 'Manny' Osborne-Paradis. Paradis had announced his retirement in October of 2020. The 36-year-old from Vancouver, BC, suffered a devasting crash while in an official training run at Lake Louise in 2018. He suffered major fractures in his Tibia & Fibia and underwent nine surgeries to repair them. Osborne-Paradis achieved eleven podiums in his career, with three wins in Kvitfjell (NOR), Val Gardena (ITA), and Lake Louise. Paradis also won Super-G bronze at the 2017 World Championships in St. Moritz (SUI) and represented Canada at four Olympic Winter Games.
Reigning world champion in the Super-G and the Downhill Vincent Kriechmayr from Austria kicked off the downhill season with an exceptionally strong time of 1:47.97 and had a reign in the hot seat for a handful of racers. Behind Kriechmayr came Swiss phenom and Crystal Globe leader Marco Odermatt. Competing in the 16th world cup downhill of his career, Odermatt came down 0.2s off Kreichmayr. With sights on the Olympic downhill, Odermatt told SnowBrains that 'to start with a best-ever result in downhill world cup, it's amazing.' The 24-year-old finished the day in fourth place and extended his overall Crystal Globe lead.
Two-time Olympic champion Matthias Mayer was the seventh athlete down the track. In his ninth downhill at Lake Louise, the Austrian star took advantage of his team's dominant tenure in Lake Louise. Mayer ran a wider line through two of the integral corners of the track (Fallaway and C-Turn), and despite being a fraction slower through the speed trap, smashed his teammate's time to take first position. Mayer's 1:47.74 couldn't be matched by any of the remaining racers, and he took the eleventh World Cup win of his career. This was Mayer's second win in Lake Louise, as he won the Super-G in 2019 with a victory over Italian Dominik Paris. Paris would find himself in 8th in this year's downhill, after straddling the lead through the primary sector and making a slight mistake through 'Coaches Corner.' Matthias Mayer would be the only one to beat teammate Kriechmayr's time, and the 2021 World Champion would settle for second. Swiss team-leader Beat Fuez, who won the 2017 Lake Louise Downhill, posted the fastest speed through the speed-trap and took his fourth Lake Louise podium, rounding it out in third. All three athletes on the podium raced on Head skis.
The American team showed strong pace in the training runs but struggled to find time on race day. The pack was led by Vermont's Ryan Cochran-Siegle, who ended the day in tenth place, over a second behind Mayer. Travis Ganong and Bryce Bennett, both from Truckee, California, posted the exact same time and shared 26th place, while Massachusetss' Jared Goldberg fell to his inside hip early into his run. B-Team athlete Erik Arvidsson from California experienced success on the 2020/21 Europa Cup circuit with two downhill wins. On top of this success, Arvidsson raced every 2020/21 World Cup Downhill, other than the mighty Kitzbuehel in Austria. The 24-year-old was starting in his first North American World Cup and fell victim to the poorer visibility that affected the course in the latter half of the races. Despite the tough conditions, Arvidsson placed a respectable 37th, 0.23s away from his third batch of World Cup points.
"Starting this season with one season under my belt makes a huge difference in terms of being comfortable on tour, knowing what it takes, and feeling like you belong.' Erik has sights set on the Olympics in the speed events and the alpine combined. 'Combined is probably my best shot, I'm a pretty good slalom skier…', referencing his time racing NCAA at Middlebury College. 'I would love to ski whatever I can, but obviously, speed races are the way I'm going to qualify.'

– Erik Arvidsson told SnowBrains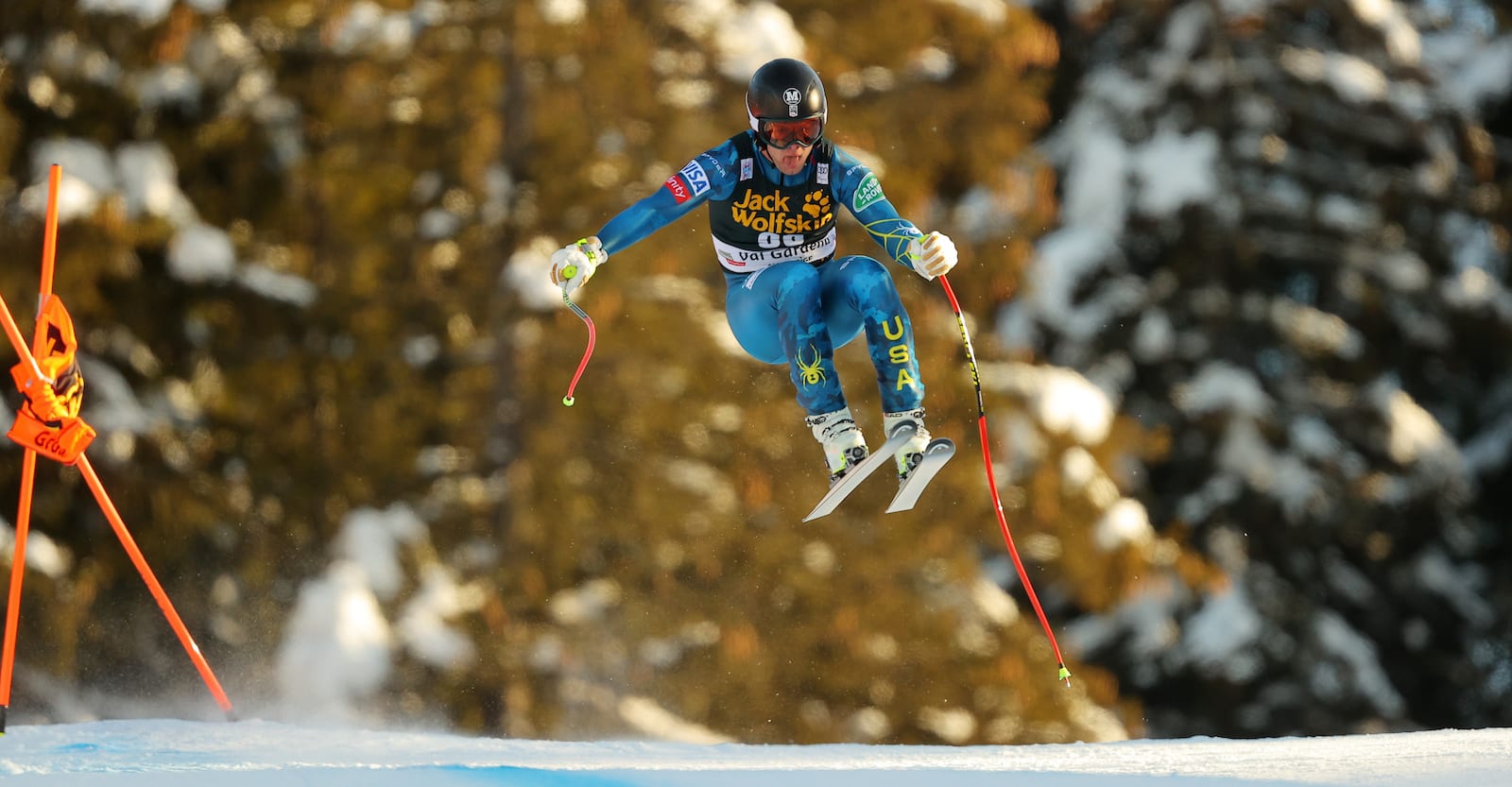 After his win, Matthias Mayer was filled with praise for the Lake Louise crew of volunteers. With the previous day filled with snow, and an overnight coating, the slipping and grooming crew managed to clean the track in time. While there was an early possibility to utilize a lower start gate, the Jury decided that conditions were safe enough to run from the top. On top of this and to the joy of every soul involved, the race also ran without the need for any ski patrol sled or heli-evacuation.
'I have to say today they did really good work on the slope… the snow was really hard and was really good skiing today. Really world cup conditions. They had a lot of work to do, and it was really good.' 

– Matthias Mayer told SnowBrains
Next weekend, the men's world cup circuit moves on to Beaver Creek for more downhills and a Super-G. After the cancellation of the first Downhill at Lake Louise, FIS added an additional Super-G at the Colorado resort. The races are scheduled for Super-G Dec. 2nd & 3rd and Downhill Dec. 4th & 5th. The women take on the Lake Louise speed track this weekend as well, with Downhills Dec. 3rd & 4th and Super-G on December 5th. Marco Odermatt (SUI) now leads the Overall Crystal Globe race with 150 points, and Vincent Kriechmayr is now leading the race for the Downhill Globe. Kriechmayr is also tied in second for the Overall Globe with fellow Austrian Christian Hirschbuehl, who won the Parallel race in Lech / Zuers, Austria.
Full results & schedules can be found at fis-ski.com