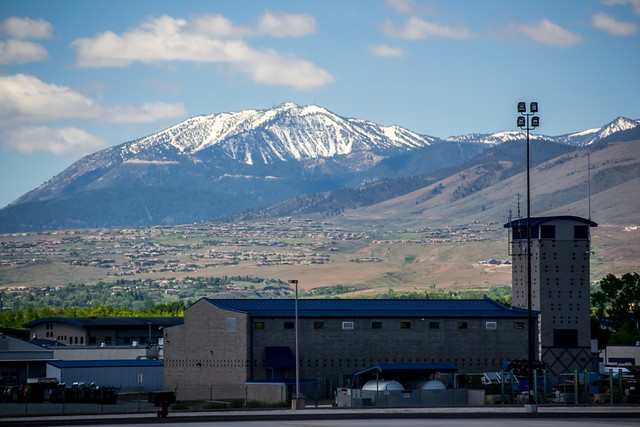 The spring storm that just slammed the Sierra, dumping almost three FEET on Mammoth Mountain, also set a snowfall record for the date at Reno-Tahoe International Airport.
According to the National Weather Service, 1.3-inches of snow fell on Monday at the airport, setting a new record and smashing the previous record of 0.4-inches set on April 6, 1982. The Lake Tahoe area saw over a foot of fresh, late-season snow, and areas of Reno saw over 2-inches.
Three-feet of fresh powder is not exactly what house-bound skiers want to see, but the precipitation will boost an otherwise poor snowpack in the Sierra. After a dry February, a few storms in March added 6″ of precipitation to the Lake Tahoe and Truckee River basins, boosting the snowpack by 22%.
The state's Department of Water Resources (DWR) conducted the fourth monthly manual snow survey of the season at the beginning of April at Phillips Station snow course south of Lake Tahoe. They found the snowpack was equal to 16.5″, or about 66% of the April average for that location. Statewide, measurements from 130 electronic snow sensors showed a water equivalent of 15.2″ or 53% of the April average.
DWR spokesman Chris Orrock says that although the region experienced a handful of big snowstorms in March, they weren't enough to make up for a dry January and one of the driest Februaries ever recorded.
"This year we're probably going to have one of the 10 worst snowpacks in California history," says Orrock.
Snowmelt normally provides about 30% of California's water supply and April 1 is typically when the snowpack is at its peak. However, California reservoirs are in good shape thanks to last year's runoff, with the six largest holdings between 82% and 125% of their historical averages for the date, according to the department.
"Over the last decade, California's snowpack has been alternating between extremely wet and extremely dry," said Sean de Guzman, chief of the department's Snow Survey and Water Supply Forecast Section. "In the past 10 years, we've seen three of our smallest snowpacks on record, but we've also seen three of our largest snowpacks on record."