Spectacular mountain snowscapes, impossibly convoluted terrain, cold smoke and lots of smiles describe our backcountry mission on this sunny Christmas Eve.
Miles Clark, Lucas Gillies and I ventured into a backcountry area right off the Revelstoke Mountain Resort Stoke Chair. 
The temperature was hovering around the -7C mark. The snow was cold enough and we were warm enough. No winds whatsoever. Three consecutive weeks of unrelenting storms got us a little worried. Fortunately, very scientific pole probing revealed consolidated layers topped with 25cm of freshies.
Our day began with a 60-minute tour up to Montana Peak. Skies were partly cloudy, a typical BC interior weather pattern which Miles coined "Canadian bluebird". This is usually as sunny as it gets in Revelstoke.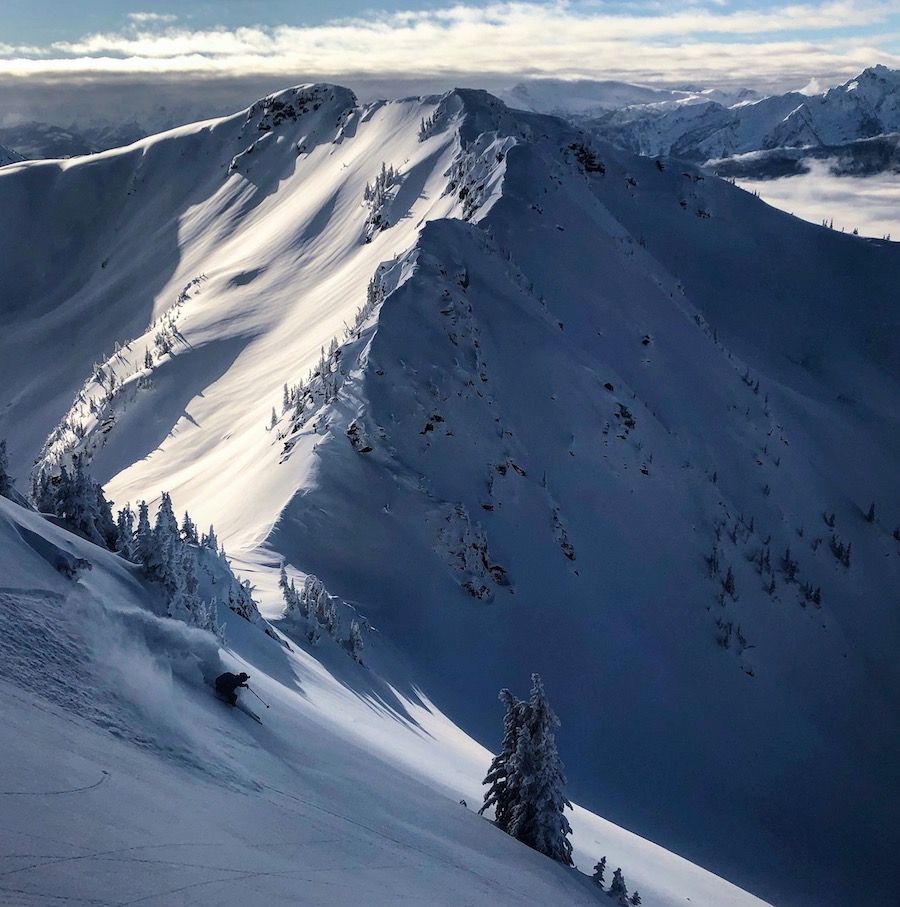 With careful terrain consideration, we charged down a beautiful alpine bowl overlooking the northern aspect of Kokanee Peak. The powder snow was light, crispy and stood on a solid base.
We then headed to the Kokanee Ridge Col. Skier-extraordinaire Miles obviously went for the cliffed-out line. Lucas and I choose a more reasonable line a few hundred meters from Miles'. Again, AMAZING snow quality, no tracks, and sunny skies.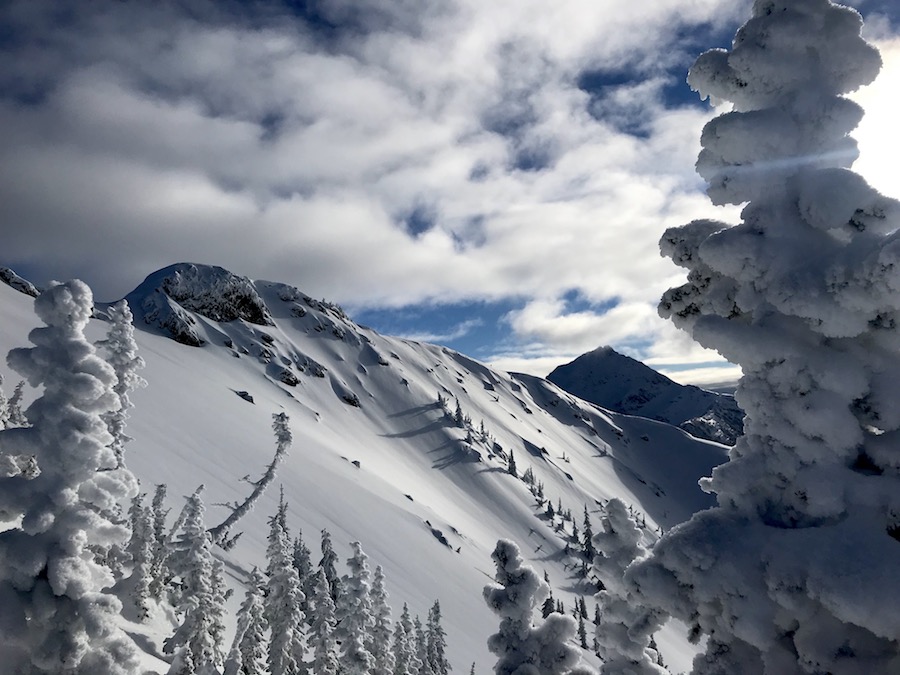 Miles and I toured up Kokanee Peak. We skied a gorgeous, untouched eastern aspect. It was deep alright, but not too deep which allowed us to lay down big carves at F1 speeds. Of course, Miles launched off a diving board at the top of the mountain. I hit a rock and tomahawked down the upper third of the slope, but crushed the rest of the run. The skies cleared up in time to snap the perfect shot of our lines.
We then ascended the southeastern ridge in the afternoon for one last lap down Kokanee Peak and headed back home.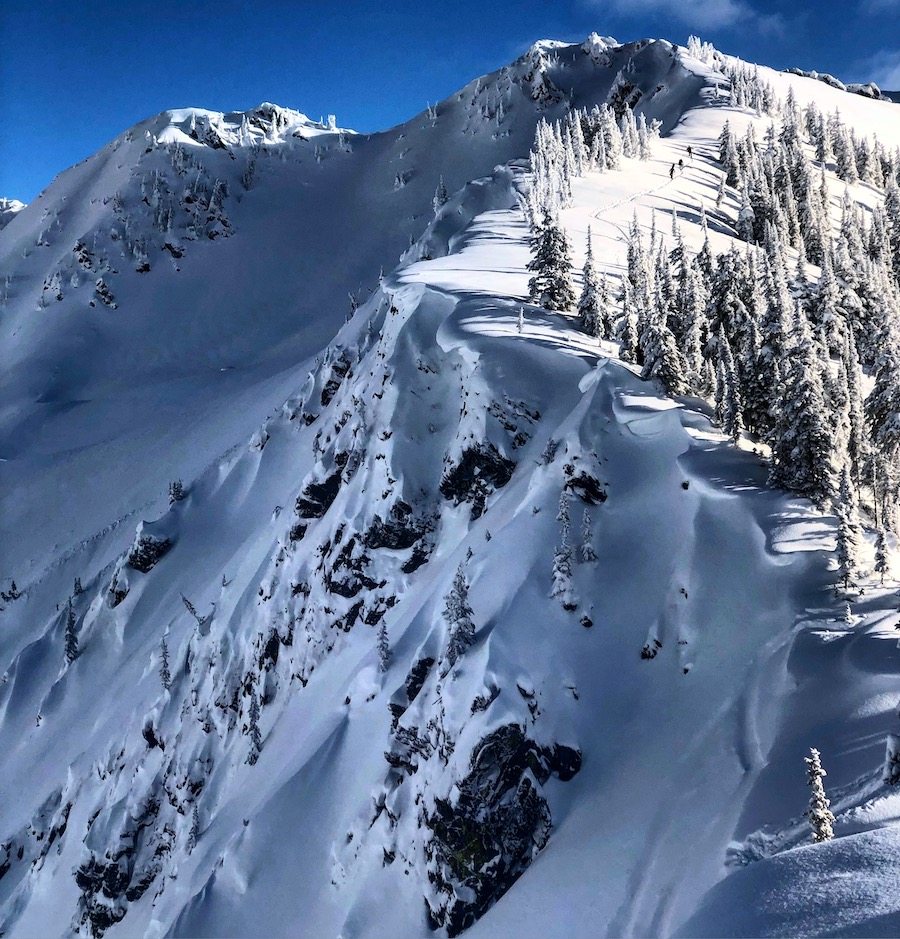 The stoke levels were through the roof. We couldn't believe how perfect the day went. We also couldn't believe how little effort was required to bomb down those ridiculously gnarly backcountry lines.
SNOW NUMBERS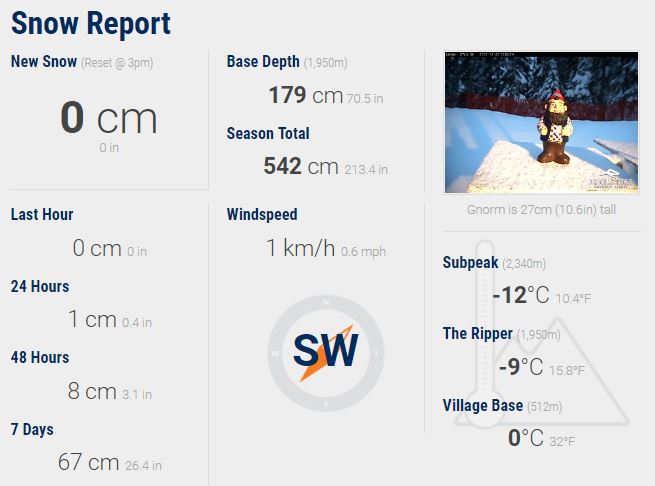 SNOW FORECAST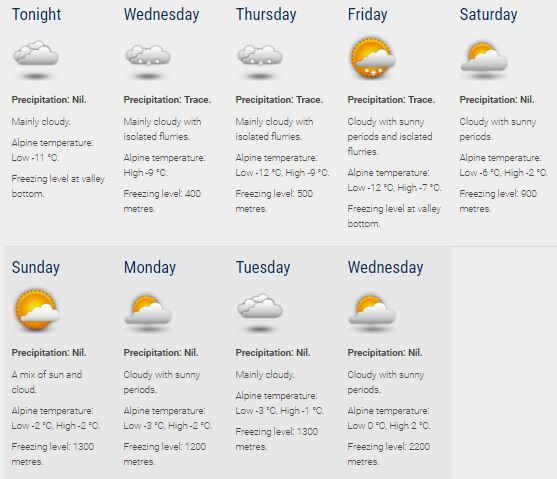 PHOTOS: