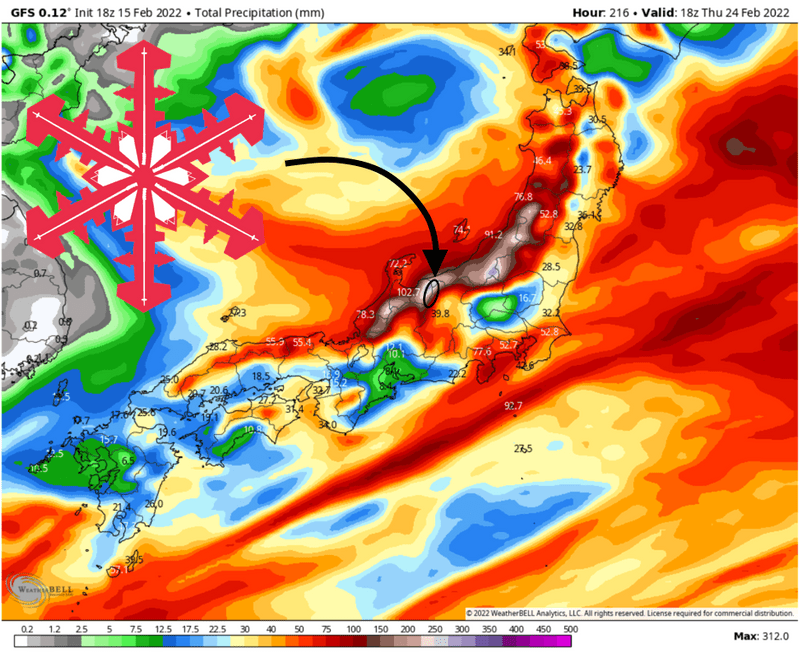 Forecast by SnowBrains Meteorologist Nathan Tarino
Updated 6 PM MST Feb 15th
Forecast Summary
Japan's HAKUBAVALLEY is in for an outrageous storm cycle. Two prolonged storms will each bring very heavy snow to the higher terrain of Honshu, particularly the Japanese Alps which host the HAKUBAVALLEY Resorts. 
As much as 15″ of snow has already fallen in the high terrain over the last day or two.
The first period of snowfall is just beginning and will bring general totals of 20-40″ before snowfall ends midday Friday. 
A second huge storm will arrive by Saturday evening, lasting until Monday morning. Totals remain somewhat uncertain for now, but at least another 12-24″ is likely. 
Even more snow looks probable over the next workweek. 10-day snowfall totals could threaten 70″ at the snowier HAKUBAVALLEY resorts!
Short Term Forecast
A strong cyclone over the sea of Japan is forcing cold northwest flow over the warm waters and into Japan's main island. As a result, snow has begun falling already as of Wednesday morning. Heavy snow will continue, becoming particularly intense Thursday and Thursday night. Snowfall will gradually taper off on Friday as the cyclone progresses eastward, but not before dropping some legendary snow totals:
Hakuba Cortina –

30-40″

Happo-One – 

20-35″

Tsugaike – 

20-35″

Hakuba Norikura – 

24-36″

Iwatake – 

12-20″

Hakuba47 –

18-34″

Goryu – 

24-36″

Kashimayari –

14-20″

Jigatake – 

12-20″
Powder skiing prospects will stick around thereafter, too. A second storm will bring additional snow over the weekend, with the heaviest snow falling  Some uncertainty remains regarding the intensity of this system, but at least another 1-2 feet of snow are expected. 
Ski conditions will be immaculate all week long with snow totals at the snowier resorts approaching the 5-foot mark by the end of the weekend. 
Extended Outlook
The next workweek will bring continued snowfall. Though not as heavy as this week's storms, cool west-northwesterly flow over the Sea of Japan will keep the flakes flying on and off through the week. I won't be surprised to see 10-day snowfall totals in excess of six feet at the typically snowier Hakuba Cortina or Hakuba Norikura.
The large-scale pattern remains progressive. This will make for continued active weather through at least the end of February.