Revelstoke! Once thought of as a stop on Canada's east-west TransCanada Highway, its name has become synonymous with deep snowpacks and skiing. Located just an hour east of "Revy" is Rogers Pass — aka backcountry skiing heaven.
This article provides you with some basic information about the Pass and how to start navigating ski-touring opportunities there. For a more in-depth look at tours in the Rogers Pass area, you would be well-served to read other articles about the Rogers Pass guidebook (authored by Geo Backcountry's Douglas Sproul) discussed in two parts in these articles (part 1 and part 2).  Support Doug Sproule's Kickstarter if you want to help with publication of a brand new spanking updated map!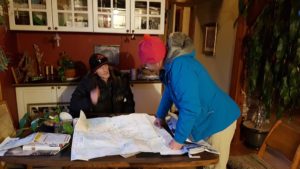 Introduction
Rogers Pass is located in Glacier National Park in British Columbia, Canada. A major highway winds its way through the park topping out at Rogers Pass at 1,330m. The highway winds through the heart of the Selkirks; one of the world's astoundingly beautiful mountain ranges. From the Pass and from various access points located close to the highway, multiple ski touring zones can be accessed.
Your first stop will likely be to head to the Rogers Pass Discovery Center. Access to many (but not all touring locations) in Glacier National Park ("GNP") is through a permit system designed to allow for safe travel for backcountry travelers during times of avalanche control. Frequent visitors will get an Annual Permit; something you can also do online if you want to avoid a lineup and wait at the Discovery Centre. Avalanche control in the Pass may result in areas being closed so it is important to check to see what's open before you go.
The Trans Canada Highway through Rogers Pass affords access so you can gain elevation quickly. Unfortunately, there are logistical challenges in skiing the Pass. Some of the challenges are due to the usual mix of terrain, snow and avalanche control and consequent closures. Parks Canada can be slow in updating closure information, so if you want to ski at the Pass during storm cycles expect to spend a fair chunk of time waiting for information.
Permits and New information
Permits allow you to ski some areas that are avalanche-controlled. Not all ski touring areas in Rogers Pass require you to get permits. But some do. To educate yourself about where you might need a permit see the links below especially since the Rogers Pass Winter Permit system has been updated. As always permits are FREE! The kind folks at Parks Canada have simplified permit areas so there are now only 4. You can now ski tour and find pow without the hazard of being blown up by artillery.
First a photo dump to illustrate some current conditions. Then read below for useful links about Rogers Pass and how to get there.
Parks Canada – Winter Permit system
Emergency Number 1-877-852-3100
Glacier National Park visitor center and Facebook page
Parks Canada – Winter travel app
Geotagged PDF format maps – Winter Permit System (use on mobile without data but with location
Winter Terrain Atlas – Pictures of terrain (high res – TerrainAtlas_english hi-res); (low res – Winter Terrain Atlas complete-small-eng)
Other useful links (from the author and from Geobackcountry's Rogers Pass guide – thanks to Doug Sproul for permission to reproduce)
Links updated December 12, 2019
Parks Canada
Avalanche Canada's One stop shop for all resources via ARFI (quite possibly duplicated below)
Road Conditions
Weather, Snowpack and Avalanche
Other information
Ski areas
Maps and Imagery