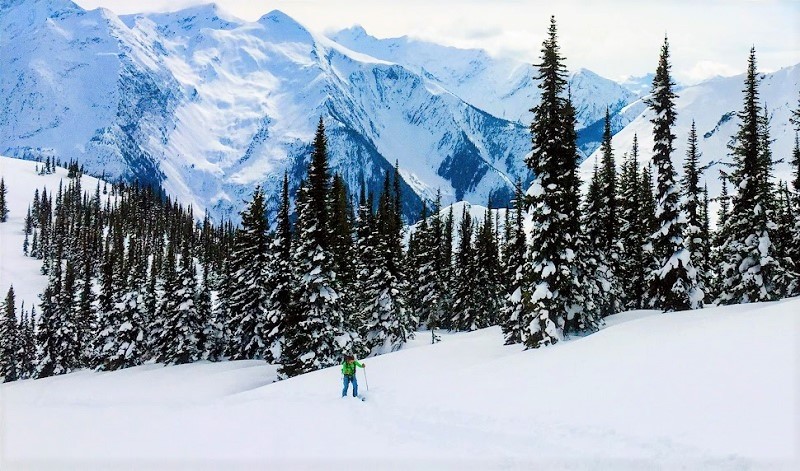 A popular backcountry ski area off Rogers Pass, BC, has been temporarily closed after skiers were witnessed entering an adjacent prohibited area.
Backcountry skiers were seen entering the winter prohibited area Macdonald West Shoulder on December 3rd, 2020. The next day Parks Canada temporarily closed NRC Gully trailhead parking and the adjacent area in West Rogers, including Macdonald West Shoulder #4 and NRC Gully, reports Revelstoke Mountaineer.
The temporarily closed area will remain closed until all evidence of the skiers has been covered with snow.
"The issue is that once you have tracks it's easy for people to just follow those tracks, and you end up with more people in that area. But given that this is a recurring area we have had issues with previously, we definitely have to think about what the next steps are."

– Shelley Bird, external relations manager for Parks Canada
Glacier National Park, where Rogers Pass is located, runs a winter permit system to keep skiers away from the danger of artillery fire and the resulting avalanches. Macdonald West Shoulder, where the skiers were seen trespassing, is one of the areas used for avalanche research and forecasts and is permanently closed.
"We can't do avalanche control for the highway if we're not 100 percent certain that nobody is in that area."

– Shelley Bird
Trespassers, if caught, can face fines up to $25,000 for violating the Canada National Parks Act. Parks Canada reminds all backcountry users that the winter permit system requires 100% compliance.
Roger Pass, located in the heart of British Columbia, offers world-class backcountry skiing and snowboarding, but you must play by the rules. This high mountain pass in Glacier National Park, British Columbia, has been a popular backcountry skiing destination for well over 50 years and continues to grow in popularity each year. The only catch is the Trans-Canada Railroad, and Highway runs straight through it, so avalanche mitigation is a major process.
Keeping the highway and railway open and clear of avalanche hazards is the number one priority. All mountain slopes facing the highway and train tracks are part of the Winter Permit System and are susceptible to daily closures based on avalanche conditions. In previous years the permit system divided the pass up into 16 Winter Restricted Areas (WRA's), but there were some issues with people following the daily closures and understanding them.