Report from Thursday, March 9, 2023
At 5 am the full moon was illuminating the big faces on the West Desert mountains visible all along I-80.
I started to feel more awake.
We left Salt Lake and drove to Elko, Nevada, but we weren't there for any of the wacky Old West vibes or one of Elko's many casinos.
We were there to ski the Ruby Mountains.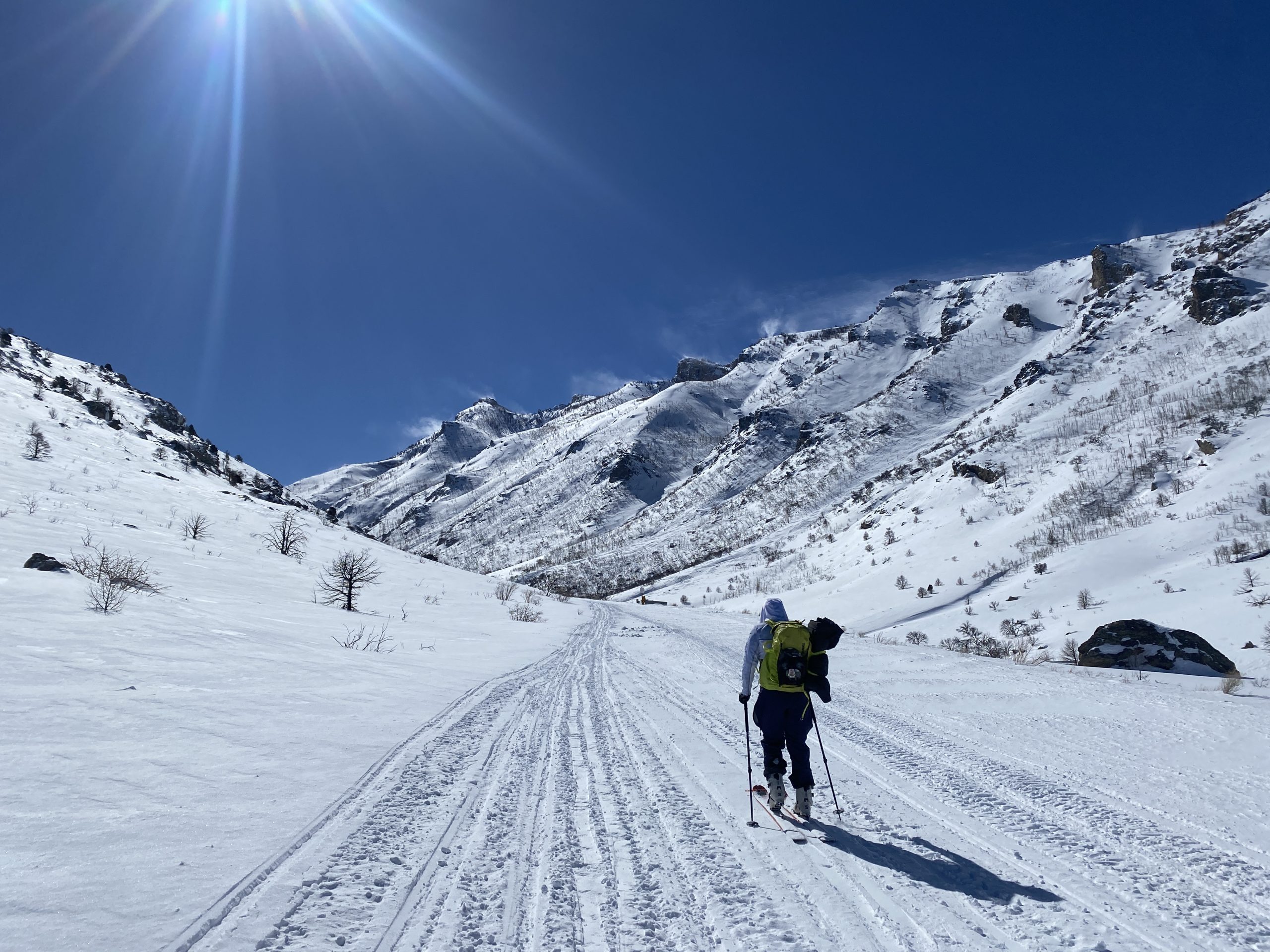 Four hours and 15 minutes later we were at the mouth of Lamoille Canyon, home to the classic Terminal Cancer Couloir. 
The road was so snowed in from the big year in the Rubys that you couldn't even enter the canyon.
That's a first.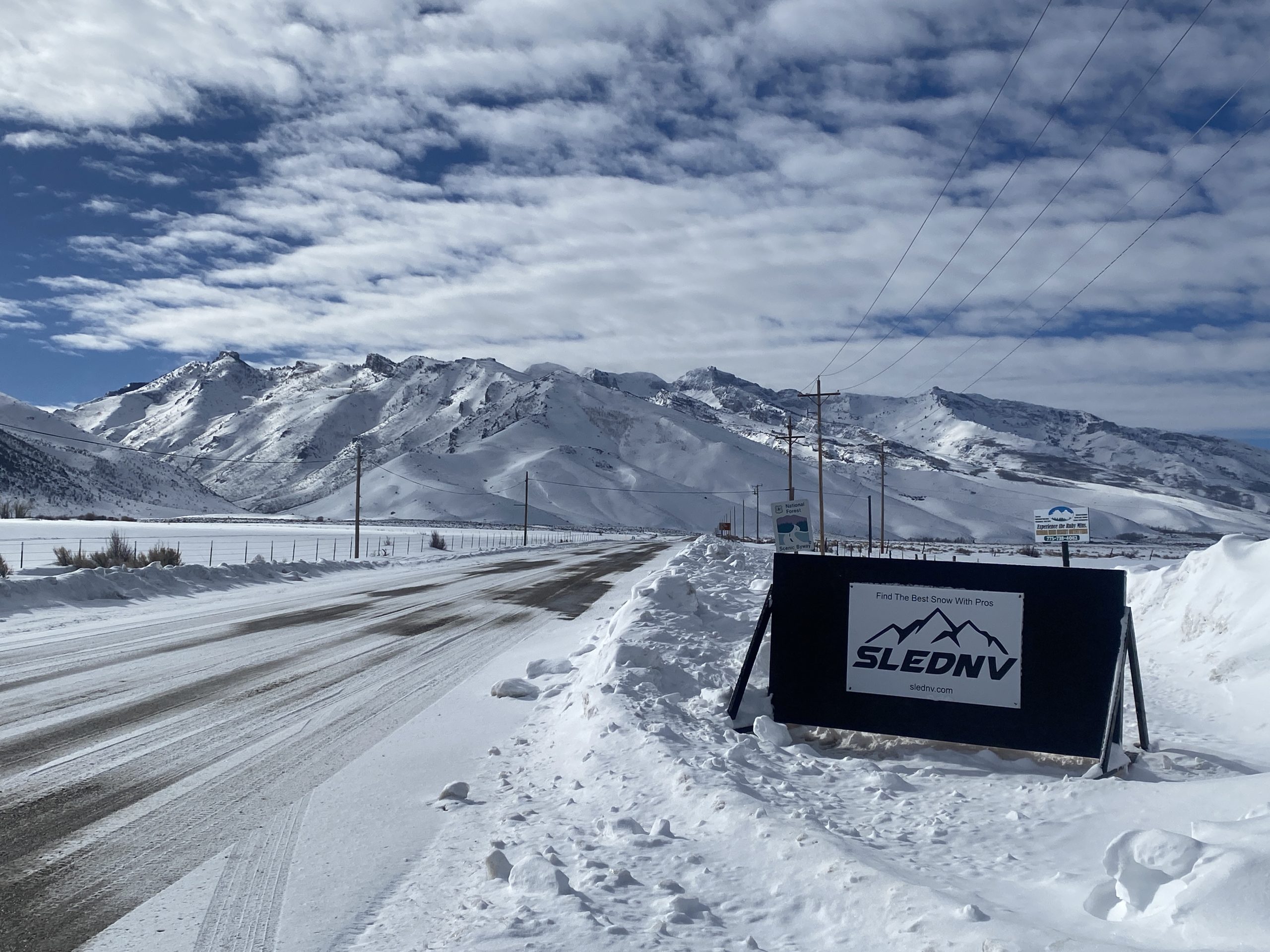 We booked Friday and Saturday with Sled NV, the premier snowmobile-ski touring guiding service in the Ruby Mountains but decided it was best to come a day early and scope out the range. 
Yesterday was our recon mission.
Terminal Cancer was originally on the table, but after seeing that the approach was about five miles right now and that the range was getting hammered with strong southwest winds, we opted for something mellower. 
On the walk in, we passed an array of blue ice waterfalls and a display of stunning couloirs splitting massive cliffs.
Hardly anyone was there with us and the range had a cold, sullen mystique to it. 
The lines around us were daunting.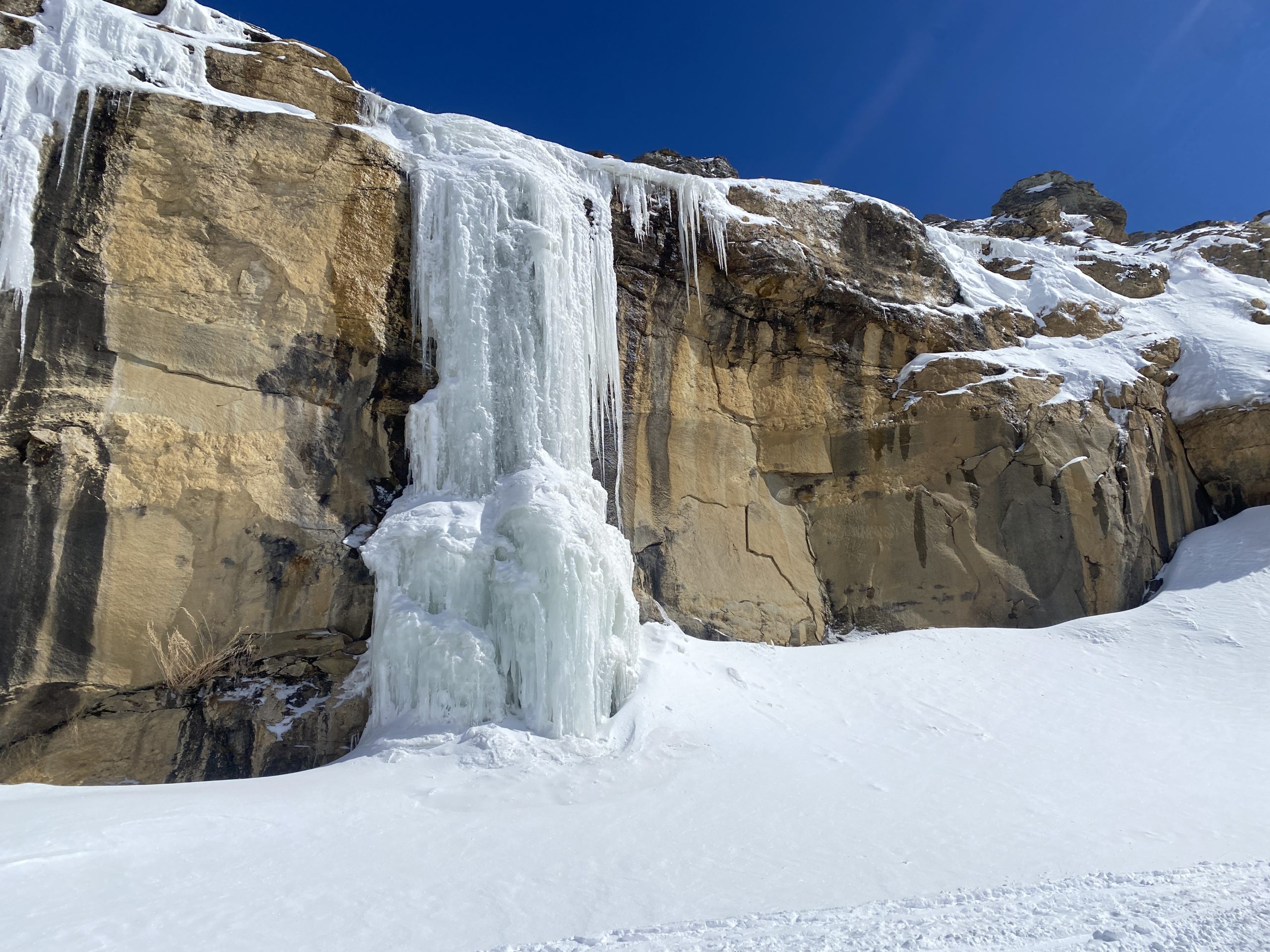 I eyed a nice south-facing chute but after digging a pit and discovering a fairly reactive facet layer sitting about 14″ deep under a hard sun crust, I looked toward the other side of the creek.
The north-facing lines there looked soft but wind-effected. 
I crossed the creek and toured up a ways through a brilliant grove of trees that were scorched and dead because of a wildfire that had ravaged them some time ago. 
They were gorgeous.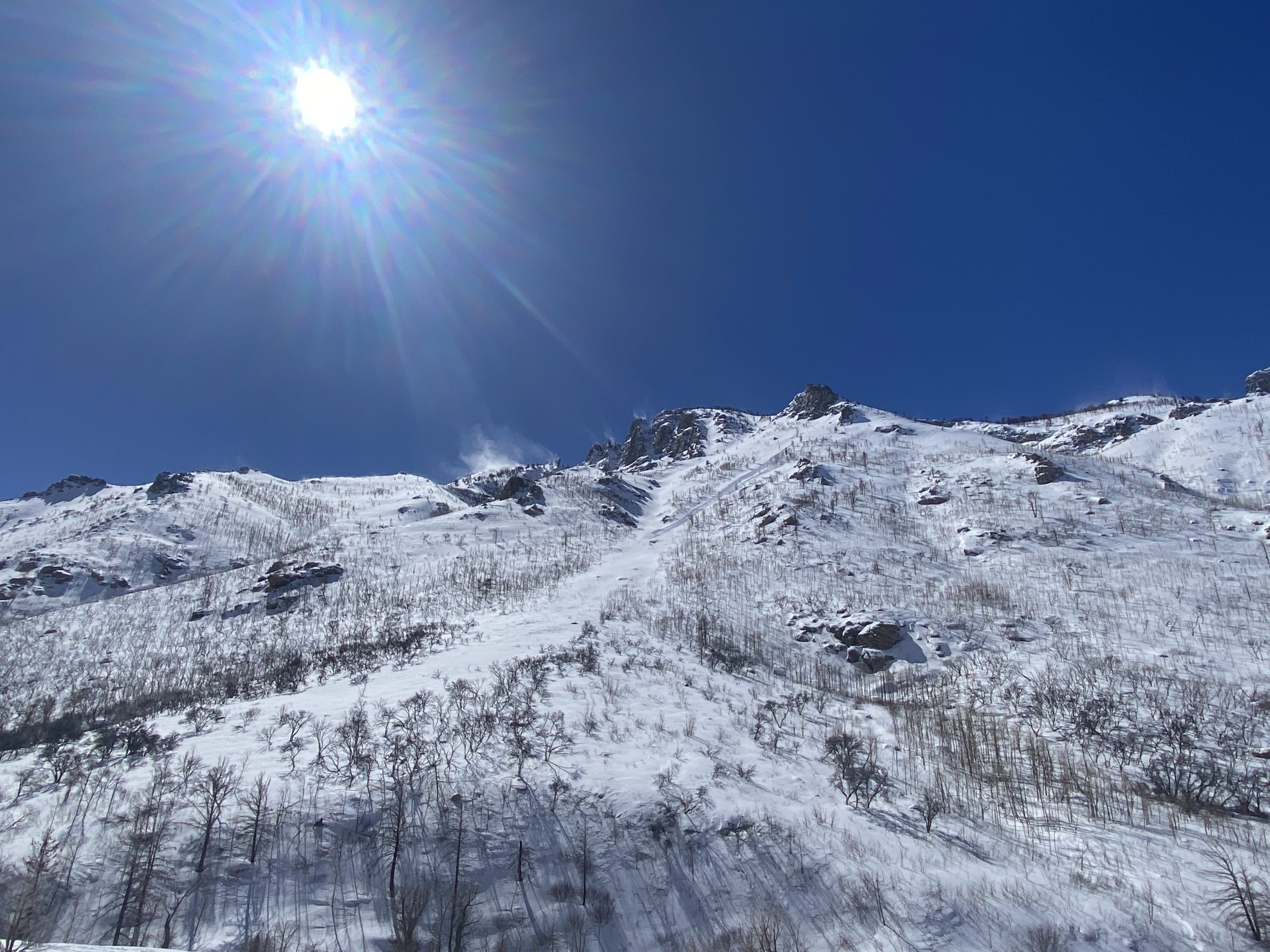 I dug another pit, saw that the snow was fairly touchy, and decided to ski a low-angle shot through the trees.
On the way up I heard a big 'whumph' signaling unstable snow and I felt good about my decision to avoid avalanche terrain. 
The snow in the trees felt like great powder anyway.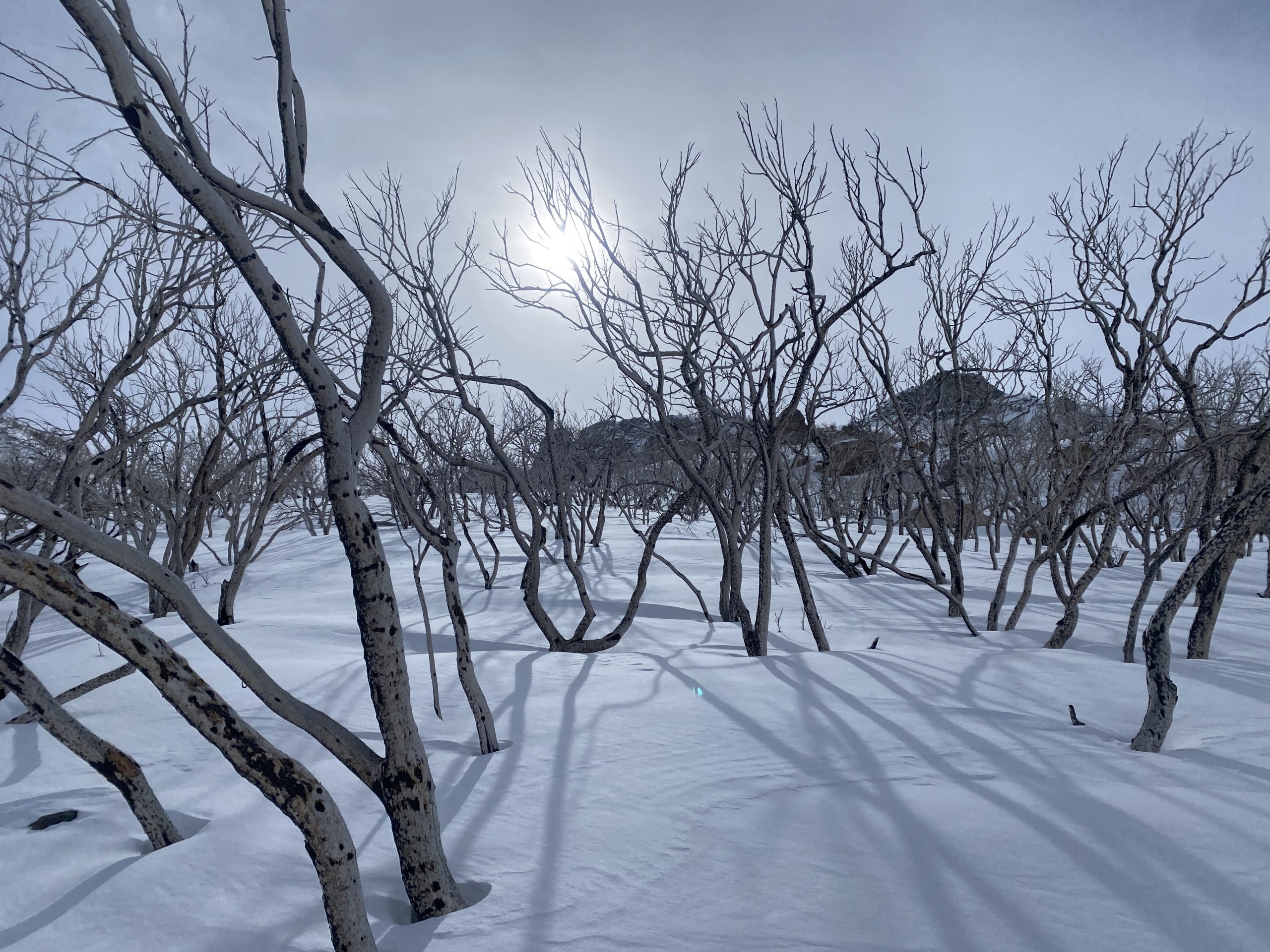 My assumption was correct—it was wonderful powder snow that skied soft and smooth. 
I sailed through the burnt trees, whose shadows had a captivating effect on me. 
It was like I was skiing in a cartoon.
It was beautiful.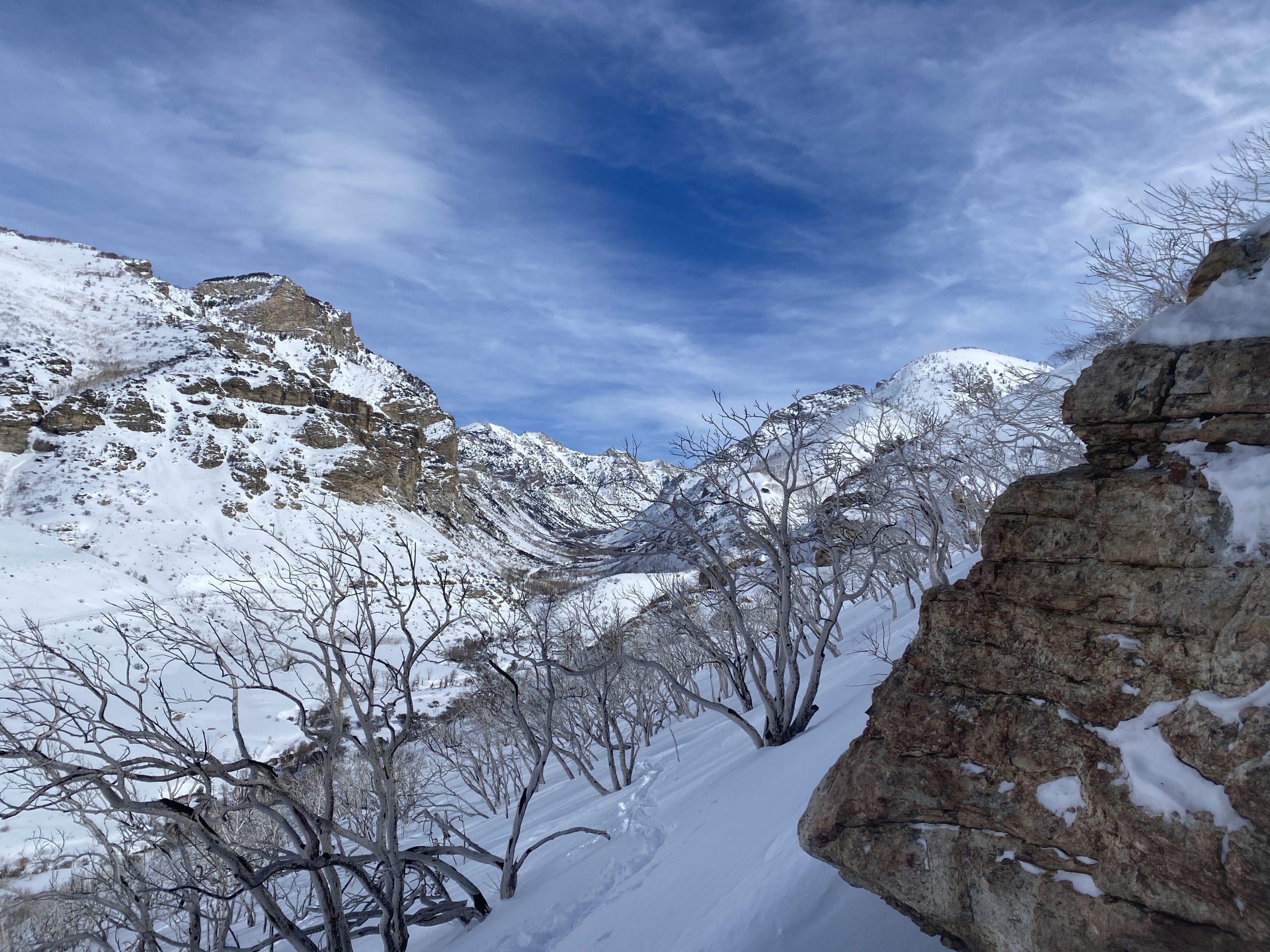 Although it was a short run, I was not initially expecting such soft snow.
I went back down to the creek and crossed it feeling some type of way.
We skied back down the road for about four miles, leaving feeling like we knew a little bit of what the snow was doing in this mountain range that seemed so foreign to us. 
Tomorrow was going to be the big day with Sled NV and we were beyond excited but also intimidated. 
The mountains don't mess around. 
Weather
 Photos