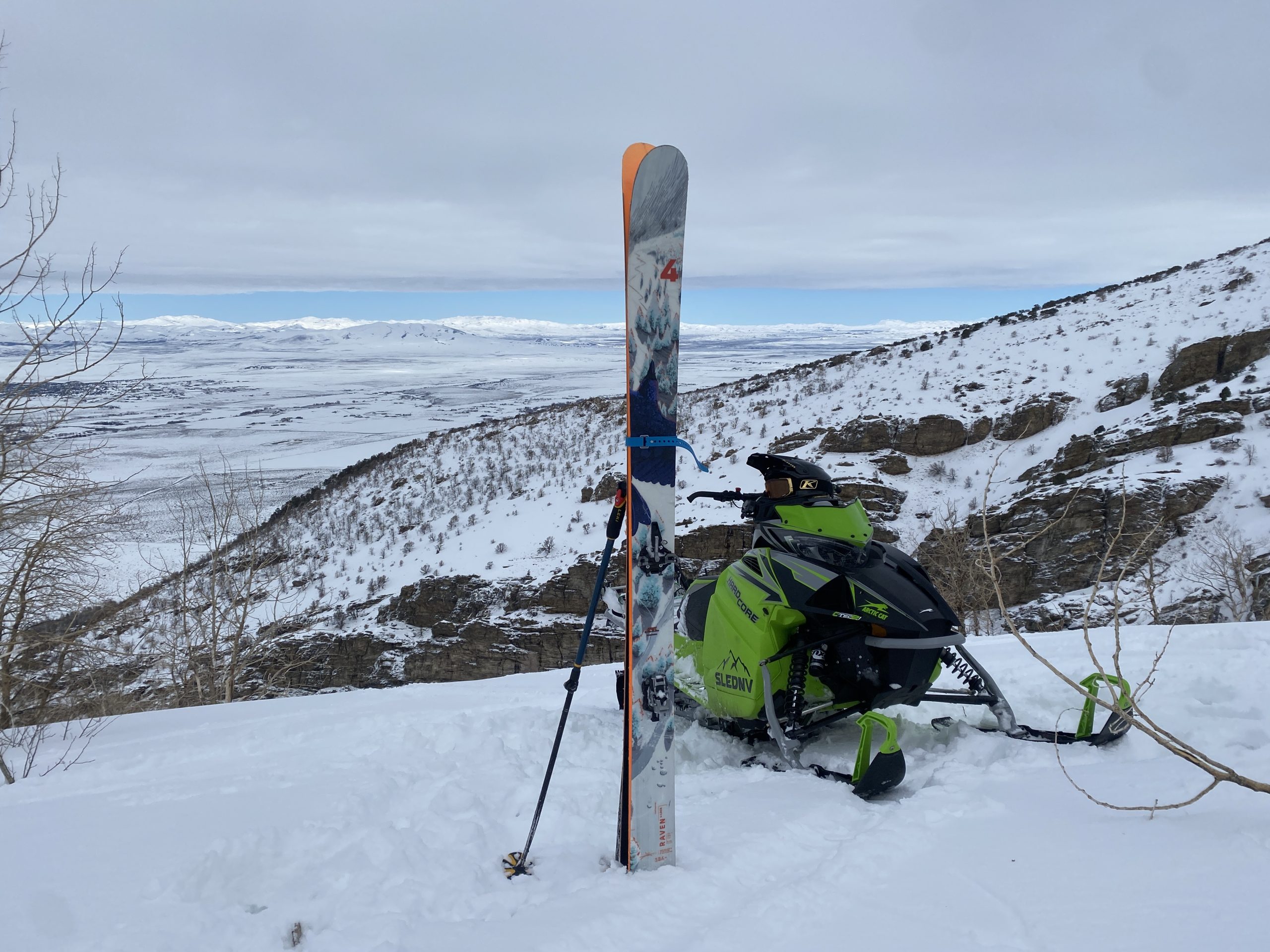 Report from Friday and Saturday, March 9-10, 2023
Little is known about the 100-mile-long Ruby Mountain Range in northeastern Nevada.
There is no avalanche forecast there.
Hardly any roads travel through it.
There are very few people who recreate in them.
The Rubies are one of the most remote mountain ranges in the continental U.S.
But what is known about the Rubies is that there is a lifetime's worth of world-class backcountry ski, snowboard, and snowmobile terrain out there.
These are our chronicles from our two-day experience in this beautiful yet brutal mountain range with Sled NV, the Rubies' premier backcountry snowmobiling and ski guiding service, and the new guys on the block who are competing with local heli operations and snowcats for a fraction of the price.
Day 1 
Our first day in the Rubies being guided by Sled NV was unforgettable. 
Winds were ripping 50 mph at the mouth of the canyon, and 80mph up higher. 
I've never skied in winds that powerful before.
On top of the strong winds, wet, dense snow was hammering down, making for some great low-angle, wind-effected powder skiing.
Avalanche danger was high.
Mind you, the Rubies are not always like this; the next day we caught some awesome, mellow bluebird ski laps with gorgeous valley views, but on this day we were put up face-to-face with some intense conditions.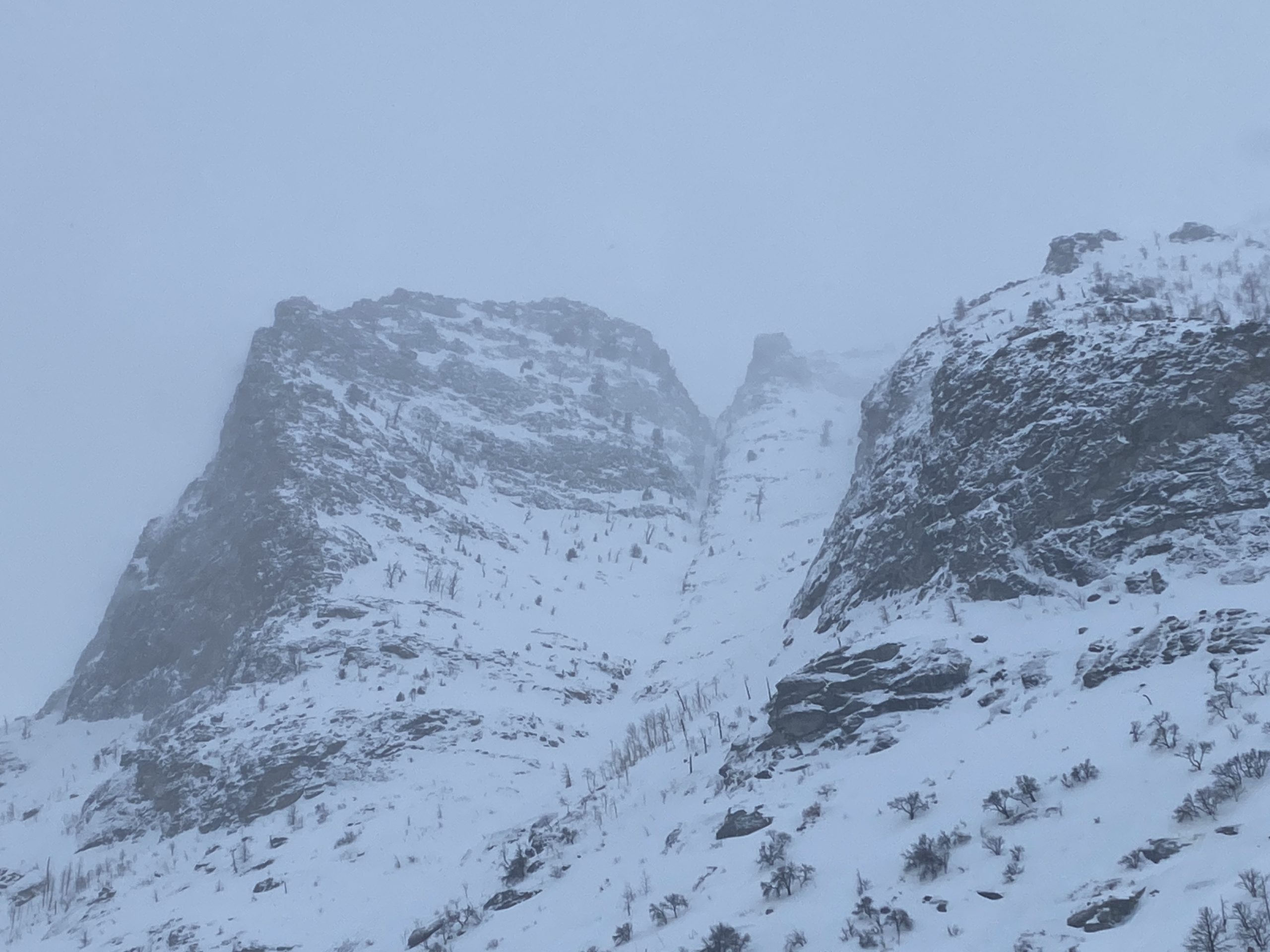 Jason and Kyle, our guides, met us at the mouth of Lamoille Canyon at 8 am on Friday.
They gave us the rundown on conditions for the day with a crash course on how to use a sled, which neither Connor nor I had done before.
In no time at all, we were all cruising down Lamoille Canyon on our sleds, headed to the zone feeling giddy yet intimidated.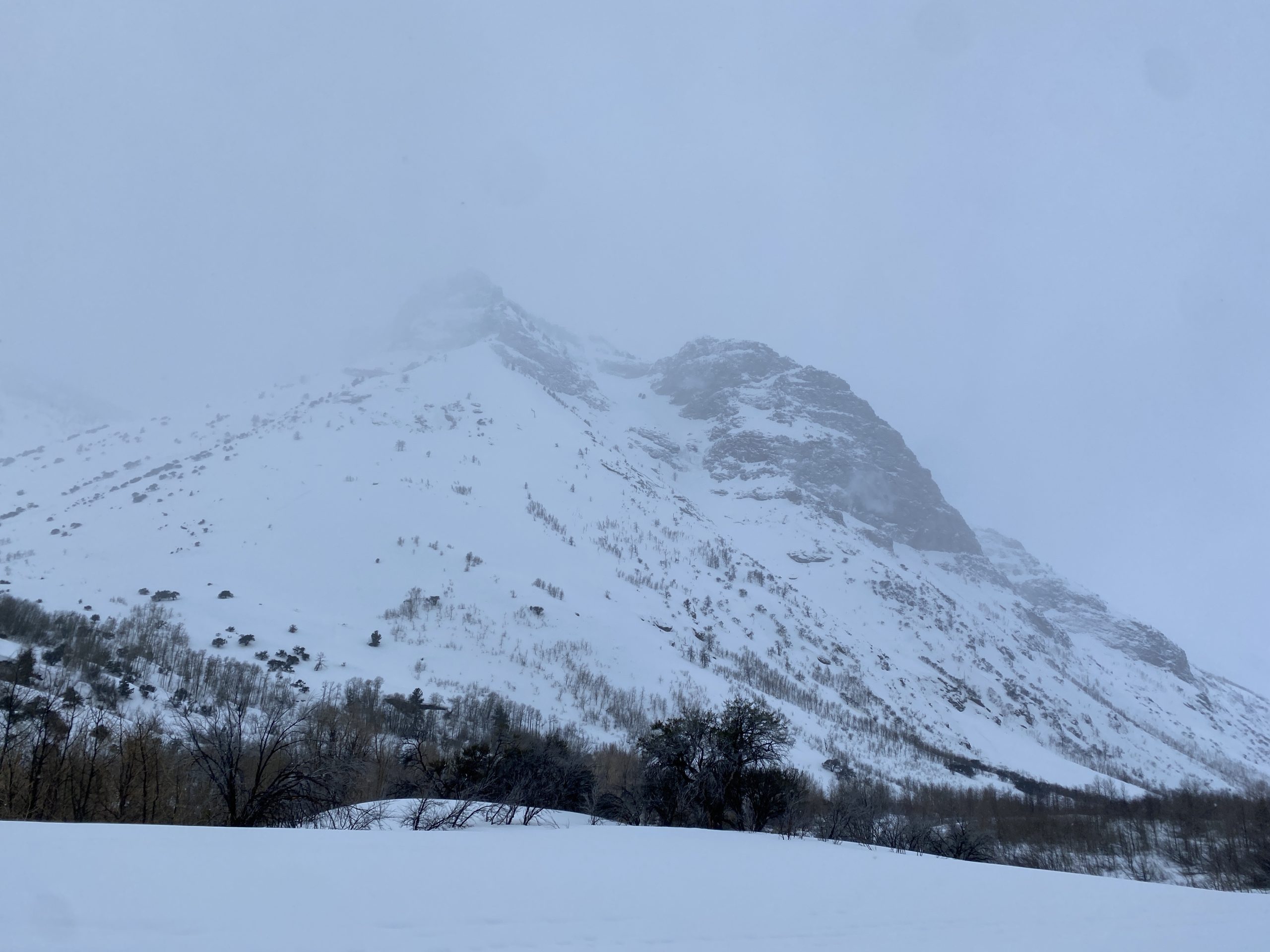 Riding the sleds was demanding but extremely fun.
It felt like a fun, full-body workout, and the intense winds added to the difficulty, especially when a strong gust diminished visibility. 
On the sled in, we passed by an array of frozen waterfalls, dazzling big mountain faces, and steep chutes, including the classic Terminal Cancer couloir which was so filled in with snow from the big winter the Rubies has been having that it was almost not a chute at all and had nearly morphed into a flat mountain face.
The Rubies have a boatload of snow this season.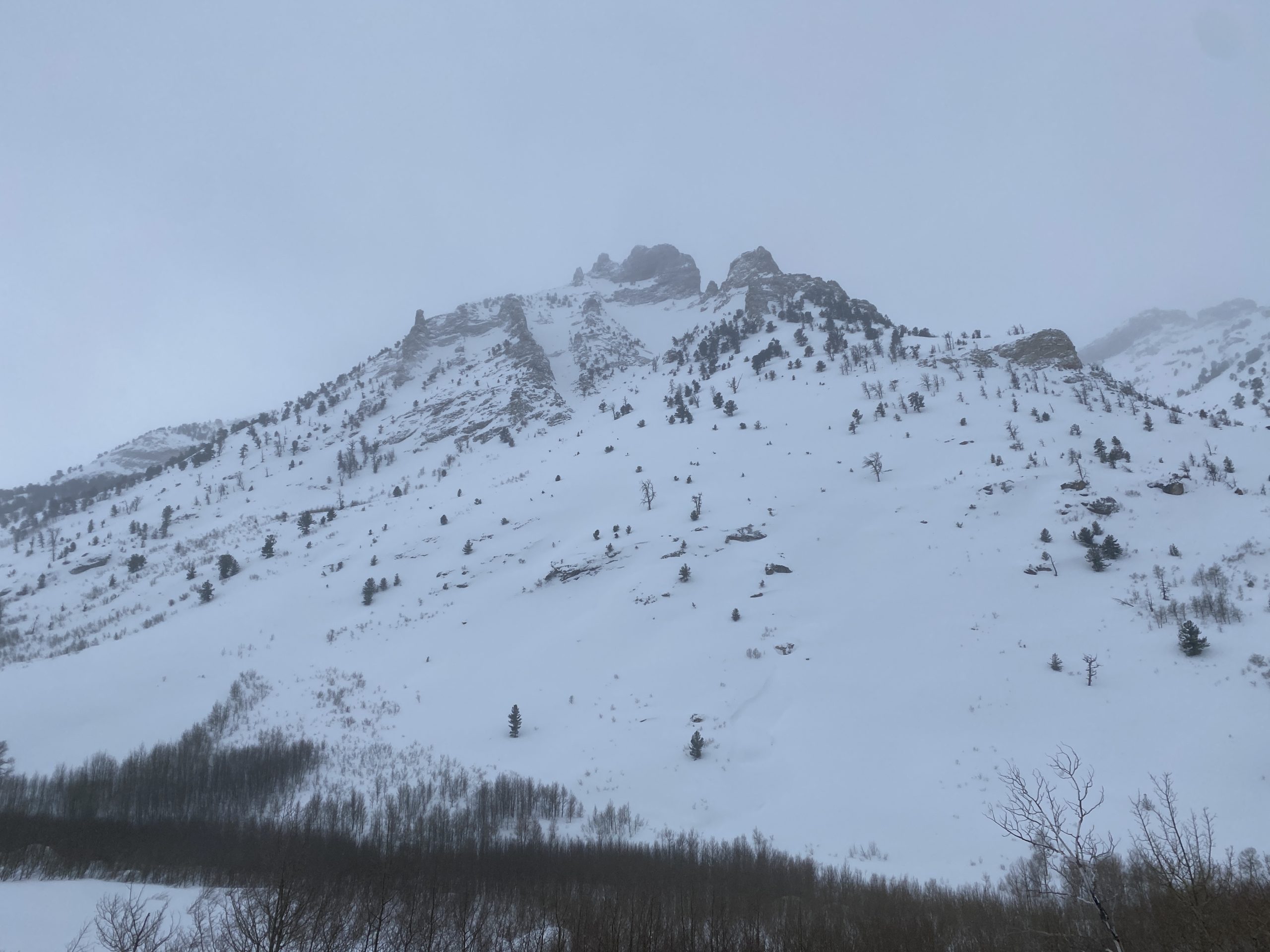 Toward the end of Lamoille Canyon, the scenery started to look a lot like Utah's Wasatch Range and with what appeared to be a near equally deep snowpack.
It was gorgeous back there.
On the way in, we passed a large avalanche that had broke naturally the night before, so we decided to stick to lower angle terrain.
We reached the staging area where it became really deep with snow and parked two of our four sleds, shuttling on Kyle's and Jason's from there on out.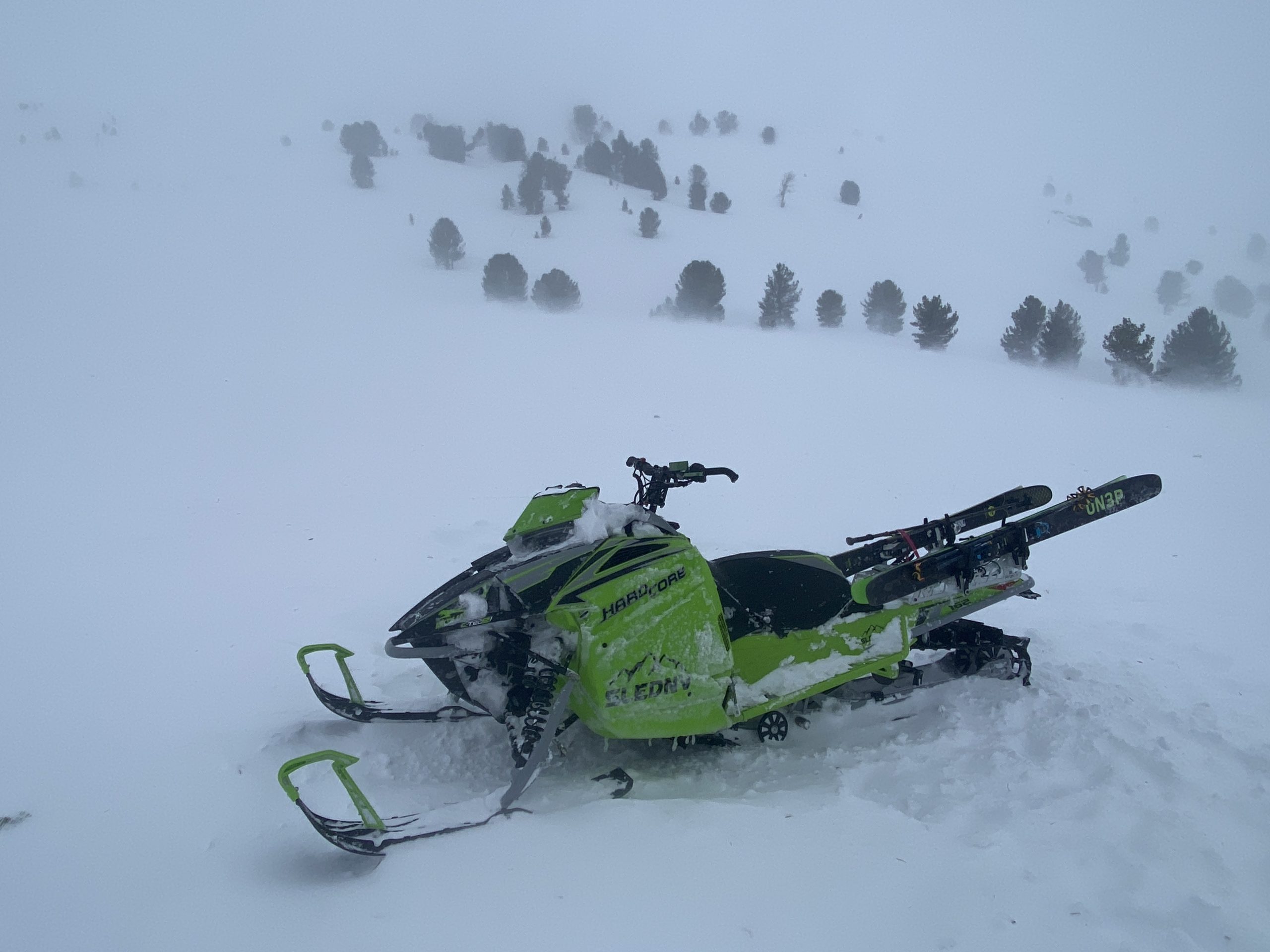 Kyle, who is an artist with a snow machine, would put us in his 'wallaby pouch' in the front of his sled and then take us up to the start of our line, ripping through deep snow and making fast turns on the sled like he was skiing.
We got so many face shots on Kyle's sled—almost more than when we were skiing down.
It was just as fun as the skiing in my opinion, if not more.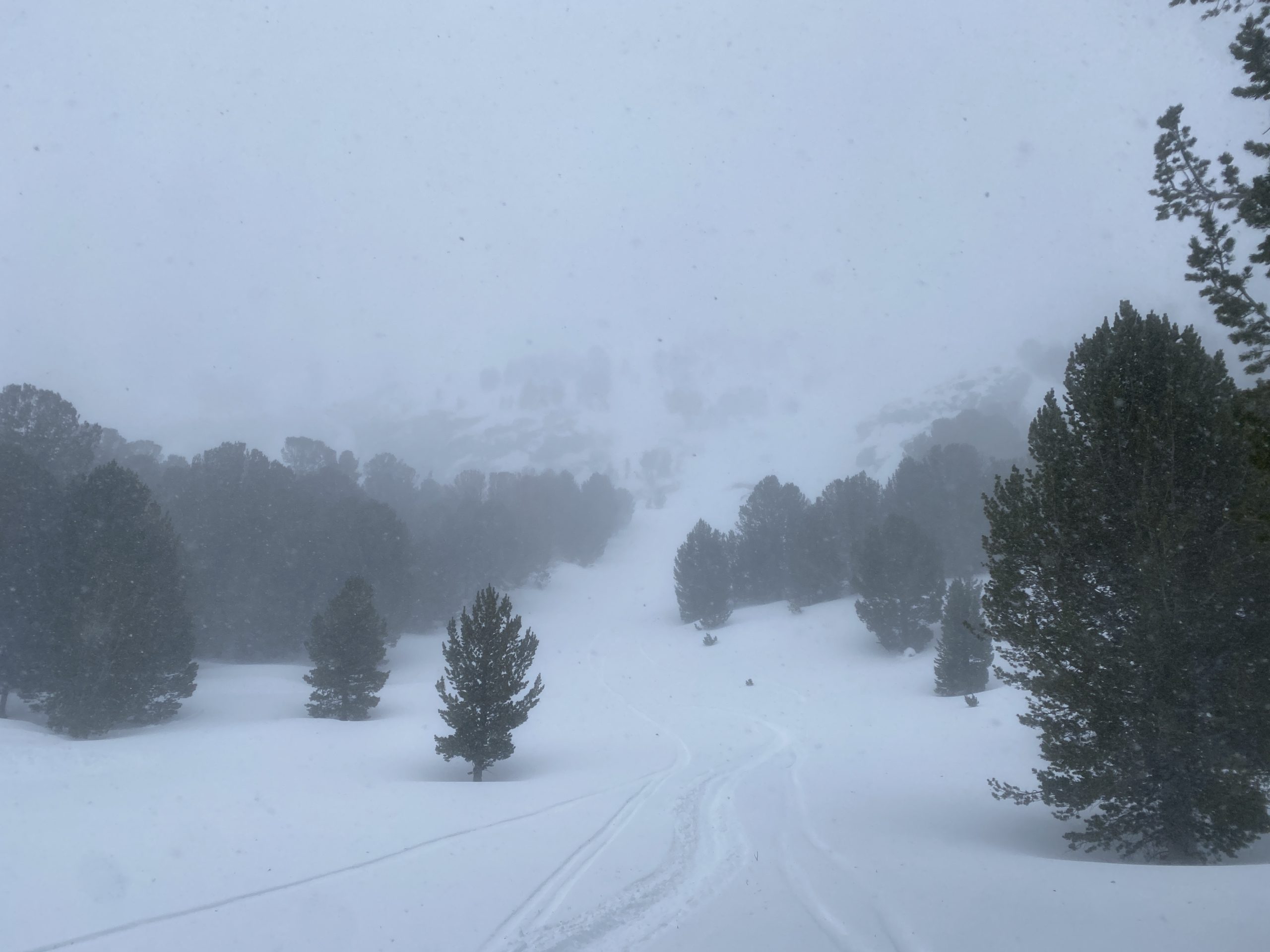 We took several laps in mellow terrain in the strongest windstorm I've ever skied in.
The snow was smooth, soft, dense, and skied nicely.
Skiing down at points was tough when an 80 mph gust would hit us and we would literally be blown back up the hill in near-zero visibility.
We felt alive.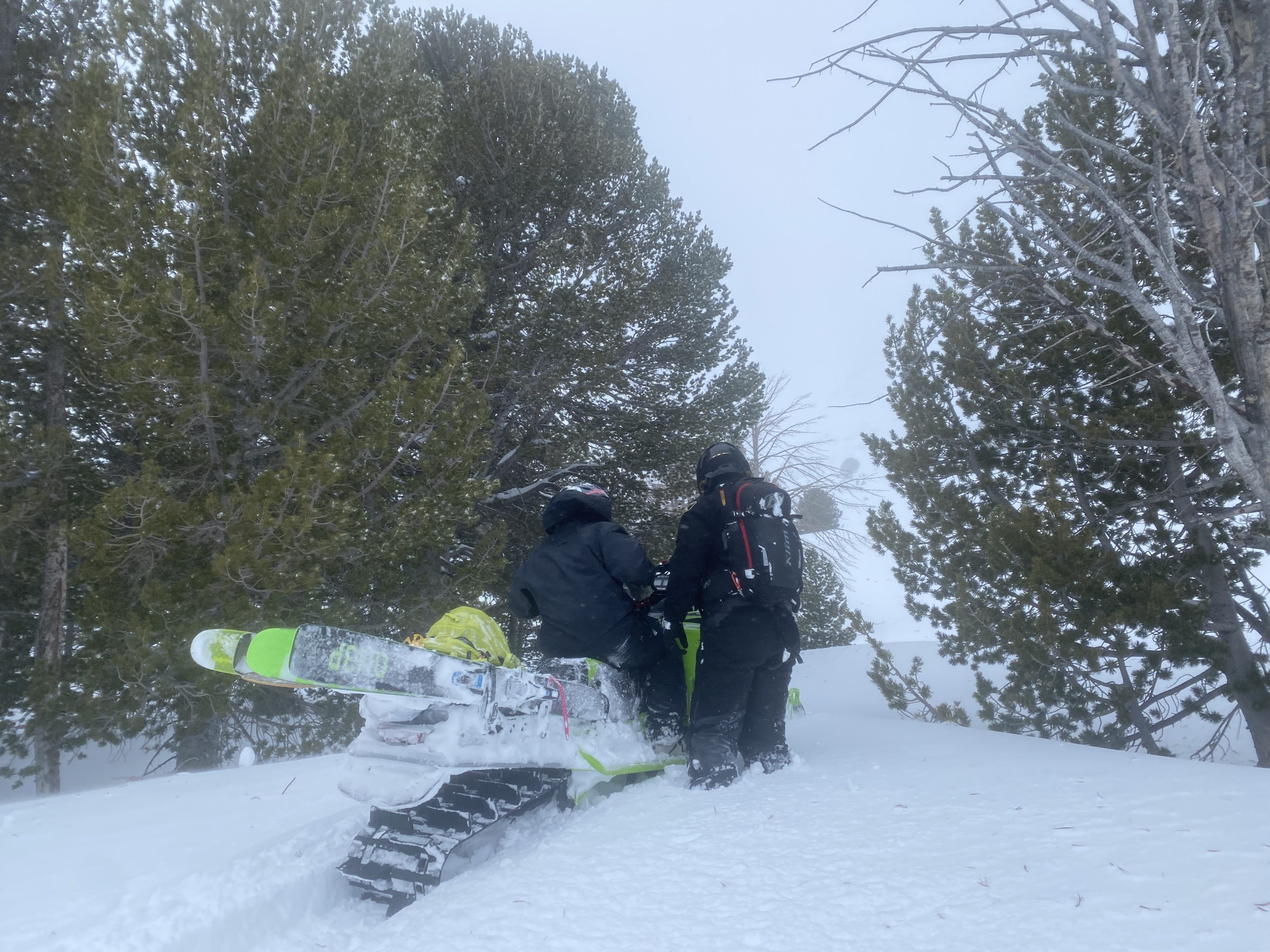 After a while, we decided to try another zone that was a touch steeper.
Our guide Jason dropped in first, triggering a small avalanche only a few turns in.
It was time to go home–the wind and snow were only getting gnarlier. 
We packed up our sleds and got out of there quickly.
On the trail back we noticed what appeared to be the beginning of a natural avalanche cycle. 
We were not lingering.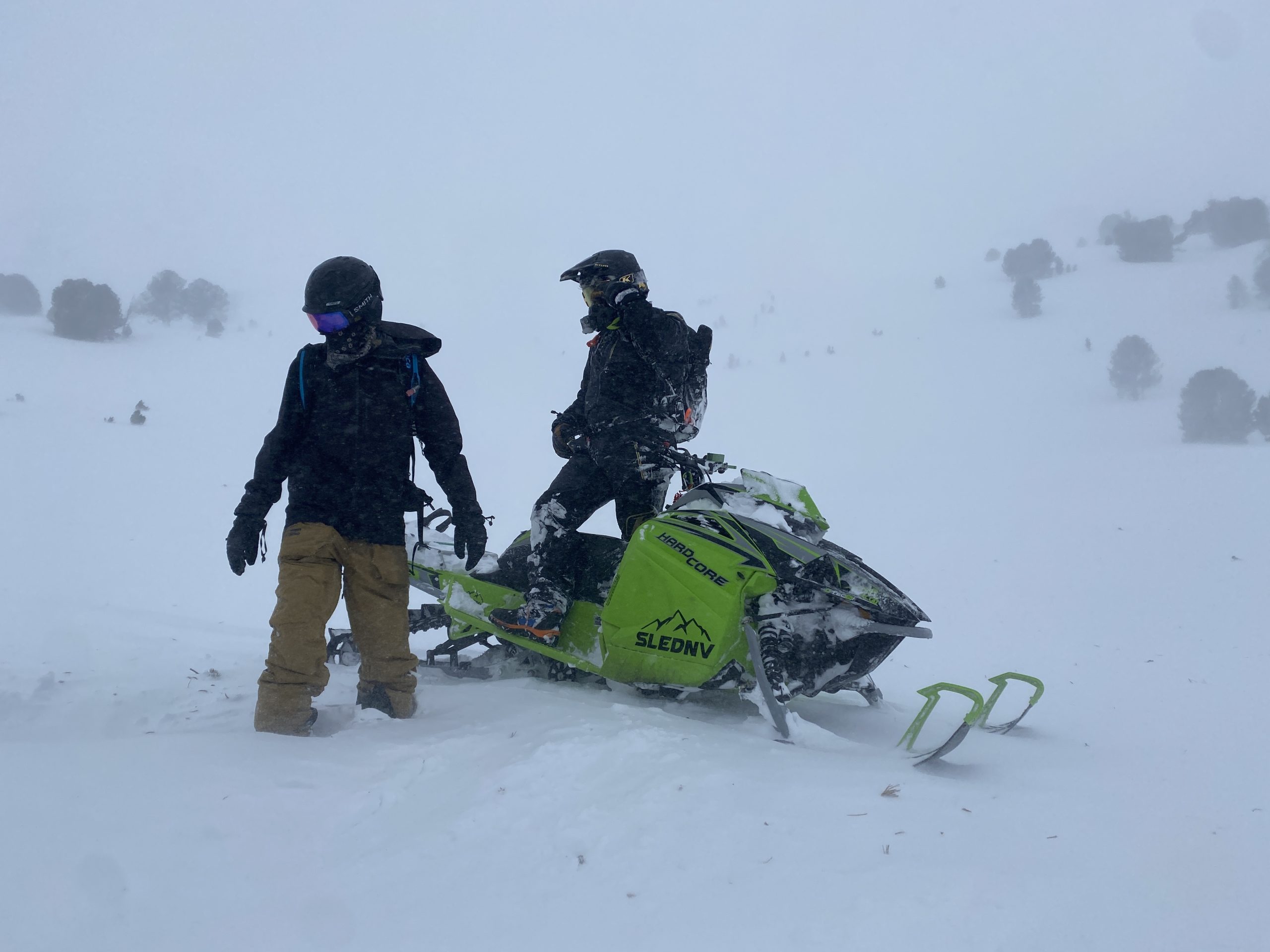 Despite the spooky conditions, the sled out was fun and we were sailing through fresh powder at a consistent 30 mph.
Once back to the trailhead, it felt good to get out of the wind and blast the heater inside of my car. 
As pretty and captivating as the Rubies are, they are a serious range. 
When they tell you to get out you better listen.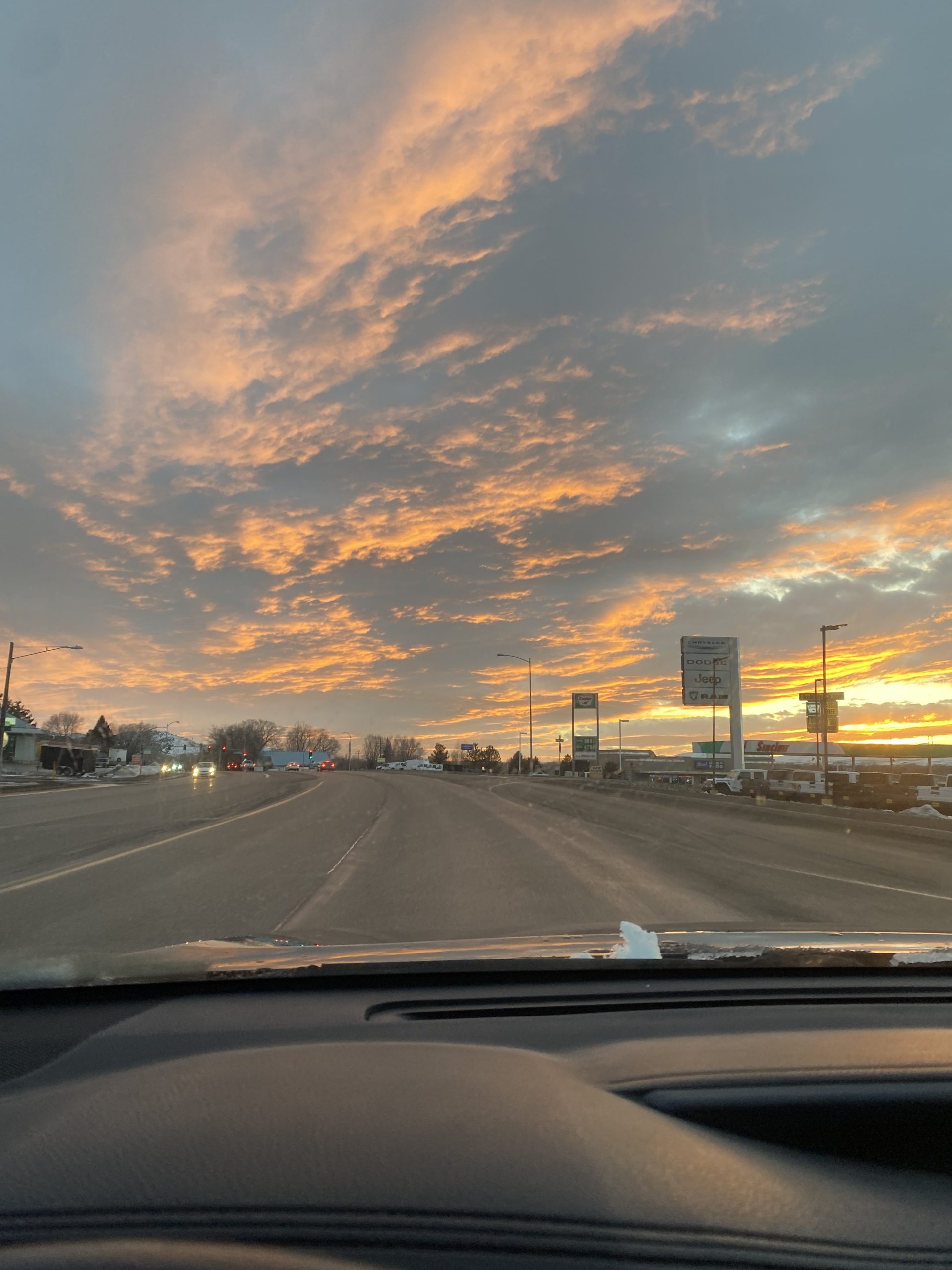 We debriefed, warmed ourselves, and drove to O'Carroll's in Lamoille for a delicious burger and a beer.
It was a high-intensity day with much experience gained and much learned which, in my opinion, is hard to put a price on.
Day 2
Our second day was a complete flip from the previous; skies were blue, weather was mild, and there was no wind.
We met up with Kyle and took the sleds out to go ski Rico Peak right at the mouth of Lamoille Canyon.
After our day sledding in poor visibility and ridiculously powerful winds, we felt like a pros on our sleds and could maneuver the easily and without too much thinking.
I'm really starting to like snowmobiling after having done it twice now.
We stashed my sled at the base of Rico Peak and I hopped in Kyle's wallaby pouch to get shuttled to the top while Connor stayed and filmed with his FPV drone.
Kyle bulleted us up at 50 mph to Rico Peak.
We were at the top of the line in no time at all.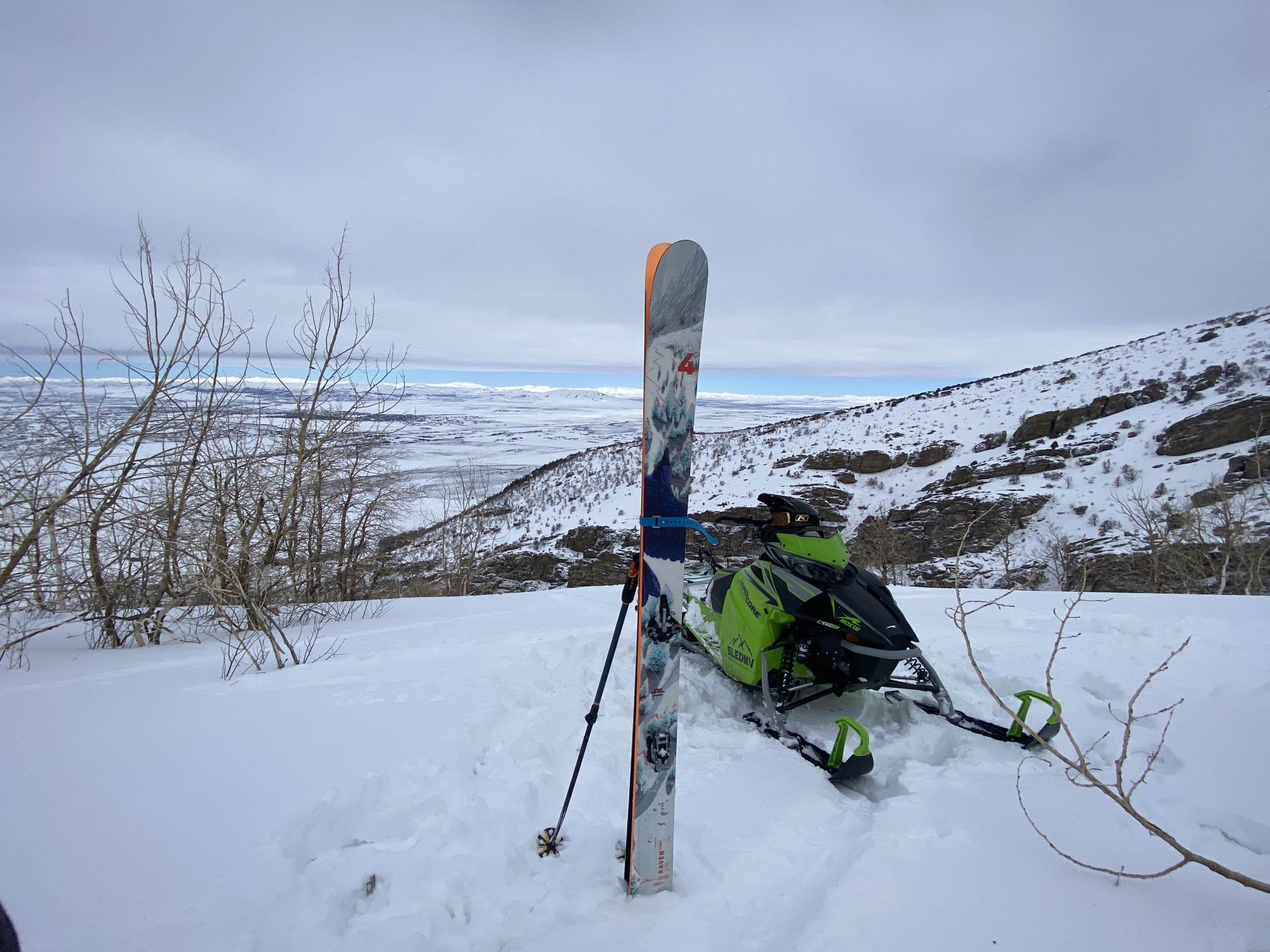 From Rico Peak, I took a very long mellow cruiser lap all the way back down to my sled, a couple of thousand feet below.
Here the snowpack was thinner and sharkier, so I skied it conservatively, still managing to find a few turns that were as smooth as a pool table among the otherwise crusty mountain face.
At the bottom Kyle took me back up at what felt like breakneck speeds to hit another lap, but if you asked him he would tell you that he was taking it easy.
What a beast.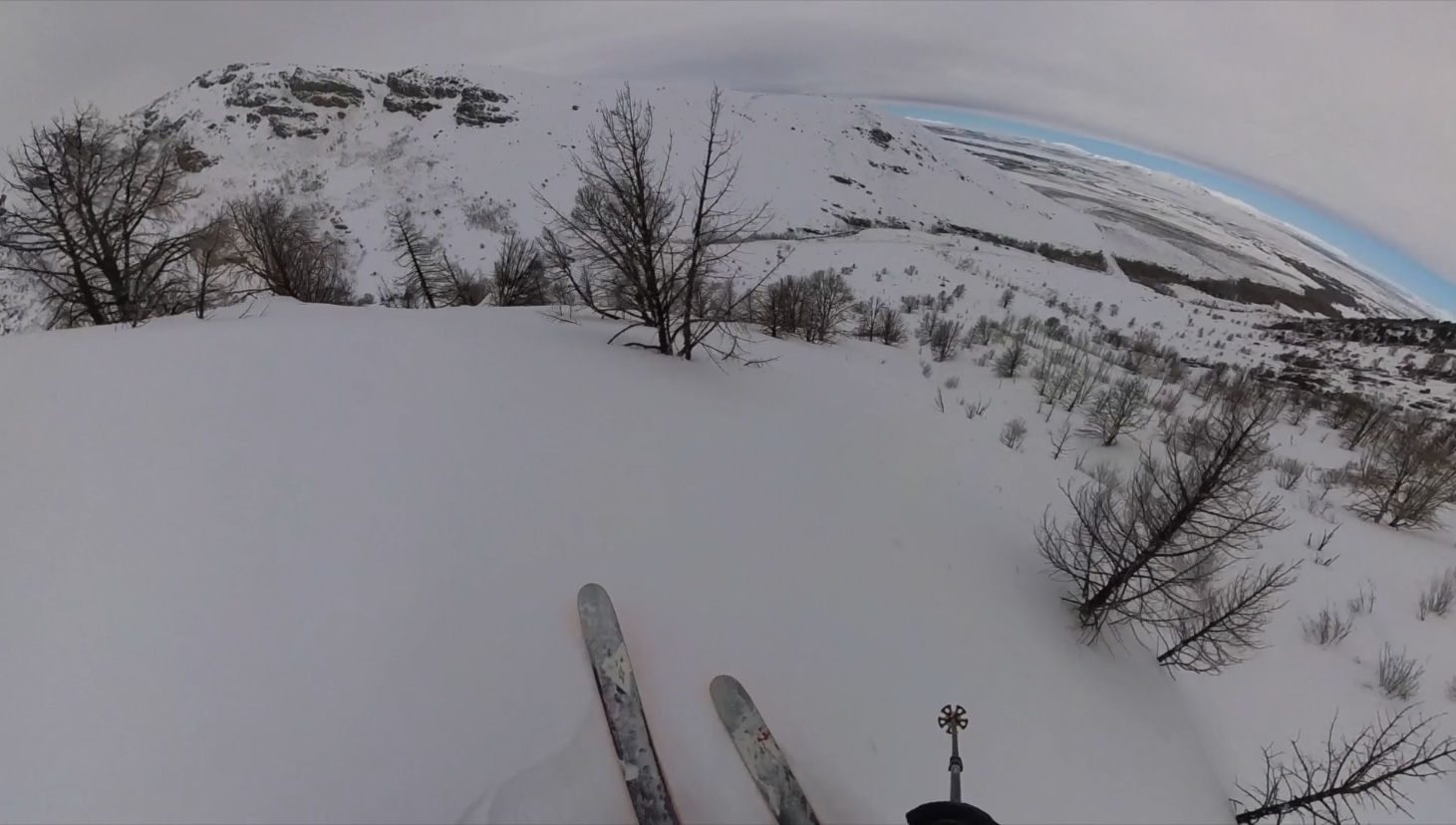 It was so nice to not have to tour up like I'm used to and be at the top of a line in less than a few minutes on a snowmobile.
On the second go, I hit a shorter, lower elevation line that held better snow and I got a decent run down friendly snow.
Snowmobiling can really take it out of you, especially when you're new to it, so being as tired as we were we opted to only hit these two runs today and do some filming before calling it a day.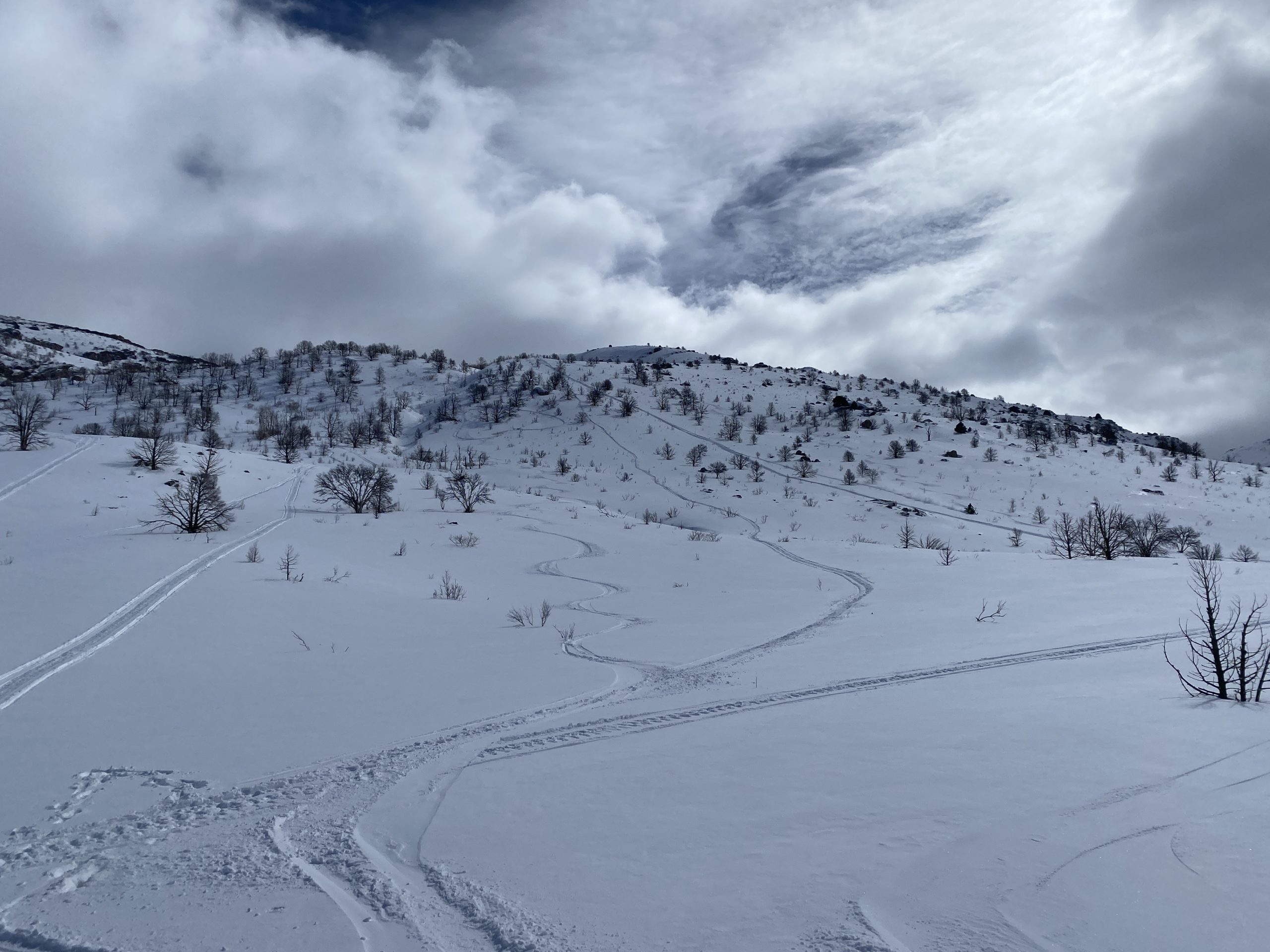 Even though we kept it short today, we had so much fun sledding and skiing.
I don't think this stuff will ever get old.
Riding with Sled NV in the Rubies was an experience that I'll never forget.
Kyle and Jason did a really good job at making the adventure smooth and fun. 
They know Lamoille Canyon like the back of their hand and can navigate its terrain in a literal whiteout. 
The Ruby Mountains are a special place and in the right conditions, you can do some of the prettiest, most adventurous skiing out of anywhere on Earth.
Snowmobiles are recommended. 
Kyle is the primary sled guide and co-owner of Sled NV whose love for the backcountry started when he was a young boy and his father, David, would take him out hunting, hiking, and riding motorcycles. He is a Pro 1 certified instructor and has helped facilitate recreation classes in Elko as well as having a beacon checkpoint placed at Thomas campground in Lamoille canyon.
Jason is a Navy veteran that was raised in California but soon became addicted to Ruby Mountain powder. He originally came out to Nevada as a guest on a heli-ski trip to explore the range and soon realized that this was the best-kept ski secret on Earth, igniting a spark that led him to spend winters guiding in the remote Ruby Mountains.
To contact Sled NV, visit the Sled NV website or call 775-502-1964
Instagram: 
Weather