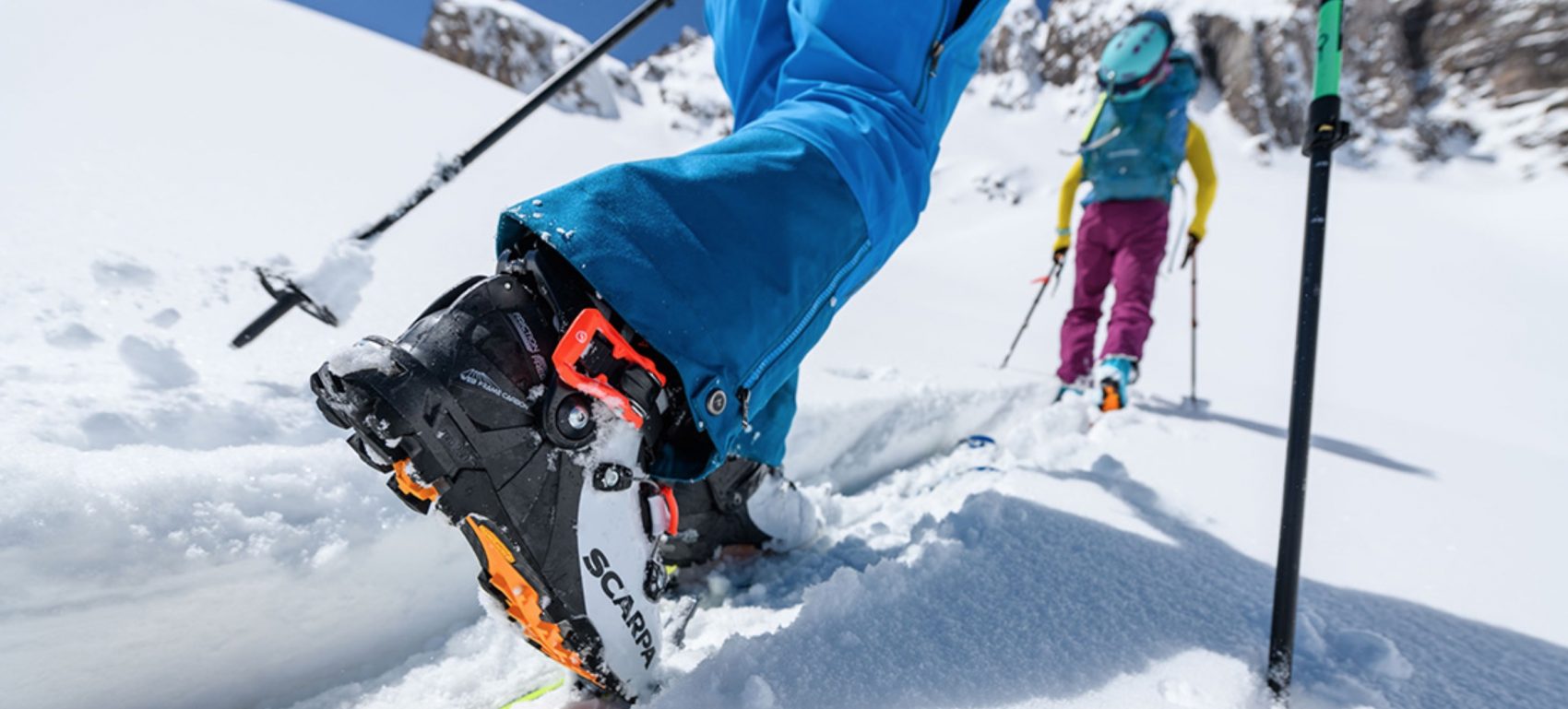 Brought to you by SCARPA
Riding a lift is the most accessible form of skiing, but what about getting those untouched lines in the most scenic areas outside a resort? While Instagram photos can make it look like a piece of cake, how can beginners get into the fastest growing segment of the sport–backcountry skiing? 
Choosing the right boot is key to having a good time in the backcountry. The balance between performance and comfort is essential for backcountry travel. While there are hundreds of options out there, let's take a look at SCARPA boots as they have a rich history in footwear and have several great options for people just entering the backcountry scene.
Alpine Touring vs Telemark
Backcountry skiing has come a long way in the last two decades. In its early days, telemark skiing was the only way to travel in the backcountry. Now, with the advances in ski and boot technology backcountry enthusiasts have the option to free heel uphill and alpine ski down. There are pros and cons to both types of backcountry skiing, but whatever you decide SCARPA has a boot that will work for you.
SCARPA's One Boot Quiver
SCARPA's Maestrale boot for men and the Gea for women are the best boots for a one boot quiver. I use my Maestrale RS (a stiffer version of the Maestrale) boots both inbounds and backcountry and find them extremely comfortable and extremely high performing. 
Why is this the boot for you though? On top of being comfortable, this boot is lightweight with heat-moldable Intuition liners. The Ski Walk Plus system makes transitioning from ski to walk mode simple and fast so you can spend more time skiing and less time tinkering with your gear. While in uphill mode the boot boasts a whopping 60 degrees of flexibility to make skinning up that much easier. When walking around without your skis, the Vibrum soles provide great traction on all surfaces from slippery parking lots to sketchy rocks you might need to climb over.
For more aggressive skiers SCARPA has several different options. Women can rip the Gea RS if they are looking for a stiffer boot, or upgrade to the F1 Women's which is lightweight and engineered for high performance in the backcountry. On the men's side, along with the Maestrale RS there is the Maestrale XT, which is the stiffest in their line. The XT should be able to handle anything your body can take. For long distant adventures, there is the F1 Men's and the new F1 LT for ultimate lightweight travel.
Compatible With Any Binding
One great reason to have a SCARPA boot is that no matter what type of touring binding you decide to get your boot will be compatible. A frame binding tends to be easier for beginners to use as they are very similar to an inbounds binding. However, if you want to have a lightweight set up from the start then a tech binding may be a better option. Whichever type of binding you decide to go with your SCARPA boot will work with them. 
Environmentally Conscientious 
There are two features unique to SCARPA Maestrale and Gea boots. The first is the breathable membrane in the rear cuff of the boot. This allows your foot to breathe while keeping moisture out of the boot. Breathability is essential for a full day in the backcountry in order to prevent any hot spots or blisters from forming on your feet. The second feature is Pebax® Rnew polymer that is used. This new type of plastic is derived from the castor plant, which makes SCARPA's boots more sustainable than most other boots on the market. In an industry that relies so much on cold and snowy winters, it is great to see a gear company attempting to be more environmentally conscientious.