Brought to you by SCOTT Sports
On January 18th, 2022, SnowBrains founder and SCOTT athlete Miles Clark was caught in an avalanche in the backcountry outside of Revelstoke, BC. Miles was wearing a SCOTT Patrol E1 electronic airbag pack, which he quickly deployed, and was able to ski off of the slide without being buried or injured. SCOTT's lineup of Patrol E1 airbag packs feature Alpride's E1 electronic inflation system, making them some of the most advanced electronic airbags on the market.
When electronic airbags launched about 8 years ago, many thought the technology would see rapid innovation and completely replace gas canister airbags within a few years. Having owned an early model electronic airbag from another brand, I can attest to the fact that there were some serious trade-offs. I was drawn to the technology due to the ease of travel and the ability to practice deployments at home. Unfortunately, the airbag system was heavy, extremely bulky, and unable to be removed from the pack for days when it wasn't necessary. It required a special charging cable that was just another thing for me to lose or forget to pack on a ski trip. The design of the backpack itself also felt like an afterthought. I frequently found myself foregoing an airbag in favor of a lighter, better-designed pack and higher use items like my first aid kit and extra layers. After a few seasons of no use, I sold it.
With the technology in SCOTT's Patrol E1 packs, these former trade-offs are no longer a concern. At 1280g for the Alpride E1 inflation system, it's 720 grams (1.5 pounds!) lighter than any other electronic airbag system. That's a weight difference you will notice on a long day in the backcountry. Pair that with SCOTT's 1390 gram 30L Patrol pack, and you have a total package weight that rivals most gas-canister airbags.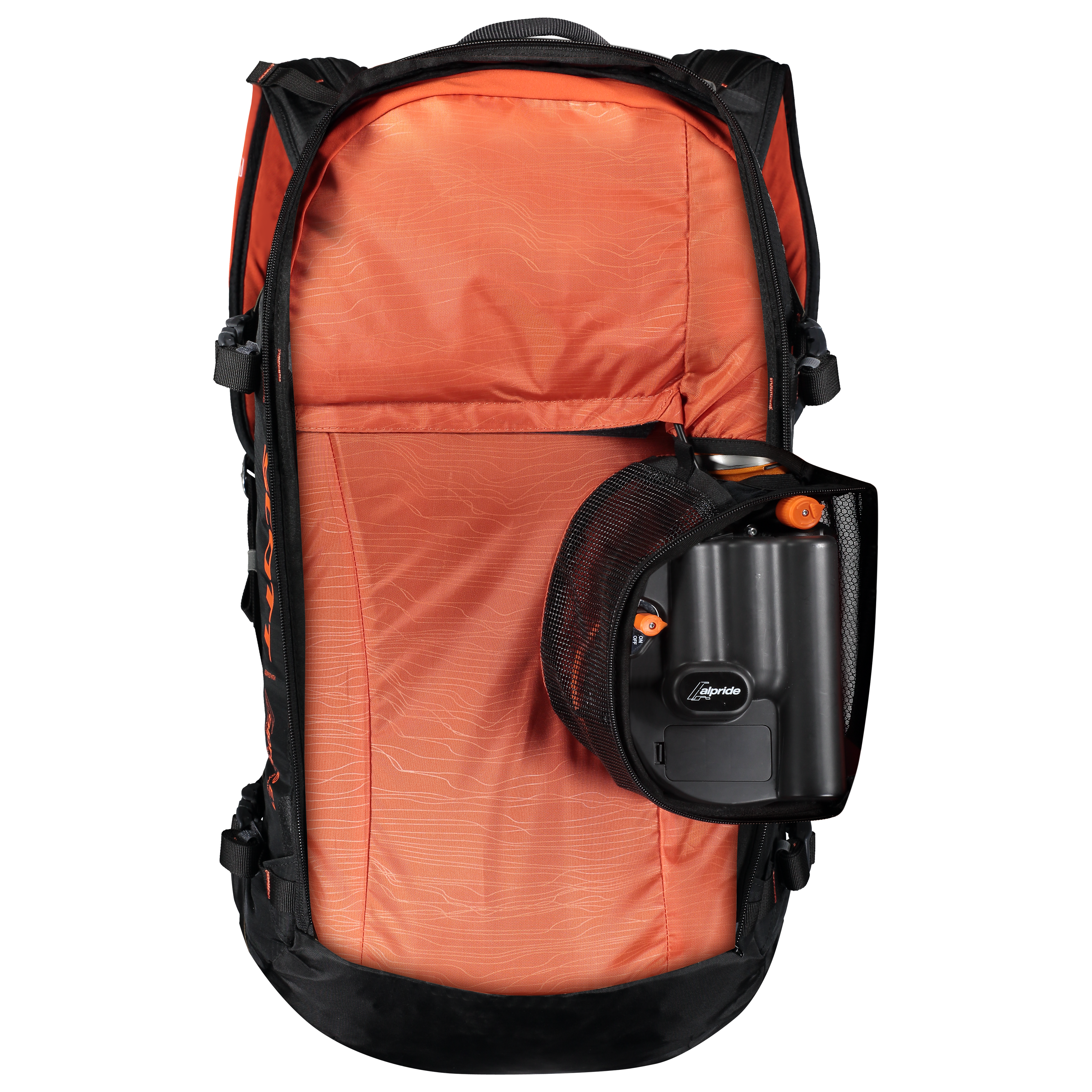 In lieu of a big, heavy lithium-ion battery (as used in other brands), the E1 system uses just 2 AA batteries and a series of supercapacitors to power the inflation. It can be recharged in as little as 20 minutes with a Micro-USB, or by simply replacing the AA batteries, which can be done in the field and is way more convenient than needing an outlet and proprietary power cable. Once charged, it's ready to go for 3 months, and is less sensitive to power loss in cold temperatures than the competition. Plus, you can (and should) still practice pulling your airbag a home, so the first time you do isn't in a life or death situation.
As I mentioned before, a huge benefit to electronic airbags is the ease of travel with no gas canister to fill once you reach your destination, but lithium batteries on airplanes can still be a hassle.  With no lithium battery to worry about in the E1 system, you can leave your backcountry kit intact and just throw it in your checked bag on your next ski trip.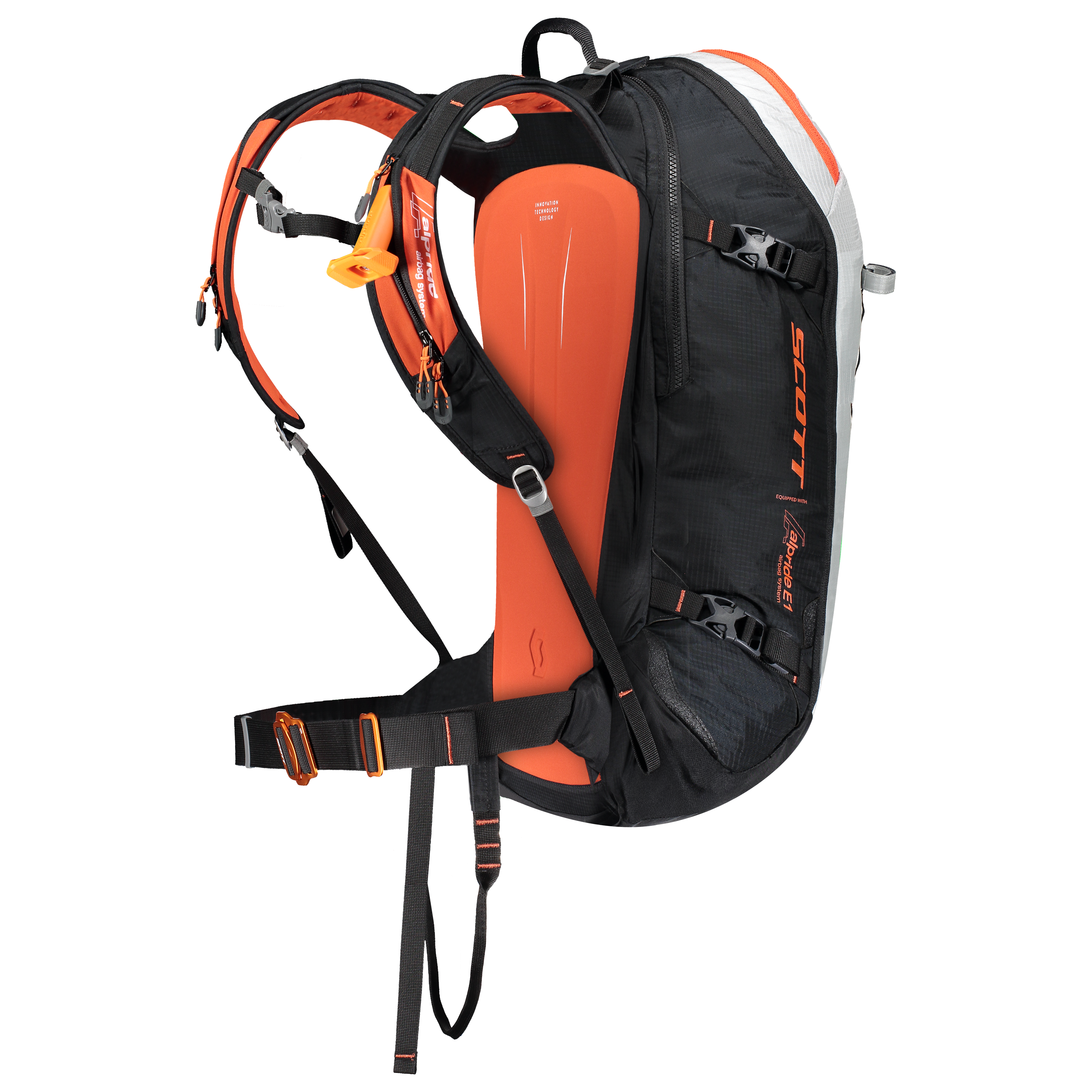 In addition to its low weight, the E1 system is super compact and removable from SCOTT's Patrol backpack for days you need more volume or are looking to go fast and light. The main pack body is 210-denier nylon double-ripstop nylon with key reinforcements for durability. You've also got the essentials you'd expect on a well-designed ski pack like a dedicated pocket for your avalanche rescue equipment, multiple ski and snowboard carry options, ice ax attachment points, a helmet carry, and some small accessory pockets.
The Patrol E1 packs come in 22L, 30L, and 40L capacities, as well as a short length (30L only), to fit people of all heights. With Alpride's versatile E1 system, this can truly be your one pack for any adventure from the resort to big days in the backcountry. Check out SCOTT-Sports.com for more fine details about this awesome technology and to find a SCOTT dealer near you.