Snow will be plentiful throughout the western half of the country this week as multiple cold fronts are expected to roll through.
Crystal Mountain Ski Area, WA is expected to see 8-18″ of snow Today – Wednesday.
NOAA Has Issued A Winter Storm Warning 

For:
NOAA Has Issued A Winter Weather Advisory 

For: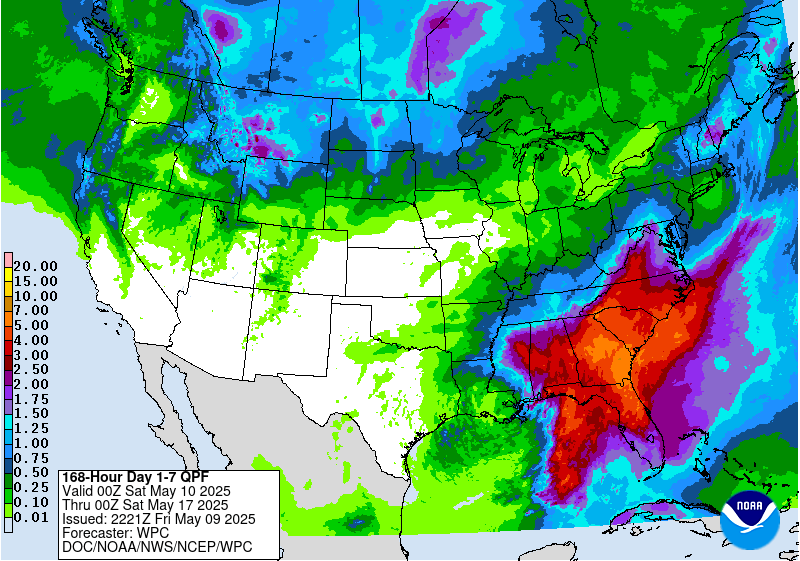 Snow levels will generally start around 6,000ft and lower to 5,000ft throughout the cold front.
Additional Storm Information:
California: 

A Dusting of Snow Is Possible Wednesday – Friday Above 7,000ft
*Snow levels may drop to near 7000 feet by late Wed night, although if any 
  light snow accumulations occur, they are more likely to be confined to 
  higher peaks.
- NOAA Reno, NV

Colorado: 2-4″ of Snow Over Above 10,000ft Friday – Monday
* While severe weather impacts the plains, snow showers will be
  possible in the mountains through the period. Friday through
  Sunday, any snow showers will probably be pretty spotty and confined
  mainly to elevations above 10,000 feet. However, on Monday,
  following the cold front, the snow showers may become more
  widespread and fall down to about 8,000 feet, particularly over the
  eastern mountains.
- NOAA Pueblo, CO
Idaho: 

4-10″ of Snow Above 8,500ft Through Tonight
* Periods of wet snow will bring accumulations
  of 4 to 10 inches above 8500 feet with snow accumulations of 2
  to 5 inches from 7500 to 8500 feet. Snowfall will taper off by 9
  pm mdt this evening. Strong gusty west winds are also expected
  on the passes and higher ridges.
- NOAA Riverton, WY
Montana: 

4-10″ of Snow Above 8,500 ft Through Tonight
* Periods of wet snow will bring accumulations
  of 4 to 10 inches above 8500 feet with snow accumulations of 2
  to 5 inches from 7500 to 8500 feet. Snowfall will taper off by 9
  pm mdt this evening. Strong gusty west winds are also expected
  on the passes and higher ridges.
- NOAA Riverton, WY
Nevada: 

6-10″ of Snow Above 7000ft Wednesday – Thursday
* SNOW ACCUMULATIONS...6 to 10 inches at elevations above 7000
 feet.
- NOAA Reno, NV
Timberline Lodge, OR: 

18-30″ of Snow Today – Wednesday
* From one to three inches of rain is forecast for burn areas in
 this area through Wednesday morning, with the heaviest rain
 later Tuesday night.
- NOAA Portland, OR
Utah: 

7-14″ of Snow Above 8,000ft Today – Friday
* A cold front will cross the northern and central outlook area
  today bringing showers and another round of cooler temperatures to
  the north. Several inches of new snow is possible across the
  northern mountains above 8000 feet.
- NOAA Salt Lake City, UT
Washington: 

8-18″ of Snow Above 6,000ft Today – Wednesday
* SNOW LEVEL...Generally in the 4500 to 5000 foot range. 
- NOAA Seattle, WA today
Wyoming: 

4-10″ of Snow Above 8,500ft Through Tonight
* The heavier snowfall is expected above 8500 feet where 4 to 10
  inches of snow can be expected through 9 pm mdt this evening.
- NOAA Riverton, WY