For the third straight year, Mikaela Shiffrin has secured the FIS Ski World Cup overall title, and she secured it while taking time off from the World Cup circuit, to rest, recharge and train in both Italy and the Czech Republic – rather than traveling to Sochi, Russia, which has struggled with cancellations the last four days, reports US Ski and Snowboard.
It's been a historical year of record-breaking for Shiffrin, who – in an IGTV post on Saturday – called it a "pretty crazy" to secure the overall, as she sat on her bed in a hotel room in Italy, not racing.
"It's strange because, I feel like right here right now, I didn't do something this morning…" Shiffrin laughed. "…And I'm like 'Oh, here you go – you woke up today, here's an overall globe!' But, at the same time, this entire season has been spectacular…a bit push. Every race has been a fight, but it's been incredible."
Shiffrin won her first overall globe in Aspen on home soil in 2017, and followed that up – along with the slalom title and two Olympic medals, in the 2018 season to hoist up her second-straight overall globe in Åre, Sweden. The one big goal of Shiffrin's has been the giant slalom title, and though it was within reach in 2018, she ended up third behind Germany's Viktoria Rebensburg and France's Tessa Worley. She was also fifth in the downhill standings in 2018. But this season…this season has been one for the books.
Shiffrin currently – and depending on what happens with Sunday's super-G in Sochi, Russia – will likely enter her next World Cup competition (in Špindlerův Mlýn) with the overall and slalom titles secured, as well as lead in giant slalom and super-G. Last season, she finished with 1,773 points in the overall standings. This season, with at least four – if not five starts left for Shiffrin – she already has 1,794 points. Is she going for the overall points record? Nope. But, just like every record she's broken or matched this season, she'll probably get close. Her secret?! Not focusing on the result, but rather focusing on the process.
A combination of things led to Shiffrin securing the overall title as she actually took time away from the World Cup tour. With a 719-point advantage over Slovakia's Petra Vlhova, Vlhova not traveling to Sochi as well, and Saturday's super-G being canceled, it was clear that Shiffrin had clinched it. "Races are canceled, certain people are not at those races, so the points get all wound up in different ways, so all of a sudden – there ya have it," she said.
"The overall globe has been one of the biggest dreams of mine since I was a little girl," noted Shiffrin. "This year it's even something, maybe even more special, because a fair portion of my wins have come in super-G…and I always felt like the overall globe can mean 'Best in the World' but I wanted to be able to earn it in all events. I'm still working on getting to the point where I can earn it in slalom, GS, super-G AND downhill…but I felt like this season was a really big step. It's been a little grueling, but also insanely gratifying."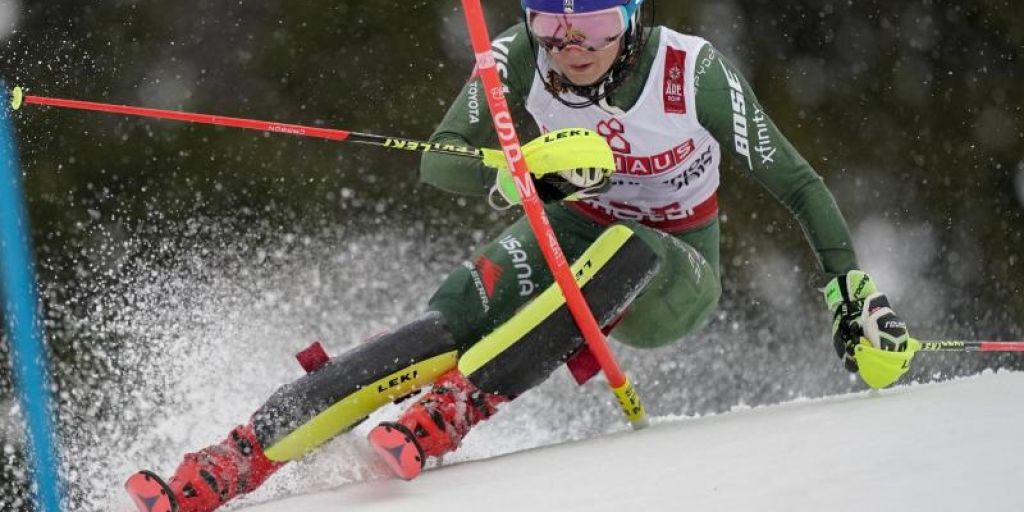 Shiffrin's main goal has been conquering the challenging giant slalom discipline. In the seven World Cup giant slalom races she's participated in this season (including World Championships), her worst finish has been fifth. She's podiumed five times and won three times. She currently leads friend Worley by 81 points in the giant slalom standings and Vlhova by 137 points.
"The final goal of mine for this year was the giant slalom globe," Shiffrin said on Saturday. "I guess we'll see in the next couple of races how that goes…"
Keep in mind, she's leading the super-G standings and it's not even on her radar at this point. What an amazing season Shiffrin has had!