Trip report from 3/25/2023 at Silverton Mountain, CO
Yet another atmospheric river event has delivered the goods here in western Colorado. If you were skiing this day in the San Juan mountains, you may have thought it was January. Not only due to a soft, deep, and mid-winter-like snow surface, but the temperature was downright frigid for March in Colorado. Silverton Mountain and surrounding peaks received upwards of 4 feet out of this last cycle. Unfortunately for many, this was too much snow to add to an already touchy snowpack. The avalanche danger promptly shot up in both the southern San Juans (extreme) and the Northern San Juans (high). Silverton Mountain sits right on the line that divides the two sectors.
This drastic spike in Avalanche danger forced our Department of Transportation to close multiple mountain passes in the area and beyond. Essentially stranding Silverton, CO, unable for anyone to get in or to get out. This lasted for nearly 72 hours. The closure began Tuesday around midnight and lasted until Friday at 1 PM. Big shoutout to those folks who maintain those gnarly passes (Red Mountain, Molas, Coal Bank), some of the most dangerous anywhere. We drove through several avalanche debris piles 20+ feet tall that had crossed the road. CDOT had bombed them down in an extraordinary effort to keep us safe.
At this point in the season, Silverton Mountain's operating schedule is Wednesday-Sunday. Thus, making the highway closures a real issue for eager powderhounds coming in from far and wide. I had originally planned on riding Wednesday and staying a couple of days, but these plans quickly fell apart when all routes into Silverton, CO, closed Tuesday night around midnight. Not only did the Highways close, but even the county roads just out of town had closed due to safety concerns about the likelihood of large destructive avalanches. Silverton Mountain was not able to open for operation on Wednesday or Thursday, despite a valiant effort from staff members. I talked with folks who arrived early and had been stranded for days waiting to get on top of some of the deep late-season snow.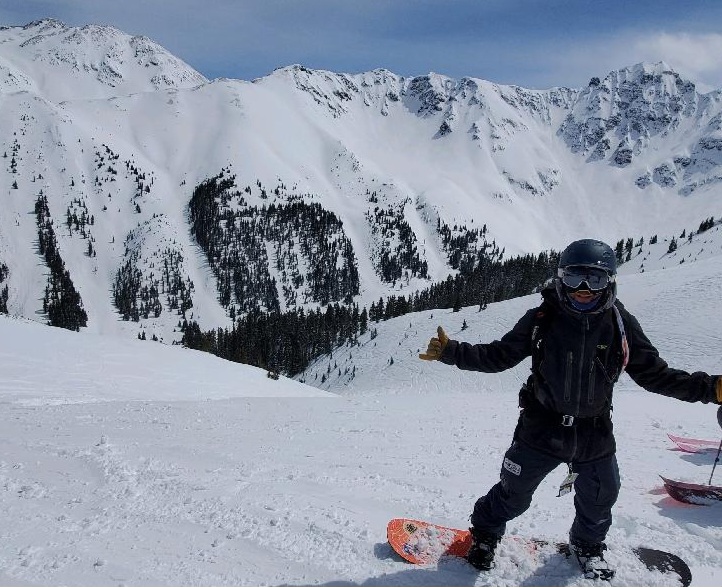 Luckily for me, I only live just short of two hours from this Rocky Mountain wonderland. Concurrently, my home mountain of Powderhorn Mountain Resort was in the process of getting buried as well. My good friend Sarah and I had several wonderfully deep days here whilst we waited for any route into Silverton, CO, to open. After the third consecutive day of riding our favorite little hidden gem, I headed towards home, anticipating the long-awaited opening of the "Million Dollar" highway.
Finally, the time arrived; CDOT finished clearing debris and deemed it passable. Naturally, I was poised to get on the road and to town as soon as humanly possible. The timeframe did not allow for me to ski that day, though, the folks stranded for days deserved to enjoy some of the goods to themselves. I talked with one of these lucky folks who called it "All Time" conditions. As a result, my stoke level rose even higher. These folks did not crush it all, though, as the powers that be saved plenty of steep and deep lines for those stuck outside from the highway closures. It was hard to get a good night's rest knowing what awaited us in the morning.
The wind howled, making a cold start of -4 degrees feel even colder. This morning felt nothing like other late march Silverton days that I have ridden in the past. The relentless wind was loading certain areas heavily while scouring others simultaneously. Frostbite was a real concern today, as the high for the day only reached 13 degrees before adding the windchill factor. These hurdles proved to be worth it, we read the crowd and placed ourselves accordingly for multiple epic rope drops. The juice was worth the squeeze, all the headaches of the last few days melted away as we descended this radical mountain. Success at last! I scored 12th chair that morning, and we closed out the day with the last chair to cap off a legendary Silverton day.
Silverton Mountain operates a guided-only season from late December through mid-March. After this time, it offers an unguided season (mid-March through mid-April) for knowledgeable skiers and riders who possess the appropriate gear (beacon, probe, shovel). Silverton also offers helicopter drops over 29,000 acres of world-class terrain throughout both seasons. Go check out its website (Silverton Mountain) to find more information on season dates and rates for its offerings.
If you find yourself staying in this secluded San Juan mountains mining town. We highly recommend a stay at the super historic yet beautifully updated lodging of The Avon Hotel. This 119-year-old boarding house was originally built for miners of the gold and silver booms of the late 1800s. So many cool artifacts and pictures line the walls that it's hard to even leave the place and explore the town. We were blown away by the super chill vibe of like-minded powder enthusiasts from all over. Our host made our stay a pure joy by giving us local beta and spreading the stoke, ensuring our stay was not soon forgotten.