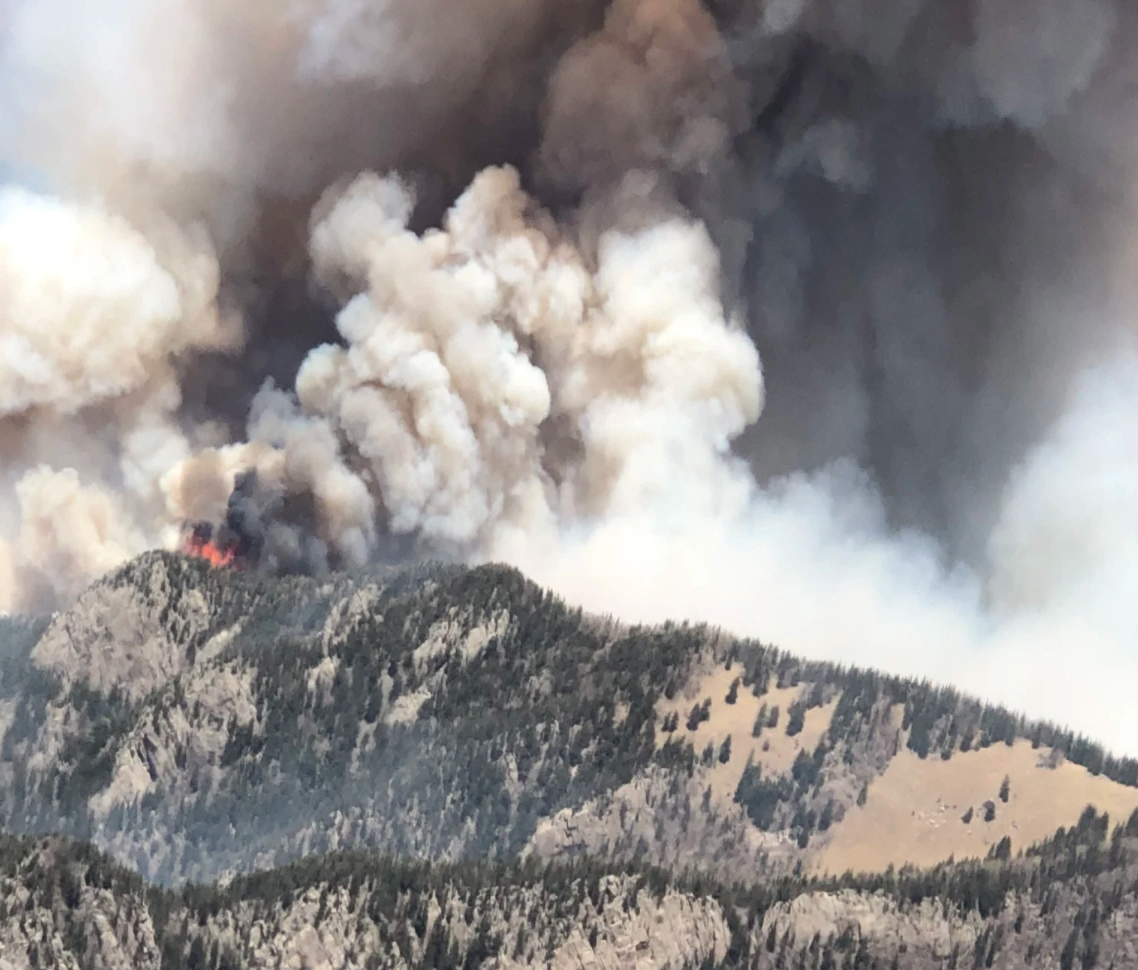 The Three Rivers Fire near Ruidoso, New Mexico—home to ski area Ski Apache—is 0 percent contained at this time. It started at 10:30 am on Monday, April 26, and has grown to an estimated 4000 acres in size by 4 pm today according to Laura Rabon, public information officer with the U.S. Forest Service.
The video below is courtesy of Pam Bonner.
The fire has since reached the boundaries of Ski Apache, as indicated by Brianna Ventura, public information officer for Lincoln County. The ignition cause is still under investigation. Ruidoso News reports several fire resources have been dedicated to the fire including nine engines, one Type-1 hotshot crew, one large air taker, two air attacks, and one helicopter. Other resources are also currently being re-directed to the fire.
According to Rabon, the fire is moving generally to the northeast driven by winds out of the southwest and is still on the west side of the mountain. Evacuation orders are still in effect and mandatory for the Nogal Canyon, Bonito Canyon, and the Ski Apache area. The Ski Run Road is closed at this time. Rabon said 250 people are affected by the evacuations at this time. Several road closures are in effect.
The fire started near the Three Rivers Campground between Tularosa and Carrizozo on the Lincoln National Forest Smokey Bear Ranger District. An update shared by New Mexico Fire Info reads:
"Fire personnel will use a combination of tactics from the air and ground to fully suppress the fire."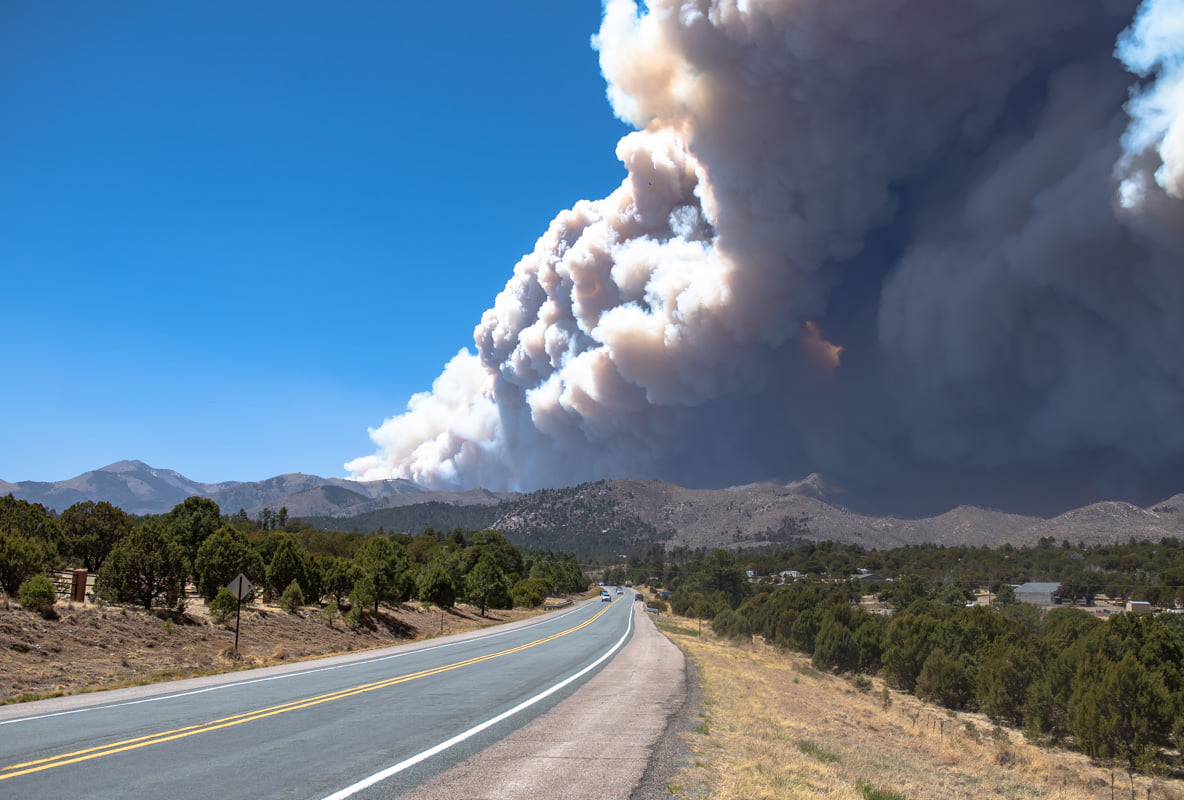 The current Three Rivers Fire evening update by New Mexico Fire Information is attached below: 
Jurisdiction: Smokey Bear Ranger District

Fire Size: 4000 acres

Containment: 0%

Cause: Unknown, Under Investigation

Resources: 9 Engines, 1 Type-1 Hotshot Crew, 1 Large Air Tanker, 2 Air Attack, 1 Helicopter. Multiple additional resources have been ordered and will be arriving as soon as possible.

Date/Time Detected: Morning of Monday, April 26, 2021

Location: The fire started ½ a mile north of Three Rivers Campground and has spread almost to Ski Apache and into the South Fork Bonito area.

Evacuations: Evacuation notices are in place for the following areas

Nogal Canyon Area
Bonito Canyon Area
Tanbark
Church
Ranchman's Camp
Loma Grande
Cora Dutton
Magado
Ski Apache

Evacuation Centers

Nazarean Church Camp at 200 Bonito Park Rd. Alto, NM 88316
Capitan Senior Center at 412 Tiger Drive Capitan, NM 88316
Ruidoso Downs Senior Center at 393 Highway 70 West Rd. Ruidoso Downs, NM 88346.

(Evacuees with livestock can take their animals to Lincoln County Fairgrounds at 101 5th St. Capitan, NM.)

Road Closures

Ski Run Road
Bonito Canyon Road aka Rd 107
Nogal Canyon Road aka 400
Three Rivers Trailhead and Campground

Fire Update: Fire crews immediately responded to the Three River Fire, which started this morning, Monday, April 26, 2020. The fire has grown to 4000 acres and is being driven by steep terrain and extreme fire weather conditions, including gusty winds and low humidity levels around 8 percent. The fire started approximately ½ a mile from the Three Rivers Campground on the backside of the White Mountains of the Smokey Bear Ranger District but has spread almost to Ski Apache and into the South Fork area. The fire is 0 percent contained. Firefighters, aircraft, and equipment are on scene. Additional firefighting resources, including three additional large air tankers and ground crews, have been ordered and will be arriving as soon as possible. A Type-1 Incident Management Team was ordered this afternoon, will be in-briefed tomorrow, and take command thereafter. There have been no reported injuries. No structures have burned.

Smoke: Smoke was highly visible from Highway 54 and is moving to the northeast into the adjacent communities of Alto, Capitan, and Ruidoso. Please visit the NM Department of Health's smoke page for information on protecting your health during fires and on smoky days:  https://nmtracking.org/fire.

You can expect another post tomorrow mid-morning.

PIO: Laura Rabon, laura.rabon@usda.gov
For more information on this fire visit N.M. Fire Info's website or Lincoln County's website at lincolncountynm.gov.