Best Months to Ski In California
California holds high elevations, a deep snowpack, and great weather.  It can be tough deciding when to come here, considering resorts like Palisades Tahoe and Mammoth Mountain can run from November to July.  Great skiing can happen on Thanksgiving or the Fourth, so how do you stand the best chance at scoring the most epic day of your life while you're here?
The beginning of the season can be hit or miss with questionable coverage, but the average snowfall is in the 400″ range for many ski resorts.  Even if coverage is scarce to start, California always seems to deliver enough snow to ensure good skiing later in the season.  The later months are home to better coverage and bluebird days.  If you are planning a California ski vacation, come and see what it's all about during these months.
March
March is when the magic happens.  After the cold, stormy months of December through February, the crowds die down, and you are left with some of the best skiing of the year.
In 2017, despite a slow start, most of the Sierra Nevada saw 200 inches of snowfall in March alone.  It rescued an otherwise fruitless winter and kept the season going into the usual operating months. On top of several powder days here and there, ski days are often accompanied by beautiful sunny skies and mild temperatures.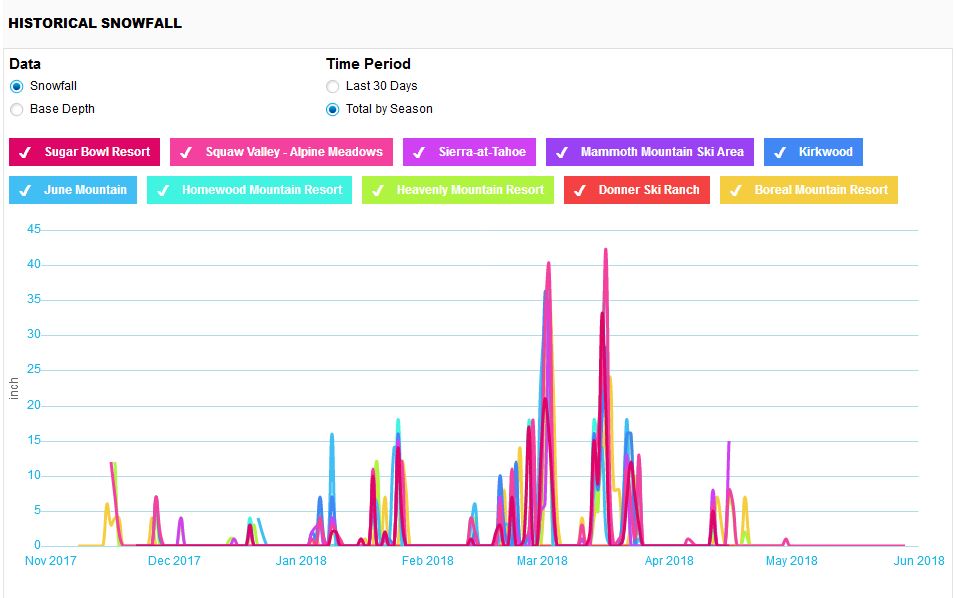 April-May
More bluebird days, a freak storm always shows up, and spring skiing gets going.  Almost every year, I find myself giggling through knee-deep turns in April, followed by some of the best spring days shortly afterward.  Spring skiing in California is guaranteed fun.  The snowpack is in its prime.  Stable, creamy corn snow begins to really develop.  Make sure to pack your Hawaiian shirt and get ready to work on your goggle tan.
It's a favorite time of year for backcountry skiers as well.  Coverage is decent and more predictable, plus you get a break from breaking trail.  Sonora Pass opens, and Mt. Shasta is bustling. The backcountry turns into one big playground.  Those willing to climb up a mountain get some of the best turns of the season.
June
The California ski season is incredibly long and can last into June.  On a good season, backcountry skiers are still scouring the higher elevations and cranking out turns.  Palisades Tahoe and Mammoth Mountain are known for late closing dates and even operating on the Fourth of July.
For all the die-hard park riders out there––Boreal pushes a strip of snow together sprinkled with various features that last into the summer months.  For a one of a kind experience, go skiing in the morning and then hit the lake in the afternoon.
Only in Cali…
If you have no choice and are coming here at the beginning of the season, not to worry.  Between snowmaking and our first fall storms, resorts around here predict their opening dates with confidence.  And while spring conditions are great and all, always be prepared for an amazing powder day––whether you come in December or April.  So pack the sunscreen, bring the whole quiver, and discover California!