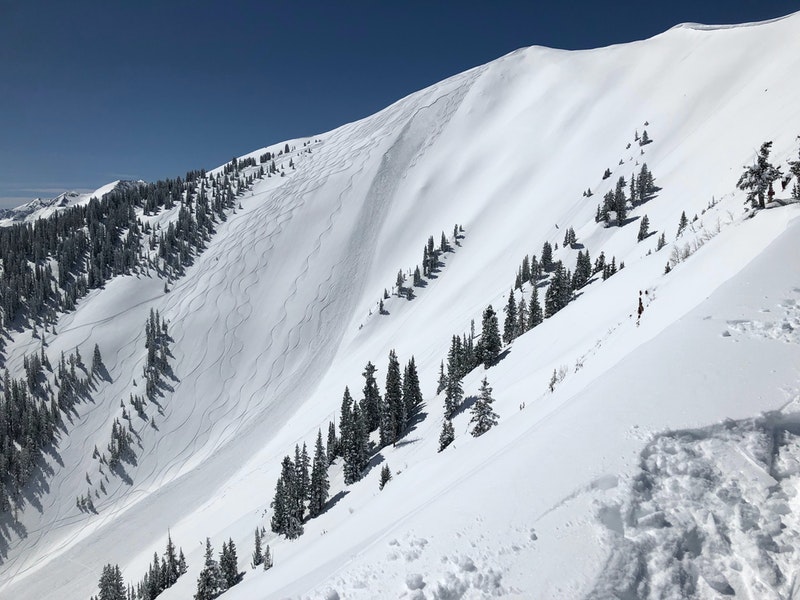 A skier was caught in an avalanche in Highland Bowl at Aspen Highlands Ski Resort this morning, Friday, April 17, but was uninjured, Pitkin County officials say. The skier said he regretted his decision to ski the steep, snow-loaded terrain and that he hopes his experience serves as a lesson to others, according to The Aspen Daily News.
The skier was Paul Noto, a local resident, water attorney, and experienced backcountry skier. After surviving the ordeal and coming out remarkably uninjured, Noto said that he is extremely sorry for his decision to ski Highland Bowl. The Aspen Daily News reports that Noto was aware of the considerable avalanche danger following Thursday's snowstorm that dropped up to 16 inches of heavy spring snow.
Noto said he was the seventh or eighth person to ski that particular area of Highland Bowl, and that there were as many as 30 skiers accessing terrain in the bowl Friday morning. 
He was the last to ski in his group and he estimated that the slide broke from a 1-foot-deep crown and that he was carried most of the way down the bowl. He told the Aspen Daily News that he fought successfully to stay above the snow and "there was a lot of luck involved." When the avalanche stopped moving and he realized he was alright, Noto yelled to his two partners that he was OK even though he had lost a ski. The party was then able to ski the high traverse out of the bowl.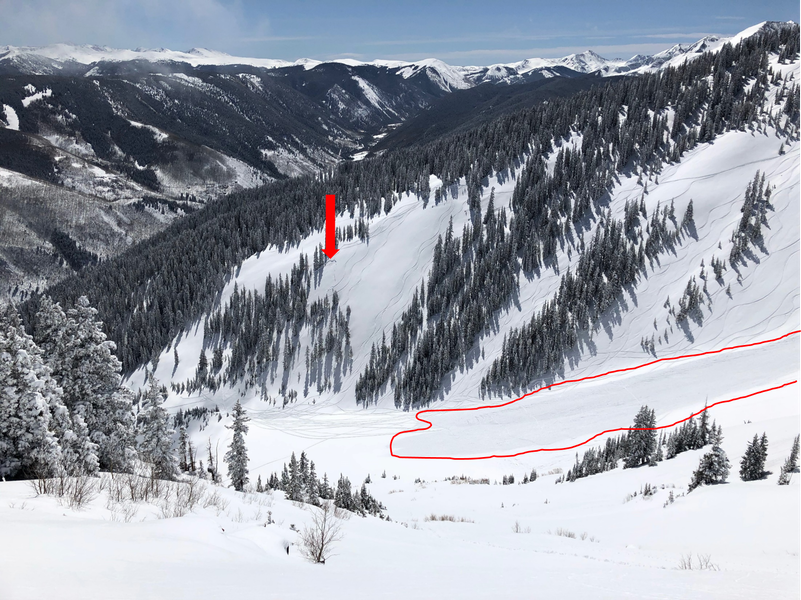 The avalanche was first reported at about 9:53 a.m. to the Pitkin County Sheriff's Office by a skier who watched it happen from Aspen Mountain, according to a local sheriff's deputy.
The skier who witnessed the avalanche from afar submitted an observation to the Colorado Avalanche Information. Their report read:
Avalanche Description: A skier triggered a soft slab avalanche on a northeast-facing slope (G8) above treeline. The slab broke around 1 foot deep in the recent storm snow on a layer of buried near-surface facets. The avalanche broke approximately 40 feet wide, and ran about 1000 vertical feet. The skier was caught and carried in the moving debris. He lost one ski and broke the other in half. He was not injured and self-extracted. The skier "fought hard" to keep form getting buried in the debris. A separate similar skier-triggered avalanche occurred in the same area (G2) about the same time on north-facing slope near treeline. No one was reported caught in this second avalanche.
The CAIC rated avalanche danger as "considerable" today.
Highland Bowl has some of the steepest in-bounds terrain across any of the Aspen-area ski resorts.
Pitkin County issued an alert on Thursday night telling county inhabitants to be wary of the increasing avalanche danger. The alert read:
"Pitkin Community Alert for the All County area(s): Due to heavy snowfall and the recent storm cycle, it is strongly recommended that you limit your uphill and downhill skiing and riding. Exercise caution and judgement on and below high angle terrain. The ski areas are closed and no avalanche mitigation has occurred since March 14th. Please treat the ski areas with the same care you would in the backcountry and stay aware of your surroundings at all times. You assume all risks when entering the ski areas. Call 9-1-1 for emergencies and rescues."

04-16-2020 14:22:58 D1
A forecast discussion posted Thursday afternoon also said the following:
"A spring storm has created dangerous avalanche conditions which will linger through Friday. The danger is greatest in areas which picked up more than about 8 inches of new snow. Strong southwest to west winds have built fresh easy-to-trigger slabs on north through east to southeast-facing slopes near and above treeline. The drifted snow rests on slippery old-snow surfaces. A slab avalanche may break wide or wrap around terrain features. Choose terrain cautiously, and avoid steep wind-loaded slopes. Wednesday, a skier was killed in an avalanche in a north-facing alpine couloir in the Gore Range."
The full report by the CAIC for the April 17, Highland Bowl avalanche can be read below: