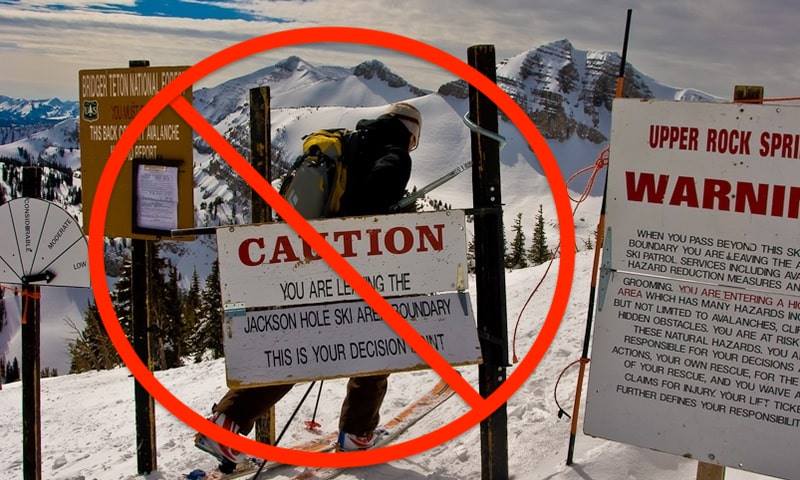 A skier who ducked a rope and entered the Jackson Hole, WY backcountry during the period it was closed for an unprecedented three-days in February due to heavy snowfall, is fighting charges that she ignored an emergency closure.
Natalie Burns, 32, who got lost and had to be rescued from Granite Canyon is scheduled to go to trial Aug. 12 on charges of violating an emergency boundary closure and disorderly conduct. Two of her codefendants have already pleaded guilty and one of them is awaiting a plea deal.
Grand Teton National Park officials said Burns left the Jackson Hole Mountain Resort ski boundary with three friends on Feb. 28 during the unprecedented emergency closure. Park officials say Burns, along with Joseph Higgins, ended up lost and stuck in Granite Canyon, which triggered an overnight search and rescue.
One of Burns' codefendants, Andrew Richards, issued a public apology after pleading guilty in federal court. Richards explained what happened in a long letter to the community and first responders of Jackson Hole.
"This lapse in judgment, though only a few seconds in duration, cost hours of time, thousands of dollars, and most importantly put the lives of multiple people in grievous danger," Richards said. "I chose to duck a boundary and ski next to the rope line that borders Jackson Hole Mountain Resort and Grand Teton National Park. Absolutely never was it my intention to lead anyone under the rope, let alone Granite Canyon."
According to the JH News and Guide, Richards said he, Burns, Ruth Schwietert and Joseph Higgins were skiing together when they rode the Teton chairlift up and made a plan to meet at the lower entrance to Saratoga Bowl. Taking much of the blame, Richards said he didn't expect all three of the other skiers to follow him out of bounds.
Burns, who lives in Breckenridge, CO was supposed to go to trial Monday but said in a motion to continue filed by her attorney Katarine Lovett that it would be too hard to travel from Colorado because she can't miss nursing school classes. The bench trial has been rescheduled for Aug. 12, which is three days after Burns' semester ends.
Ruth Schwietert, who was facing the same charges, pleaded guilty to violating an emergency boundary closure and received three years of unsupervised probation.