Aurélie Dutertre, a 46-year-old French mountaineer was stranded in the Alps for three days and four nights. Dutertre found refuge in a small wooden hut on the Sept Laux mountain in the French Alps after a snowstorm hit while she was alone in the backcountry.
She fell asleep in the hut as the snowstorm blew through, and a massive snowdrift loaded up over the door, trapping her inside. Dutertre spoke with RTL radio about her experience.
"The wind had pushed a huge mass of snow in front of the door," she told RTL radio and Le Parisien according to The Times. "I told myself, 'It's not possible. You're not going to stay trapped like a rat.'"
Dutertre is a doctor on the French national climbing team, and she relied on her knowledge to aid in her survival. She told RTL radio how she assessed the situation and the emotions that burst out of her.
"There must have been at least 1.5 meters (almost 5 feet) of snow in front of the door," she said. "It started to be worrying. All my clothes were soaked. I was very cold. I put my survival blanket on the ground to try to keep away the cold . . . I was frozen. I was crying with despair. I said to myself, 'I'm going to die here.'"

"It was like being buried under an avalanche," she added. "You tell yourself you're going to die but you don't know how much time it's going to take . . . I screamed blue murder, like a dog. I didn't have light. The batteries from my lamp were flat."
After the initial panic, Dutertre was able to calm herself by thinking about her family. The thought of returning to her family brought hope, optimism, and motivation to get out safely. Once Dutertre didn't return from her trip, her partner called authorities to report that she was missing, and the police began searching with the aid of a helicopter. The search began Friday, April 14th.
Dutertre was able to survive the weekend stranded in the hut with the help of a few cereal bars, almonds, apricots, and almond paste. Her emergency reflective blanket was a major key to her survival as she suffered cold temperatures and wet clothes. The three days and four nights went by at a snail's pace as hypothermia set in and her chance of survival declined.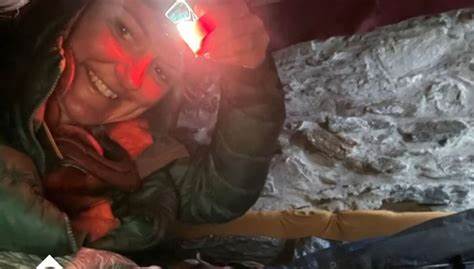 Luck struck on Sunday, April 16th, as the helicopter made its second pass around the area, rescuers spotted the metallic shine from her emergency blanket, shimmering in the sun. Dutertre told RTL radio about the quick thinking that led to her rescue.
"When I heard the chopper coming back, I cut a piece off the end of my survival blanket and managed to squeeze it through a crack at the top of the door and it blew in the wind. That's what saved me," she said.

"When they arrived, I couldn't believe it," she added. "I started crying hard. I hadn't cried like that since I was a little girl. They dug and dug. There was two meters (over 6 feet) of snow in front of the door."
To make the rescue more emotional, two friends of Dutertre were a part of the rescue team. Dutertre was quickly transported to a local hospital where she was treated for hypothermia, per The Times. Dutertre luckily managed to escape death in the backcountry and her story provides us another reminder that we must prepare for worst-case scenarios when entering remote areas.