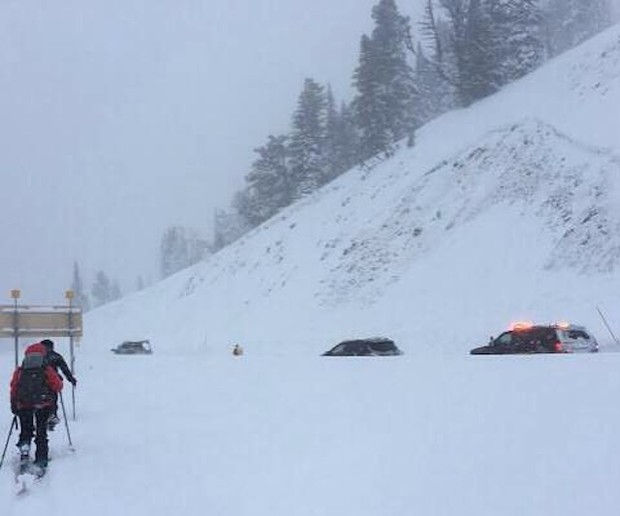 According to Teton Gravity Research, a backcountry skier that was likely trying to exit the bottom of the twin slides route down the steep road cut that hangs over the Teton Pass in Wyoming, triggered an avalanche on the road cut that swept into the westbound traffic lane and trapped three cars, which led to traffic being reduced down to only one lane on Wednesday, December 23rd. The cars were trapped in the snow and assistance from the Highway Patrol was needed to free them.
"The road-cut at Twin Slide is one of the most critical spots along the highway when there is a ton of new snow. A slide there is guaranteed to hit the highway," said Linda Merigliano, the Recreation, Wilderness and Trails Program Manager for the Bridger-Teton National Forest.
Mount Glory is a popular destination for backcountry skiers and snowboarders, but access to that area is dependent upon skiers and snowboarders exercising responsibility and taking measures to keep others safe. December has been very kind to the Tetons where almost 100″ inches fell throughout the month on top of a weak layer of faceted snow that has been releasing slab avalanches of between three and five feet with serious consequences, which poses risks for future avalanches. Along the Teton Pass and in most areas of the Tetons, the avalanche danger is "Considerable", so precautionary safety measures must be taken in order to enjoy a ski trip with a positive ending.
"More incidents like this could result in a much worse outcome for motorists or create pressure to close the Twin Slides run to skiing and boarding, similar to the Mt. Rogers area in Canada… this incident is a graphic reminder that access to skiing on Mt Glory is dependent on skiers/boarders exercising some responsibility and consideration for other people," according to Linda Merigliano.
The Teton Pass connects two great ski areas, Grand Targhee and Jackson Hole Mountain Resort, which means it is an important route for powder hounds. Both resorts have received nearly 100″ of snow in December and they both received 48″ of snow in the past week! While this snow is great for the ski areas and snow conditions throughout the Tetons, it leads to an increased risk of avalanches and it must be taken seriously to stay safe while venturing out in this avalanche-prone terrain.