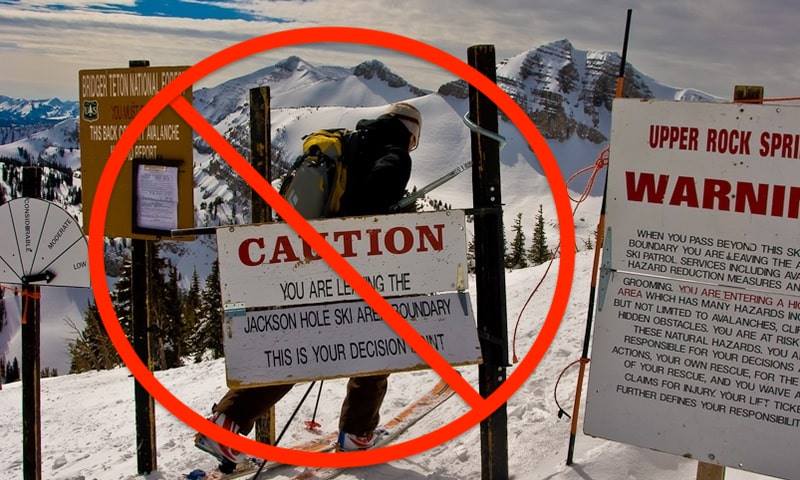 Four skiers have been cited for ducking under a boundary rope at Jackson Hole Mountain Resort, WY and entering an area of Grand Teton National Park that had been closed because of extreme avalanche danger in February. Two of the skiers became lost and had to be rescued.
The search began late on the night of February 28 and continued into the next day. According to the park, the group exited the ski area boundary by going under the boundary rope and entered an area closed due to hazardous conditions. As they skied down, two of the individuals got lost and the other two individuals were able to ski back to the Resort boundary.
Backcountry access out of Jackson Hole Mountain Resort, WY was closed for an unprecedented three-day spell when 4-feet of snow fell in three days at the end of February. Citing staff being deployed elsewhere, high avalanche danger, the potential risk to rescuers, and the upcoming forecast, the Superintendent of GTNP took the step to protect the safety of all involved.
According to a news release from the National Park Service, two citations were issued to 24-year-old Andrew Richards of Jackson, 28-year-old Ruth Schwietert of Jackson, 32-year-old Natalie Burns of Breckenridge, Colorado, and 25-year-old Joseph Higgins of Portsmouth, New Hampshire.

Each was cited for violating an emergency boundary closure and disorderly conduct with creation of a hazardous condition. Each citation requires a mandatory federal court appearance and carries a maximum penalty of a $5,000 fine and six months in jail.
All four must appear before a federal magistrate in Jackson.