For three days last week backcountry access from Jackson Hole Mountain Resort, WY was closed. Heavy snowfall resulted in high avalanche danger, and the resulting threat to the safety of skiers and rescuers meant Grand Teton National Park (GTNP) officials made the unprecedented request of the resort, who happily obliged.
However, that didn't stop a group of 4, who thought they knew better, from ducking the boundary rope out of the resort and in to the dangerous backcountry. The group became separated, and 2 of them ended up spending the night in Granite Canyon, requiring rescue the next morning. And while people getting lost in Granite Canyon and requiring rescue isn't unusual for SAR teams, the fact that the group chose to ignore many warnings, and duck ropes, has angered resort officials and GTNP Rangers.
Now those two people are looking at possible federal and state charges for violating the emergency closure.
"We were sure hopeful that people would not violate these closures," resort spokeswoman Anna Cole told the Jackson Hole News & Guide. "What happened to these people put them in inherent risk and also our rescuers. We would be taking this very seriously with or without gate closures. But they broke the rules two times over."
Cole added that action has already been taken against the skiers who ignored the emergency closure, although those specifics have not yet been released.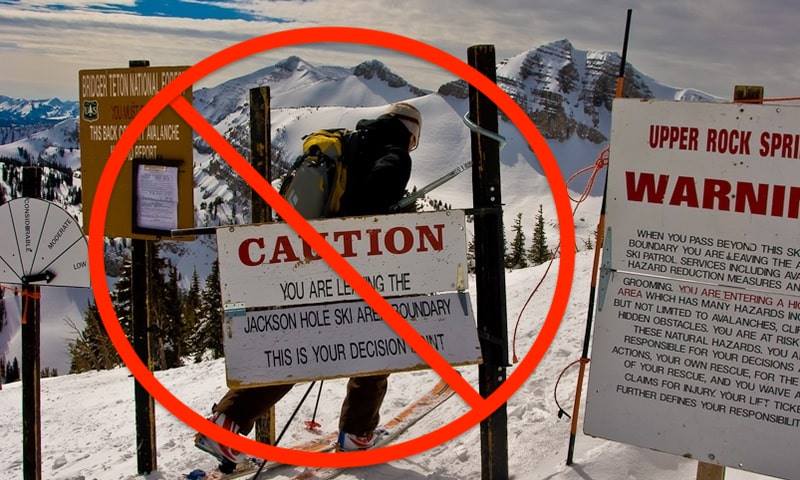 GTNP rangers are investigating the violation and plan to release more information early next week, park spokeswoman Denise Germann said. The park is withholding the names of those involved, stating only that it was a 24-year-old male and 28-year-old female from Jackson, a 24-year-old male from Portsmouth, New Hampshire, and a 31-year-old female from Breckenridge, Colorado, who exited the ski area boundary. Two of those people, a male, and a female ended up lost in Granite Canyon Thursday afternoon.
The lost skiers provided GPS coordinates, and rangers used ropes and belays to safely move down steeper parts of the canyon, Germann said.
"The Rangers were able to verbally communicate with the lost individuals, and at approximately 11 p.m. they located the skier and snowboarder in the Spock Chutes area," Germann said.